New Kings coach Todd McLellan looks to unlock the door to success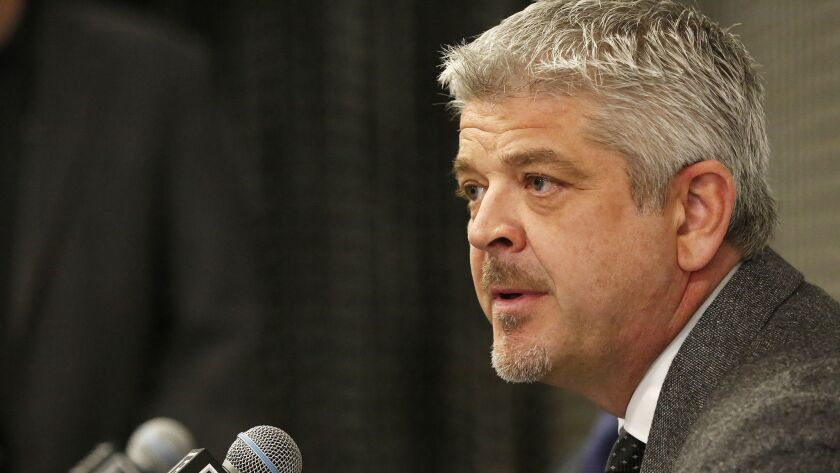 Behind the door that keeps out the noise and cool air and leads to the Kings' locker room at their practice rink, Todd McLellan bounced around like a new student on a college campus.
The sight of him in a Kings T-shirt might seem odd at first, but there was no ambiguity with his energy. The first-year Kings coach can't get enough done in his new surroundings, although he sometimes needs directions.
"It is still new," McLellan said. "I'm walking in to the wrong rooms. I'm opening up the wrong doors. But it's exciting. It's refreshing."
After wrapping up his time in his offseason home in Kelowna, Canada, upon his hiring in April, McLellan is settling into life as Kings coach. He closed on a South Bay residence with his wife, Debbie, and some locals have recognized him when he's poked around, even if they think he's still coaching the Edmonton Oilers.
"They're wondering if we're making any moves," McLellan said jokingly.
McLellan made his first big public appearance at the NHL draft, and he's gotten a firsthand look at the team's prospects with this week's development camp. Pulling Kings' gear over his head is no longer an alien feeling for the former coach of the San Jose Sharks and Oilers.
"I know there's a lot of work to do, but just personally, in my surroundings, I feel good and I feel comfortable here," McLellan said. "I feel like I'm part of the Kings family."
Among his opening tasks is reaching out to the Kings' established players to start that relationship and get a feel for the leadership dynamic. McLellan is taking over a team that needs a tough-love push, but he also has to make it known that his door is always open.
Captain Anze Kopitar spoke with McLellan shortly after his hiring and said he got a healthy impression of both sides of the well-respected coach.
"I talked to Todd for about an hour and a half, and you can tell, he's going to be strict and he's going to push us," Kopitar said in a phone interview from Slovenia. "But at the same time, I think we can go to him and tell him things."
Kopitar heads the remaining group of proven players that includes Drew Doughty, Jonathan Quick, Alec Martinez, Jeff Carter and Dustin Brown. That group has acknowledged resting on its Stanley Cup laurels, and that manifested in unproductive practices and little evidence of urgency. It didn't help that they had a stop-gap interim coach in Willie Desjardins, whose fractured relationship with Ilya Kovalchuk infected the Kings' locker room.
McLellan said he plans on meeting with Kovalchuk, probably when Kovalchuk returns to the area.
"I'd like that to be a personal sit-down," McLellan said. "I think there's going to be a lot more value in me looking him in the eye, talking to him, than just to make a phone call.
"He's a good player and he's an important player. We have to figure how to use him and he has to figure out how to be used, and we'll be fine."
Sign up for our daily sports newsletter »
Straight-forward communication has defined McLellan in his coaching career, from his start as a championship-winning minor league coach, to his playoff runs with the Sharks, through his last stint with Edmonton. McLellan has stepped into all kinds of NHL locker rooms, and he commands respect with strength in one hand and finesse in the other.
"If it means being a little bit more firm, he'll do that, but he treats the players as professionals," said Kings assistant coach Trent Yawney, who worked under McLellan in San Jose and Edmonton. "He develops relationships with them and he's uncanny at reading personalities. He knows which guy might need a little bit of a hug and which guy might need a little bit of a kick in the ass, not necessarily in an embarrassing way, but a way that may get a little bit more out of him. He's all about making the guys better."
McLellan, 51, kidded that he knew coaching was his calling "when they told me I couldn't play anymore." He got injured late in his playing career, in Europe, and when the team's coach moved into his building, the two chatted about game tactics and practice planning.
"That really stirred the drink for me," McLellan said.
McLellan's breakthrough came when he was hired to coach the Houston Aeros, then the minor league affiliate of the Minnesota Wild. It was at that time that former Wild general manager Doug Risebrough gave the ambitious McLellan coaching advice that he's retained to this day.
"He said it's his job to slow everything down [for me] now, because when I was a young guy … as soon as they hired me, I was thinking NHL," McLellan said. "I needed to go through the process of hitting every stop and experiencing a lot of things, and I still have to do those things. I still have to learn new tricks. But I think as I left major junior and got to the pro level was when I really believed that I could have an impact, and it turned out well for me, to this point."
McLellan became a hot NHL coaching candidate during a three-year run as assistant coach with the Detroit Red Wings, under Mike Babcock, capped by the 2008 Stanley Cup. A week later, he landed in San Jose, with Yawney, and the two are picking it up again after just 20 games with the Oilers last season.
In San Jose, McLellan's style tilted toward a fast pace, an aggressive attack and a high volume of shots. He oversaw one of the most potent power plays in the league while Yawney directed a defense that ranked in the top 10 in goals against in all three of his seasons there.
Jay Woodcroft has coached with McLellan in Detroit, San Jose and Edmonton. He calls McLellan's power plays "well organized, well thought-out and purposeful."
"He has the ability to break down the other team's penalty kill and find where the weakness lays," said Woodcroft, head coach of the Bakersfield Condors, an affiliate of Edmonton.
The Kings are a different animal. Among the disturbing numbers is that they ranked 27th on the power play and 29th on the penalty kill last season. Kopitar, a Selke Trophy winner in 2017-18, did not receive one vote for the award this past season. Doughty and Quick must bounce back from outlier seasons as well. Kopitar hedged when asked if the Kings would be a playoff team next season.
"There's some little ways to go," Kopitar said. "I don't know if there's moves planned here, but come September or October, when training camp starts, I still think we have some really good pieces in place. With some commitment and a really good start, we have that in our sight. Would it make sense for me to guarantee we'll make the playoffs? Absolutely not. But that's obviously where we want to go."
Some of those good pieces involve a bumper crop of young talent to support and even push the veteran regime. Woodcroft said McLellan's modern style of explaining his systems and doling out consequences, such as playing time, gets everybody on board.
"I think Todd is a common sense communicator," Woodcroft said. "He has a gift for boiling things down to the lowest common denominator. He holds people accountable. I believe he creates a want-to-play-for mind-set in his players, rather than a have-to-play-for mind-set."
McLellan likens the Kings' old-young makeup to his cup of coffee in the NHL. He played five games in 1987-88 for the New York Islanders as they moved from their dynasty era — with Bryan Trottier, Denis Potvin and Billy Smith — to the next step.
"We are going to be unified as a group when we hit the ice," McLellan said of the Kings. "If everybody plays to their potential and has a career year, the interaction really isn't going to matter. We're going to be one good team. That's what we're hoping for."
McLellan finished with interviews on this day and made his way back down the hallway, hopefully opening up the right doors to his new home.
Twitter: @curtiszupke
---
Get the latest on L.A.'s teams in the daily Sports Report newsletter.
You may occasionally receive promotional content from the Los Angeles Times.