Robinson Cano sweepstakes in the off-season might yield the unexpected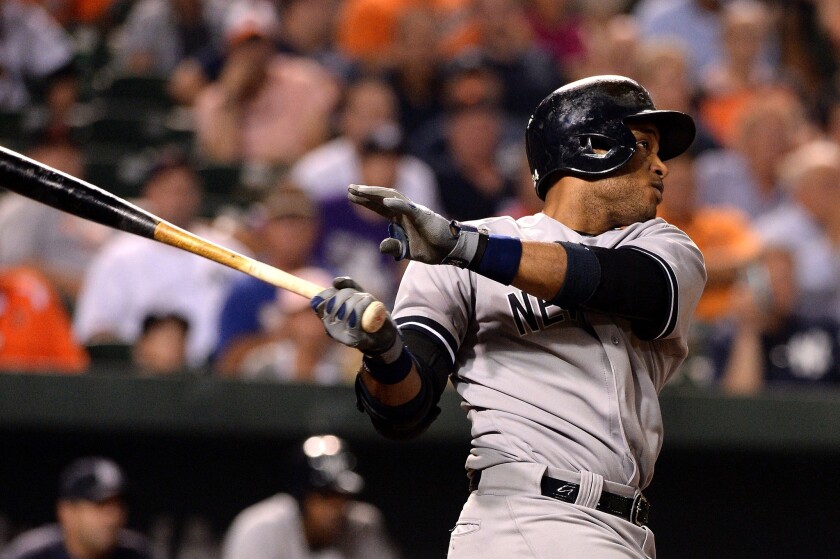 The Dodgers' expected signing of Cuban second baseman Alexander Guerrero puts a spotlight on the most anticipated free-agent saga of the coming off-season: Whither Robinson Cano?
This saga comes with a song: "Crown," the Jay-Z song that features this lyric: "Scott Boras, you over baby/Robinson Cano, you coming with me."
When Jay-Z expanded from rap star to sports agent, he recruited Cano away from Boras, who is perhaps baseball's most prominent agent. If Jay-Z wants to prosper in his new calling, and if his first baseball client is the undisputed king of this year's free-agent class, Jay-Z had better land the second baseman a mega-contract.
The New York Yankees want to keep Cano, and he wants to stay, but Yankees President Randy Levine told Bloomberg TV last week, "Nobody is a re-sign at any cost." Of course, the Yankees said they would not re-sign Alex Rodriguez if he opted out of his previous contract, then they did, so we'll see.
Who would bid against the Yankees? Not the free-spending Dodgers, not with Guerrero.
Not the Angels, not after owner Arte Moreno signed Albert Pujols and Josh Hamilton and then told his executives to get him under the luxury-tax threshold.
Not the Boston Red Sox, with Dustin Pedroia signed through 2021. Probably not the Philadelphia Phillies, with Chase Utley signed through 2015. Maybe the Detroit Tigers, if they do not win this season for 84-year-old owner Mike Ilitch.
The Cano sweepstakes might play out as the Pujols and Hamilton sweepstakes did, with a few legitimate mystery teams and rumors of more. That often means covert action at the winter meetings, when owners hunker with agents in hotel suites — or when Angels General Manager Jerry Dipoto used service elevators to meet with Pujols' agent, Dan Lozano.
Jay-Z has partnered with Creative Artists Agency, and CAA agent Brodie Van Wagenen provides Cano with effective representation. But, with the winter meetings set for Dec. 9-12 in Florida, Jay-Z probably would not be able to swoop in to pitch an owner or clinch a massive contract, based on the tour dates he announced last week:
Dec. 9: Staples Center
Dec. 10: Save-Mart Center, Fresno
Dec. 11: SAP Center, San Jose
Armed for success?
The Angels headed into Saturday with 15 victories in 21 games. Perhaps Moreno might take a deep breath, imagine a healthy Pujols back in the mix, and decide his team will be just fine next season, with no firings necessary.
But this late run does nothing to alter the fundamental question surrounding the Angels: How do they get better pitching on a budget, and whom does Moreno trust to do it?
A front three of Jered Weaver, C.J. Wilson and Garrett Richards could be dynamic. But Weaver must manage declining velocity, Wilson might throw his 100 pitches over five innings or eight in any given start, and Richards would be in his first full season in the rotation. The Angels have removed Ernesto Frieri from the closer's role in each of his two years in Anaheim.
That leaves two spots in the rotation and virtually an entire bullpen up for grabs, in an organization with little pitching depth. The sixth and seventh starters are important elsewhere, nonexistent now in Anaheim. The winter will be busy, and the results will be crucial.
---
Get our high school sports newsletter
Prep Rally is devoted to the SoCal high school sports experience, bringing you scores, stories and a behind-the-scenes look at what makes prep sports so popular.
You may occasionally receive promotional content from the Los Angeles Times.