Column: Muhammad Ali vs. George Foreman: 40 years later, a rumble reverberates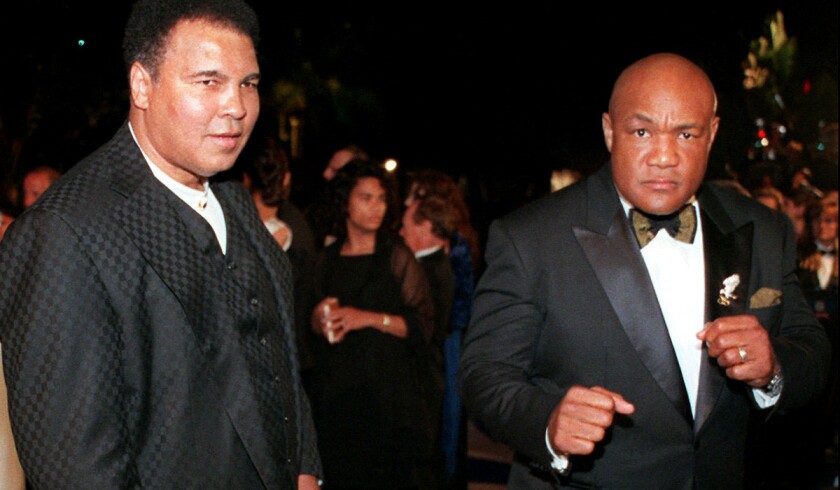 Zaire is now the Democratic Republic of the Congo, George Foreman is a religious minister with seven daughters, and five sons all named George, and Muhammad Ali is locked in a state of Parkinson's disease.
But on Oct. 30, 1974, exactly 40 years ago, they were the center of the sporting universe.
It was the "Rumble in the Jungle," as famous a heavyweight fight as there ever was.
It was a time when boxing was on the front of every sports section, not tucked away on a cable pay-per-view channel.
The heavyweights ruled and America loved them. It wasn't just Foreman and Ali. It was Ken Norton, Jimmy Young, Jerry Quarry, Joe Frazier, Ron Lyle and a half-dozen more. Enticing matchups were plentiful.
But there was never one like this one. The unbeaten and younger 1968 Olympic champion Foreman, 25, was going against the older 1960 Olympic champion Ali, 32. The elder had been heavyweight champion. Now the younger was.
Would young and strong beat quick and crafty? Could there be any better drama than a fight in whichForeman was a 4-1 favorite and, in strange contradiction to that, millions of fight fans sincerely worried that Foreman might kill Ali?
"I was pretty full of myself," Foreman said Tuesday from his home in Houston. "I had no respect for anyone, and disregard for everything."
Each fighter was guaranteed $5 million, crazy money then. Don King was the promoter and cobbled together several financial groups to pull it off. The president of Zaire, Mobutu Sese Seko, liked this publicity for his country and helped with finances.
And so, about 10 days before the scheduled Sept. 25 fight, the Foreman contingent of about 30 people, all in first class, flew in from Paris on the president's DC-10. Nearing landing in Kinshasa, they were told to buckle in because the pilot was going to make a low pass. He made three.
The Foreman party was greeted by a blast of humidity — Kinshasa rests on the equator — and by 6,000 screaming fans. Some were chanting, "Ali, bomaye," which meant "Ali, kill him." The crafty Ali had arrived a few days earlier and already won a big following. Foreman's group should have seen an omen.
A few days into training, Foreman was cut during sparring. Mobutu wanted Foreman to fight anyway. Foreman refused. He needed stitches. He was afraid of no man, but terrified of needles.
They put a butterfly bandage on the cut and postponed the fight until Oct. 30.
Some in a huge media gathering stayed. Most returned with plans to come back. Sports Illustrated sent seven writers, headed by George Plimpton. The Times sent Jim Murray and figured that made it an even fight.
Foreman kept training, but was in a foul mood during the delay. By fight time — a 4 a.m. local start for a 10 p.m. East Coast viewing in the States — he was mean and ready.
"I figured it would go two, three rounds," he said. "My other fights, I knocked them out early."
Foreman threw everything but the president's DC-10 at Ali, who was still hale and hearty at the bell ending the fourth round.
"As he turned to go to his corner," Foreman said, "he looked at me. There was a smile, like he was saying, 'I made it.'
"I remembered thinking, 'Oh, oh. He made it.'"
By the sixth round, Ali was still ducking, weaving and bouncing off the ropes.
"At one point, in the sixth," Foreman said, "I hit him with maybe the best shot I ever got off. He kind of leaned on me and whispered in my ear, 'George, is that all you got?'
"I remember thinking, 'Yup, that's about it.'"
Foreman was exhausted, with no plan B.
"I didn't back up," Foreman said. "I didn't know how. I always just came forward."
Near the end of the eighth, Ali caught him with a flurry of punches, ending with a lightning right.
"He wasn't a big, strong guy," Foreman said, "but he threw that punch so fast that all of a sudden, I was down on the canvas, listening to the referee count."
As instructed by his corner, he looked at them for the signal to get up. At what Foreman thought was eight, he popped up, but referee Zach Clayton waved the fight over.
The postponement had put the fight into monsoon season. Almost as if on cue, the fight ended and the rains poured down. Teletype machines at ringside were rendered useless and stories made it to newspapers via simple telephone dictation.
Foreman, who eventually reclaimed the heavyweight title, at age 45 no less, said he was devastated at first by the defeat.
"He tricked me," Foreman said. "I was a fool. I had no humility, no fear. After that, before every fight, I sat in the dressing room and got fear, even if I had to play a scary movie."
But Foreman, who has turned from a menacing figure to a beloved one, also said, "If that fight hadn't turned out like it did, my life would have been very different. I have no regrets. They'll be talking about it for 100 years, and they'll always have to mention my name."
Foreman said he loves Ali, that until about two years ago, he was able to call and talk if he got him before 11 in the morning, before he tired.
"One time, I said I wanted a rematch," Foreman said. "He said, 'You're crazy.' I asked him how his wife was. He said, 'She's crazy.'
"Another time, he sent me a text with a picture of one of his grandchildren. So I sent a picture of one of mine. Two minutes later, another text comes with two grandchildren.
"He was still beating me."
Foreman is always aware of the Oct. 30 date, especially when it is No. 40.
"I'm taking a trip now," he said, "but when I come back, I'll sit down, light a candle and remember."
Twitter: @BDwyreLATimes
---
Get our high school sports newsletter
Prep Rally is devoted to the SoCal high school sports experience, bringing you scores, stories and a behind-the-scenes look at what makes prep sports so popular.
You may occasionally receive promotional content from the Los Angeles Times.