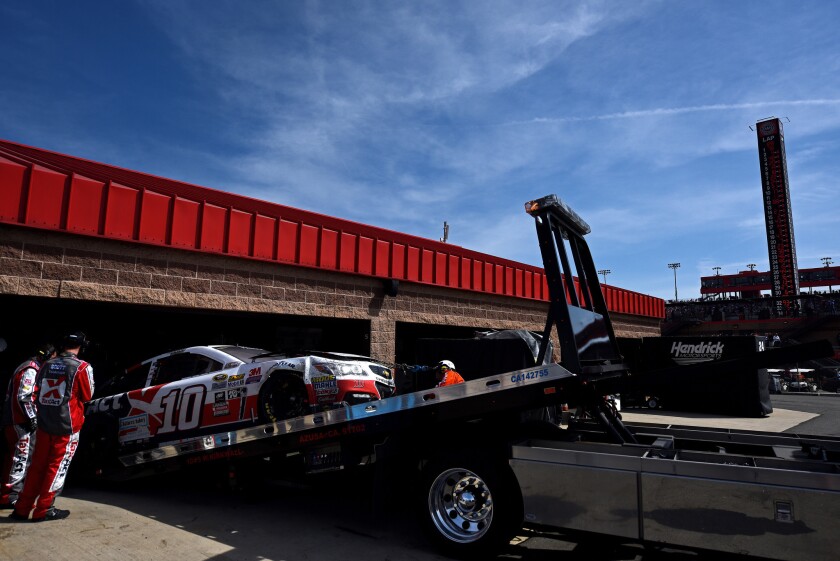 A frustrated Danica Patrick walked away from a hard crash Sunday after her No. 10 Chevrolet collided with Kasey Kahne's No. 5 Chevy in the NASCAR Sprint Cup Series race at Fontana.
Patrick was passing Kahne just past the midway part of the race when Kahne clipped her car's right rear panel. The contact sent Patrick slamming into the outside wall at Auto Club Speedway.
After stopping on the infield grass, Patrick climbed from her car, walked back to the track and held her arms out — as if to say "What did you do?" — as Kahne slowly passed back by her under caution.
Patrick was still fuming when she told reporters that Kahne's move was "desperate."
"It's just unfortunate; he must be having a very tough time," she said. Patrick finished next-to-last in the 39-car field and Kahne finished 28th.
Kahne said "I felt really bad because it was far from anything than just trying to hold my position. I've never had an issue with Danica at all."
Larson crash
Kyle Larson's day ended early when he suffered a frightening accident on lap 47.
Larson's No. 42 Chevrolet had a tire blow out on the back straightaway, which sent car veering left across the track and head-on into an inside wall.
The crash's force was so strong that Larson's car briefly lifted into the air as it spun around. But the wall was one of the flexible barriers and the 23-year-old Larson, after taking a hard hit, was not injured.
"I'm all right, That one really hurt, though," Larson told his crew from his in-car radio.
Shav Glick award
Ed Iskenderian, a well-known Southern California provider of camshafts and other engine parts for auto racing, received the annual Justice Brothers-Shav Glick Award before the race.
The award, which recognizes those who made distinguished contributions to the sport in California, is named after the Justice Brothers Inc. auto-products company and the late Shav Glick, a longtime motor sports writer for The Times.
---