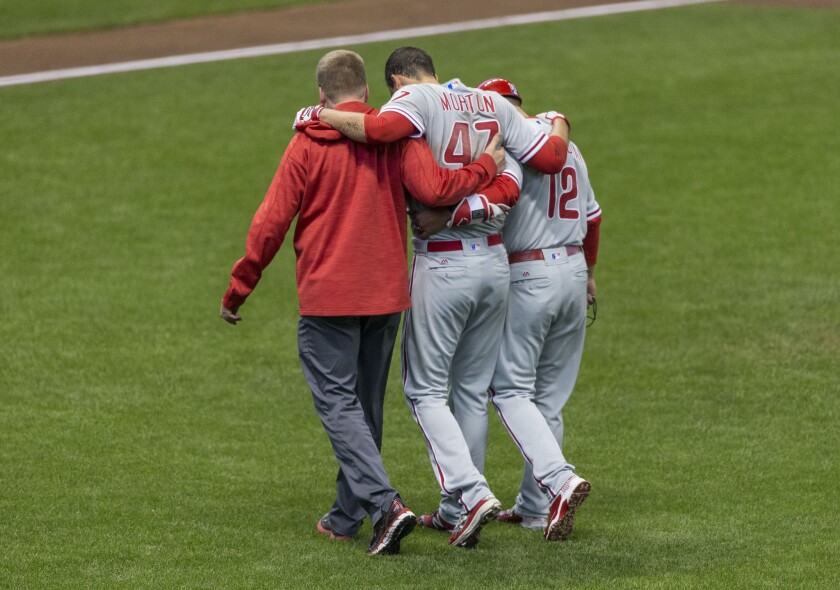 Philadelphia Phillies right-hander Charlie Morton is out for the season because of a torn left hamstring.
The team said Wednesday that Morton is scheduled for surgery Monday. Recovery time is expected to be six to eight months.
Morton, 32, was injured while running out of the batter's box on a sacrifice bunt try at Milwaukee on Saturday.
He is 1-1 with a 4.15 earned-run average in four starts.
Rockies put Jorge De La Rosa on disabled list
The Colorado Rockies put left-hander Jorge De La Rosa on the 15-day disabled list because of a left groin strain.
De La Rosa (1-3, 10.18 ERA) left Tuesday's loss to the Pittsburgh Pirates after giving up four runs in three innings. He trotted gingerly to first base after grounding out to lead off the third inning.
Rangers right-hander Yu Darvish to make a rehab start
Texas Rangers right-hander Yu Darvish is scheduled to pitch Sunday in his first minor league rehab start since elbow ligament-replacement surgery more than 13 months ago.
The Rangers said Darvish will pitch for double-A Frisco in its home game against Corpus Christi. Darvish will pitch two innings or about 30 pitches.
Darvish, 29, was 39-25 with a 3.27 ERA and 680 strikeouts in 83 starts for Texas from 2012 to 2014, after seven seasons in Japan.
Indians send pitcher Cody Anderson to minors
The Cleveland Indians optioned right-hander Cody Anderson to triple-A Columbus.
Anderson is 0-1 with a 7.65 ERA in four starts.
The Indians are off Thursday and Monday, meaning they don't have a need for a fifth starter for the next 10 days.
---