Column: Don't count on Dodgers' flirtation with Bryce Harper to end up in a long-term deal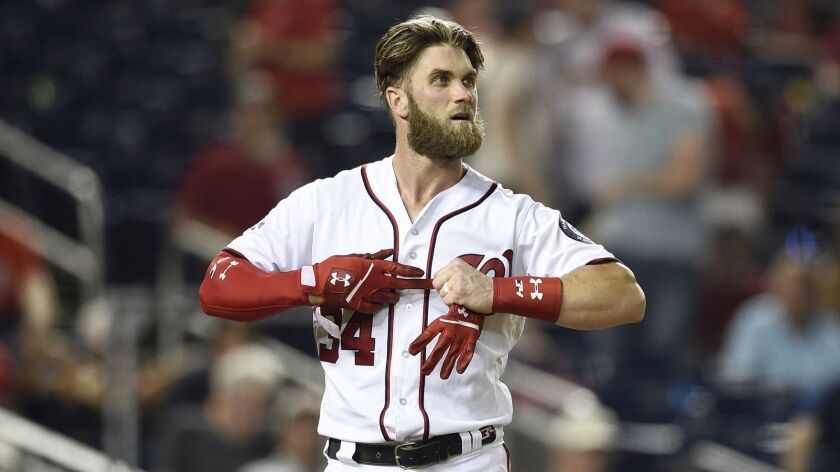 The timing was perfect and the symbolism entirely appropriate, a Brinks truck rumbling into the Dodgers spring training complex shortly after team officials returned from a meeting the previous night with free agent Bryce Harper.
In a spring following a relatively uneventful winter, the Dodgers are suddenly contenders to land the prize of this free-agent market.
Well, technically.
Don't order that customized jersey quite yet. In order to sign Harper, the Dodgers will have to demonstrate they are open to the kind of behavior they have resisted in recent years. There's zero indication they are.
What the Dodgers have are several advantages over the two other teams known to still be in pursuit of the former National League most valuable player, the Philadelphia Phillies and San Francisco Giants. They can win now. They have a richer history. Los Angeles is relatively close to Harper's hometown of Las Vegas.
The Dodgers would be mistaken to think this will be enough. The organization's confidence has morphed into something closer to arrogance as a result of their recent success, but the team's executives have to temper their egos and recognize closing a deal will require more than the warm sentiments principal owner Mark Walter conveyed to Harper in Las Vegas on Sunday night.
The Dodgers will have to back up the figurative Brinks truck.
Doing something conventional like offering one of the sport's best players a long-term contract will mark new territory for a franchise that has prided itself on its intellectual independence. In the four-plus years with Andrew Friedman as their president of baseball operations , the Dodgers have revealed new road maps to victory, at least in the regular season.
They are believed to have visions of a similarly unique arrangement with Harper. The six-time All-Star is looking for a contract a decade or more in length, but the Dodgers are banking the attractive elements of their franchise convincing him to settle for a considerably shorter deal with a higher annual average value.
If that's what they're counting on, Harper will almost certainly be playing elsewhere.
When it comes to signing a superstar free agent, especially one who is 26 years old, everyone has to pay the full price, or close to it. Someone always pays, as the San Diego Padres did when they guaranteed $300 million for Manny Machado. Revenues continue to soar. They money is there.
As promising as it was that Walter traveled to Las Vegas, as much as Harper would bolster a lineup known more for its balance than high-end threats, and as much as the outfielder's magnetism would energize a celebrity-driven market, what the Dodgers engaged in Sunday looked like an especially optimistic version of due diligence. "Vetting," is how it was described by manager Dave Roberts, who also attended the meeting, along with Friedman and President Stan Kasten.
The Dodgers are known for checking in with virtually every notable free agent or trade partner, but what they are really doing is ensuring they are positioned to act if a player or team is open to striking a deal on their terms -- and their terms only.
However unlikely it is that Harper would settle for a three- or four-year deal, it does become slightly more possible with every day he remains on the market. Why does he remain unsigned if he wants to sign with the Phillies or Giants? The Dodgers don't lose anything by exploring the possibility his market has cratered.
If the team's devoted fans demand more than such half-hearted expeditions, they would certainly be within their rights. They have endured three decades without a World Series championship. They have tolerated escalating ticket prices and what has to be considered the Titanic of television contracts. They deserve ownership and management groups that will make an honest effort to sign a signature player. When Harper is known to be looking for a decadelong agreement, offering him a five-year contract doesn't count as trying.
For what it's worth, Walter told Jorge Castillo of The Times earlier this week that he hadn't instructed Kasten and Friedman to keep the team's payroll under the luxury-tax threshold. So, who knows, maybe the Dodgers surprise everyone and deliver a competitive offer to Harper.
Or maybe the Dodgers miraculously land Harper on a short-term deal, in which case Friedman should immediately be inducted into the National Baseball Hall of Fame for masterfully reading the market.
But neither scenario feels likely. Acquiring a free agent of Harper's stature would require the Dodgers to take the next step in their evolution as a franchise, to create exceptions to their analytically dictated rules. They don't look as if they are there yet.
Sign up for our daily sports newsletter »
Follow Dylan Hernandez on Twitter @dylanohernandez
---
Get our high school sports newsletter
Prep Rally is devoted to the SoCal high school sports experience, bringing you scores, stories and a behind-the-scenes look at what makes prep sports so popular.
You may occasionally receive promotional content from the Los Angeles Times.