Column: Clayton Kershaw's health and Bryce Harper's free agency among tests for Dave Roberts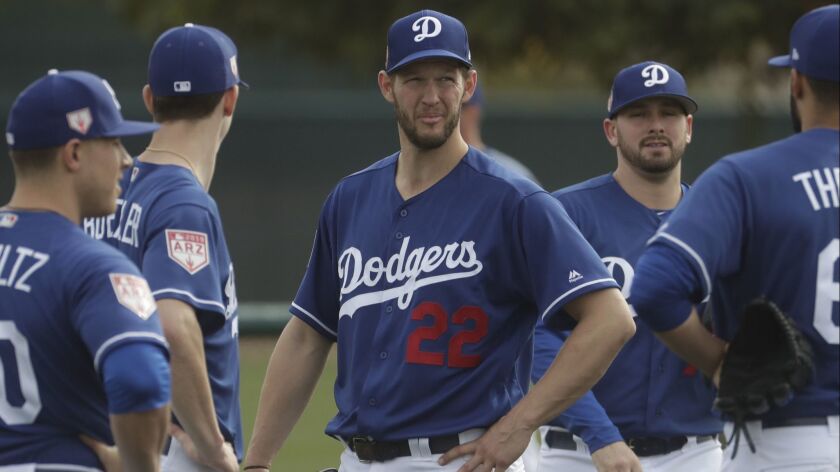 Reporting from phoenix —
If the Dodgers were thinking they could pursue Nolan Arenado next winter if they fail to sign Bryce Harper this spring, they have to make new contingency plans. If they were counting on Arenado's impending free agency to provide them with an excuse for not spending on Harper, they will have to invent another alibi.
Arenado agreed to an eight-year, $260-million contract extension with the Colorado Rockies.
News of the deal added a dimension to the Dodgers' already-complicated courtship of Harper, increasing the internal urgency and external expectations for the franchise to land the former most valuable player.
So the drama continued.
Sign up for our daily sports newsletter »
That's what kind of camp it's been for the Dodgers. Winners of six consecutive division championships and participants in the last two World Series, the National League's models of consistency look unsettled.
Clayton Kershaw has experienced discomfort in his left shoulder and already is taking a break from throwing.
Shortstop Corey Seager is making a promising recovery from major elbow and hip operations, but the former All-Star remains on a limited training program.
Closer Kenley Jansen returned from what was arguably the worst season of his career having dropped a substantial amount of weight.
There is no clear-cut No. 1 catcher.
And now this Harper situation.
The task of preventing the uncertainty from turning into chaos falls on Dave Roberts, who is in his fourth season as manager. He's used to dealing with situations like this by now.
"We've created something here where the No. 1 goal is to win baseball games and to win a championship," Roberts said. "So it takes a lot of good players. It takes consistent work and focus. But it also takes sacrifice. So that's what we've kind of created and, fortunately, to a man, these guys have bought into it, which makes my job considerably easier."
Maintaining culture is harder when key players such as Kershaw and Seager are reduced to spectators.
"Well, I think it helps that you have history on your side, in the sense that we've overcome a lot of adversity, this ballclub over the last few years with certain players going down, key players, and come out on the other side. So I think that has shown our guys that remaining steadfast and the next-man-up mentality is the way to go about things."
Roberts is right.
Roberts has kept the team together during Kershaw's extended absences in each of the previous three seasons.
He's maintained harmony when the Dodgers have made high-profile trade-deadline acquisitions such as Manny Machado and Yu Darvish.
And in what could be his greatest achievement, he's carefully managed competitive spirits disgruntled by the team's widespread use of platoons.
The upcoming season could present him with more arduous obstacles to overcome. The Dodgers could be in the process of constructing a new foundation.
Kershaw has been the franchise's cornerstone this decade. He has been more than a pitcher. He has exemplified organizational ideals and served as a player whom others can model themselves after.
The possibility that Kershaw's shoulder problems are a sign the left-hander will never regain his effectiveness is something Roberts doesn't even want to consider.
"He absolutely is our guy and he will continue to be our guy," Roberts said.
What did Roberts make of the setbacks Kershaw has experienced this spring?
"I'm really not trying to get too much into overthinking it, really," he said.
Kershaw's previous attempt to play catch, on Monday, resulted in a two-day break from throwing. Kershaw is scheduled to play catch again Thursday.
"Then we'll reassess," Roberts said.
If Kershaw playing a diminished role would alter team dynamics, so would the addition of Harper, who is as close to a mainstream superstar as there is in the sport.
Asked for his thoughts on Arenado's new contract, Roberts replied, "He's a heck of a player and, obviously, they wanted to keep a homegrown player. It's a nice deal for him, nice deal for the team. It's good for the game and makes our job a lot tougher."
And the impact that could have on a certain other somebody coming to the Dodgers?
Roberts laughed.
"I don't know," he said. "I don't know what's going on right now. There's still some good players out there."
Opening day is on March 28. Roberts could be answering questions like this for the next month.
Follow Dylan Hernandez on Twitter @dylanohernandez
---
Get the latest on L.A.'s teams in the daily Sports Report newsletter.
You may occasionally receive promotional content from the Los Angeles Times.