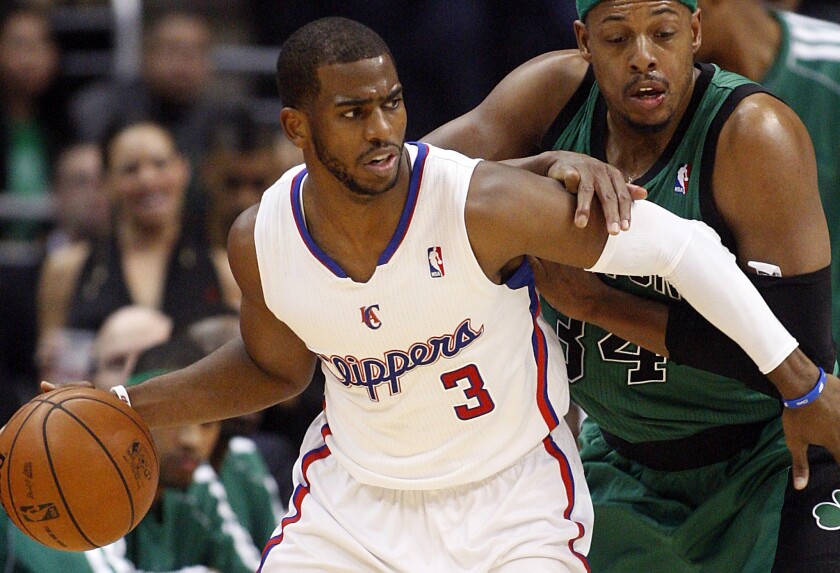 To hardly anyone's surprise, All-Star point guard Chris Paul told the basketball world on Monday that he was going to re-sign with the Clippers.
He went on his @CP3 Twitter account early Monday to announce his return, saying, "I'm IN!!!#CLIPPERSNATION."
Leon Rose, Paul's agent, confirmed that his client had verbally agreed to a new contract with the Clippers for five years and $107.3 million, the maximum the team could offer. Paul, 28, has an opt-out clause after the fourth season.
Paul will earn $18.8 million in the first season of his contract, which he can't sign until the NBA lifts its moratorium on free agents on July 10.
With Paul saying he's in the fold, the Clippers turned their attention to other free agents and possible trade scenarios.
Doc Rivers, the Clippers' new coach and senior vice president of basketball operations, and Gary Sacks, the team's vice president of basketball operations, were on the phone Sunday night and Monday talking to representatives of free agents Matt Barnes, Lamar Odom, Ryan Hollins, Ronny Turiaf and Chauncey Billups.
The Clippers also are interested in guards J.J. Redick and O.J. Mayo and power forward Carl Landry, according to NBA officials who spoke anonymously because they weren't authorized to publicly discuss the situation.
Redick, a 39% shooter from three-point range in his career, made $6.1 million last year playing for Orlando and Milwaukee. Mayo, who averaged 15.3 points for Dallas last season, opted out of his contract that would have paid him $4.2 million next season with the Mavericks.
Redick and Mayo are expected to visit with the Clippers soon, the executives said.
Landry, a power forward who averaged 10.8 points and 6.0 rebounds with Golden State, opted out of a contract that would have paid him $4 million next season with the Warriors.
The Clippers have the midlevel exception of $5.15 million to use on a free agent — or they can split it on two players.
The Clippers have also revived talks with the Orlando Magic on a possible trade that would bring shooting guard Arron Afflalo to L.A. in exchange for backup point guard Eric Bledsoe and forward Caron Butler, executives said. They said that no deal was imminent, and that the Magic would also like a first-round draft pick added to the package.
Free-agent shooting guard Tony Allen also is available, but the Clippers hadn't reached out to him as of late Monday.
Allen, one of the best perimeter defenders in the NBA, played the last three seasons in Memphis. He also played for Rivers on the Boston Celtics team that won the 2008 NBA championship.
As for Paul, various NBA executives said it was considered a mere formality for him to remain with the Clippers once Rivers was hired. Paul didn't even talk to any other teams when the free-agency period began at 9:01 p.m. Sunday.
Paul has played a major role in helping to change the culture with the Clippers, making it a destination for players. Last year he helped recruit Jamal Crawford, Barnes and Grant Hill.
With Paul leading the way, the Clippers last season won their first Pacific Division title, had a franchise-best 56-26 record and had a franchise-record 17-game winning streak.
He also helped the Clippers reach the playoffs in consecutive seasons. Paul, who won the most-valuable-player award at the All-Star game in February, averaged 16.9 points, 9.7 assists and an NBA-best 2.4 steals last season.
And now he will be back for at least four more seasons.
twitter.com/BA_Turner
---