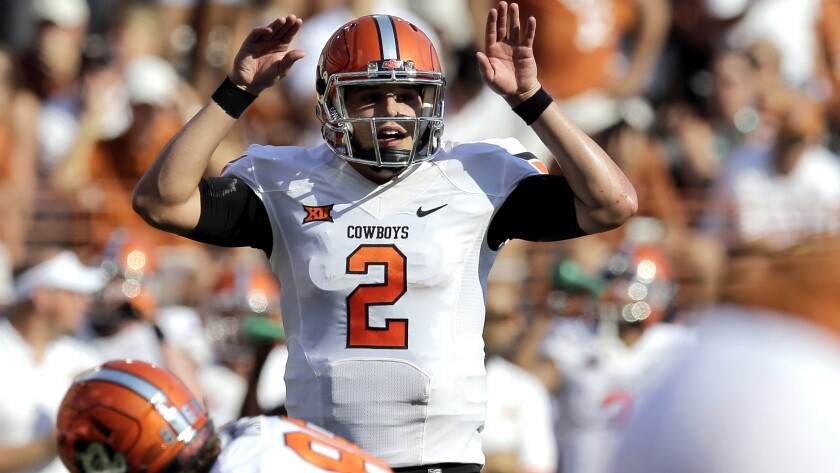 There is a conference trying to play its way into playoff consideration by tiptoeing through a field of nonconference tulips.
This league is trying to make it harder, not easier, for the selection committee to evaluate its worthiness. The conference continues to gum up the game with gooey schedule substance.
You say the Southeastern Conference? Actually, it's the Big 12.
This is the week we normally spend poking fun at the SEC's annual pre-Thanksgiving feast on giblets and gravy. The SEC, as a collective, is taking on Idaho, The Citadel, Charlotte, Florida Atlantic, Charleston Southern and Georgia Southern. Some of these sound like railroad companies.
If you don't think this is a sensitive subject, go on the Internet and watch Coach Nick Saban's rant on the media for not taking seriously Alabama's opponent Saturday: Charleston Southern.
Saban remains laser focused on a Football Championship Subdivision team from the Big South Conference that recently eked out a 10-7 win at Presbyterian, which everyone knows is a tough place to pray, er, play.
But this isn't about the SEC, which has a Carl Lewis-like track record of proving itself in the end.
A lot of things have changed since the four-team playoff was conceived — the Big 12 isn't one of them.
It continues to play a game of postseason chicken. It tried last year to parlay a questionable portfolio into landing two teams in the first playoff. It almost worked, then completely backfired, as Baylor and Texas Christian finished fifth and sixth in the final ranking.
The College Football Playoff, like the teacher who warns his students there might be a pop quiz, warned conferences the new system would be different from the Bowl Championship Series.
The old system allowed you to hoodwink the computers, and the voting coaches, with fancy win-loss records built on the backs of lower-division opponents.
The new guys promised to clean up and police the area.
Yet, the Big 12 sat on its hands. It didn't beef up its nonconference scheduling, or ask the NCAA for a waiver that would allow it to host a championship game with only 10 teams.
The Big 12 changed nothing while hoping to gain everything.
And again, it might work. And it could backfire.
The league has four teams in the top 18 of this week's playoff ranking. Those teams have three total losses, with a master plan that they will now be judged only by one another.
Oklahoma defeated Baylor last week and this week plays TCU. Baylor plays at Oklahoma State this week, and Oklahoma and Oklahoma State play each other next week.
"We do have great matchups coming up," selection committee Chairman Jeff Long said this week. "We've got conferences with backloaded schedules."
Top Big 12 schools became playoff positioned with nonconference games against Lamar, Rice, Southern Methodist, Central Michigan, Central Arkansas and Texas San Antonio.
Oklahoma State is 10-0, with the combined record of its nine major-college opponents standing at 38-52. The top four Big 12 teams own a 58.7 strength of schedule average in this week's Sagarin Ratings. The Pac-12 Conference's top four teams have an average SOS of 22.5 — but that's led to 10 total losses and a seat on the sidelines. (The top-rated Pac-12 team is two-loss Stanford at No. 11.)
The Big 12 is leaning on two primary playoff possibilities: undefeated Oklahoma State, or one-loss Oklahoma.
Battle lines have formed over a possible final choice between one-loss Oklahoma and one-loss Notre Dame, which currently holds the No. 4 spot.
Oklahoma at 11-1 needs to be considered because it actually played, and won, at Tennessee. Oklahoma and Texas — Big 12 teams with history, pride and gravitas — don't dodge people.
Notre Dame currently owns a Sagarin SOS of 25, compared with 44 for Oklahoma. That gap will close after the Sooners complete their schedule against TCU and Oklahoma State.
The Big 12's problem may be how attrition factors into the process. Oklahoma defeated Baylor's second-string quarterback and now faces a TCU team decimated by injuries as it skids down the polls.
Oklahoma State's best win is over a TCU team that lost star receiver Josh Doctson early in the game.
If the last playoff spot boils down to Notre Dame and Oklahoma, Texas is a common opponent. Notre Dame crushed the Longhorns, 38-3; Oklahoma lost to Texas.
It could make for a compelling debate, and a difficult committee call.
We have only one year in the new system to gauge how the committee thinks. We know only what it did last year.
---