Column: Would Lakers fans want a quick first round playoff exit or a lottery pick?
Reporting from Charlotte —
What had seemed a foregone conclusion before the season started is now simply a "notion" as the Lakers limp into the NBA All-Star break with a below-.500 record for the first time since November.
"You've got to decompress and get away from the game a little bit," LeBron James told reporters after the Lakers lost to the lowly Atlanta Hawks, 117-113, Tuesday. "Just get fresh, get your minds right, get your bodies right. Come back with the notion that we'll make the playoffs."
It's a notion some are having a hard time buying as the Lakers sit 2.5 games out of the No. 8 seed with 25 games to play. More important, if actually doing something in the playoffs means anything, they are four games out of the No. 6 or 7 seed, which would allow them to avoid the Golden State Warriors in the first round and give them a chance of winning their first playoff game and series since 2012.
This may seem like a surprising predicament for the Lakers to be in with James, but let's face it, the expectations for this team and this season changed the moment Paul George spurned Los Angeles for Oklahoma City. The excitement of the James signing was soon tempered with the one-year, bargain-bin signings of Rajon Rondo, Lance Stephenson, JaVale McGee, Michael Beasley and Kentavious Caldwell-Pope.
These weren't championship signings. They were cap flexibility for the summer of 2019 signings. They were first round playoff exit signings. They're the kind of signings a team makes to be decent, not great. Most fans not blinded by the arrival of James knew that too. There were enough NBA experts out there questioning whether this was even a playoff team before the Lakers opened the season losing their first three games and seven of their first 10.
Maybe the Lakers are able to "decompress," hit the reset button and sneak into the playoffs as the No. 8 seed and face the Warriors in the first round. But at this point, with this roster, Lakers fans have to ask themselves what they would rather see: a first round playoff sweep or a lottery pick?
--
Magic Johnson has taken unjust heat from many Lakers fans for his inability to pull off a blockbuster deal at the trade deadline. It wasn't his fault the New Orleans Pelicans would rather keep and shelve Anthony Davis than trade him for a package of Brandon Ingram, Kyle Kuzma, Lonzo Ball and two first-round picks. That's essentially five first-round picks for Davis. That wasn't enough to get the deal done, but Johnson put together the best package he possibly could have for one of the best players in the league. He swung for the fences and tried to add another superstar to the Lakers to help them contend this season. If you would prefer he stay the course and keep this roster intact, you probably haven't been watching the Lakers much the last couple seasons. Johnson is a big reason why James is a Laker, why Davis has publicly stated he wants to be a Laker and why the team will likely add another max player this offseason. None of this would have been in play if Jim Buss and Mitch Kupchak were still running the show.
--
I love that Lakers fans are loyal to their young players. I'm not sure there's another fan base in the NBA that would scoff — as many Lakers fans have — at signing James or trading for Davis because of the number of young assets it would cost them. But this isn't exactly the 1994-95 Lakers with Nick Van Exel, Eddie Jones, Anthony Peeler, Cedric Ceballos, Vlade Divac and George Lynch, who were all 26 or younger, won 48 games, upset the Seattle SuperSonics in the first round and were two wins away from getting to the Western Conference finals. That was a young core you could potentially see doing something, and even that group was broken up for the Lakers to become a championship team. The fact is, the Lakers have been a below-.500 team for six years. At some point, you have to stop waiting around and start making championship moves. Signing James was the first move, surrounding him with two more stars over the next year is the next move, and I still think Johnson will deliver as he did with James last summer.
--
Los Angeles is a city that loves stars, but I get the sense Dodgers fans couldn't care less if the team signed Bryce Harper or Manny Machado at this point. It's not that they wouldn't welcome either player, but they don't view either signing as the final piece of a World Series championship puzzle. If anything, they would probably be against giving either player the record-breaking contract they're both seeking as spring training opens.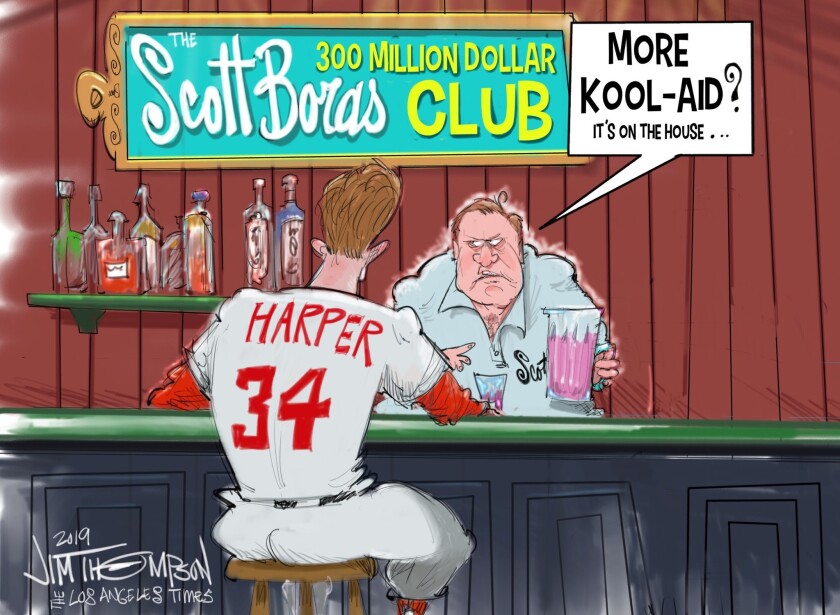 --
Orange County isn't part of Los Angeles County, but did you know it is part of the Los Angeles metropolitan area? True story. Look it up. This likely won't stop many of you from continuing to remind me that Los Angeles does not, in fact, have two baseball teams and two hockey teams — as if the Angels and Ducks play in New Mexico — but I thought I'd try.
--
I don't think I'm going out on a limb by saying Katelyn Ohashi is the most exciting athlete and the UCLA gymnastics team the most entertaining squad in L.A. right now. I'm not going to act like I'm some gymnastics expert. My knowledge of the sport is confined to whatever Olympic events are on TV every four years, but I'm glued to the screen whenever Ohashi takes the floor and delivers another perfect 10 performance. If you have no idea what I'm talking about, stop what you're doing and type her name into your browser immediately.
--
I'll be "decompressing" during the NBA All-Star break in Charlotte, N.C., along with James, who has assembled what some in Los Angeles hope will be a preview of the Lakers next year. The last time the NBA All-Star Game was held in Charlotte was 1991. Michael Jordan was about to win his first championship and, for the first time in five years, participated in the regular Friday news conference before the game. Why? The NBA had decided to distribute players' tickets at the news conference for the first time, and Jordan had been promised 100 tickets. Now 28 years later, he's the owner of the Charlotte Hornets and hosting the event in his hometown. Something tells me he won't have a hard time getting tickets this year.
---
Get the latest on L.A.'s teams in the daily Sports Report newsletter.
You may occasionally receive promotional content from the Los Angeles Times.