Column: Extending Dodgers manager Dave Roberts should be a no brainer
The Dodgers should have taken care of this over the winter, but didn't. They should resolve this before opening day, but haven't offered any indication they will.
So it's entirely possible Dave Roberts will start his third season as a lame-duck manager.
That's right. Dave Roberts, the National League manager of the year in 2016, is in the final guaranteed year of his contract.
Dave Roberts, who managed the Dodgers to their first World Series appearance in nearly three decades, has less job security than Andy Green of the San Diego Padres, who last year received a contract extension through the 2021 season.
This isn't complicated. Extending Roberts should be as easy a call as designating Clayton Kershaw the opening day starter or renewing Corey Seager's contract.
The Dodgers control Roberts' employment beyond this season; his contract includes a fourth-year team option. But that's not the point.
By not extending Roberts' contract, Andrew Friedman's front office is essentially reserving the right to make him the fall guy if something goes wrong this season. It's not a good look. As it was, Roberts had to fight the perception he was management's puppet when he was first hired.
Over the last couple of years, instead of simply following orders, Roberts has gained a measure of credibility in the clubhouse by incorporating the sabermetrically inclined front office's ideas into his own proactive approach to managing. Creating an imbalance of power could threaten that hard-earned trust, as players might wonder whether his decisions are based on sincere beliefs or self-preservation.
If the Dodgers happen to have a slow start to the season, they will find themselves with a completely avoidable controversy.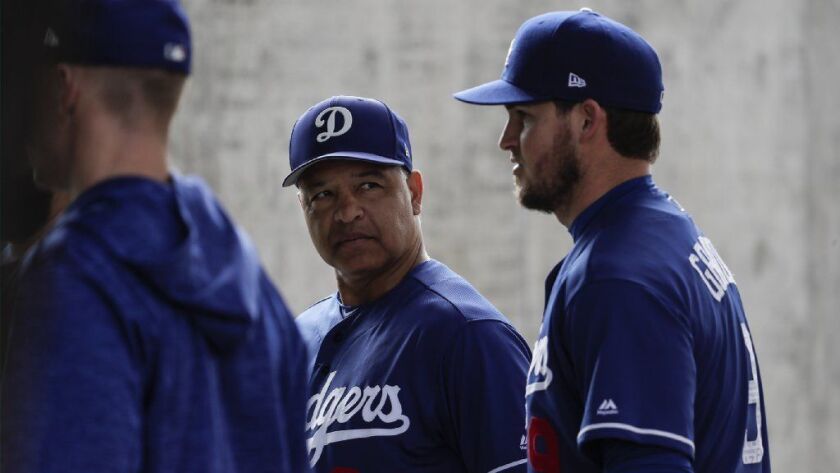 One short-term solution would be to immediately exercise the fourth-year option on Roberts' contract. The team's reluctance to do so might actually be that it wouldn't be fair to Roberts. The terms of the option year were agreed upon when Roberts had no experience as a manager.
Whatever the terms of his contract, Roberts has certainly outperformed them. In his two seasons as manager, he has a record of 195-129. He reached the National League Championship Series in his first season and the World Series in his second.
Roberts was provided with championship-caliber rosters, but that doesn't mean just anyone could do what he has done.
As important as the results is the culture he has helped create. He has convinced players to place the team's interests ahead of their own, persuading former everyday players to buy into platoon roles, relievers to be more flexible and starting pitchers to accept making shorter appearances. His charisma and intelligence have made him an ideal spokesman for a team in a major media market.
Outfielder Matt Kemp, who returned to the Dodgers this spring, said he was struck by how much his teammates' mindsets had changed over the three seasons he spent in San Diego and Atlanta.
"They have something special here, man," Kemp said. "That's not something I'm saying just to say it. I really feel it, from the coaches to the trainers. Everybody works together for one common goal and that's to get back to World Series and win that last game of the season."
General manager Farhan Zaidi intimated that the front office was open to rewarding Roberts with a multiple-year extension.
"We're not going to talk about every nook and cranny of our internal discussions on that issue publicly," Zaidi said. "But needless to say, Doc's done a great job. We have a great working relationship with him and we're hoping to be together for a long time.
"He's technically under contract for this season, with an option for the next, but we're certainly hoping things extend beyond that."
That's a nice sentiment, but it doesn't guarantee Roberts anything. Until a new deal is signed, the words are only words.
Asked Thursday about his situation, Roberts was as calm as he is in the late innings of a close game.
"We're focused on winning," he said. "We're focused on the ball club this year, so my contract is something that I'm not really putting much thought into. I know that myself, the organization, we're synced up and know that we will discuss it at the proper time."
Roberts won't say it, so someone else should say it for him: The proper time is now.
Follow Dylan Hernandez on Twitter @dylanohernandez
---
Get our high school sports newsletter
Prep Rally is devoted to the SoCal high school sports experience, bringing you scores, stories and a behind-the-scenes look at what makes prep sports so popular.
You may occasionally receive promotional content from the Los Angeles Times.