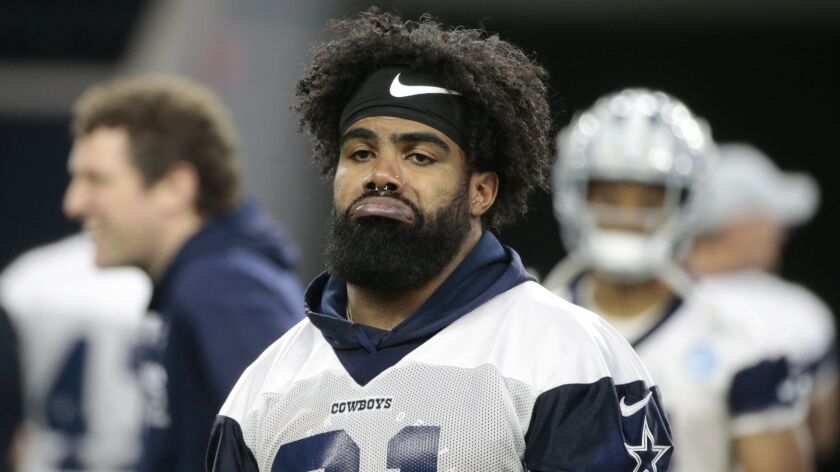 A security guard who appeared to be shoved to the ground by Ezekiel Elliott earlier this month said he wasn't satisfied with the apology he received from the Dallas Cowboys running back.
"It wasn't a sincere apology," Kyle Johnson, 19, told KCBS-TV. "He didn't really maintain eye contact, did not seem sincere at all."
TMZ published a video of the incident, which occurred at the the Electric Daisy Carnival in Las Vegas at 3 a.m. May 19. The Las Vegas Metro Police Department confirmed to TMZ that Elliott was placed in handcuffs while the incident was investigated but released after "the victim of the misdemeanor battery refused to press charges."
"I told the police I just want an apology out of the guy," Johnson told KCBS.
That happened, Johnson said, while Elliott was still in handcuffs. But when asked by KCBS what he was going to do next, Johnson said, "I don't know, kind of just play it by ear, evaluate all my options, see where we go from there."
That doesn't sound great for Elliott. Johnson seems to want a sincere apology. But, as Elton John said, sorry seems to be the hardest word. And speaking of songs, here are a few that might help the two-time Pro Bowler express himself (and some he might want to avoid):
"I'm Sorry," Brenda Lee
The classic apology song: "I'm sorry, so sorry. Please accept my apology." Although if sincerity is what Johnson is looking for, this one might come across as a bit cliched after years of overuse. Not to worry — plenty of others to choose from.
"Please Forgive Me," Bryan Adams
The phrase "please forgive me" is repeated more than a dozen times. If that's not sincerity, I don't know what is.
"All Apologies," Nirvana
Not to be outdone, Nirvana offers not one, not a handful, but all apologies. Every last one. And for good measure, they throw in: "Everything's my fault.I take all the blame."
"Sorry," Justin Bieber
Despite the title, there's really not much in this one that can help Elliott: "I'll take every single piece of the blame if you want me to. But you know that there is no innocent one in this game for two." Come on, Biebs, we're going for sincerity here.
"Sorry Seems to Be the Hardest Word," Elton John
It seems Sir Elton was looking 40-some years into the future at Elliott's situation when he sang: "It's sad, so sad (so sad). It's a sad, sad situation. And it's getting more and more absurd." No actual apology here, but he definitely seems sincere.
"Hard to Say I'm Sorry," Chicago
Same sentiment as the Elton John selection above but with an added promise: "After all that we've been through. I will make it up to you. I promise to."
"Sorry Not Sorry," Demi Lovato
Clearly, Elliott needs to stay far away from this one. Lines like "It'd be nice of me to take it easy on ya, but nah" and "Being so bad got me feeling so good" aren't going to do him any favors.
"Apologize," Timbaland featuring One Republic
Actually, this is one Johnson might be able to use: "You tell me that you're sorry. Didn't think I'd turn around and say that it's too late to apologize. It's too late. Said it's too late to apologize. It's too late."
Better hurry up with that sincere apology, Zeke.
Sign up for our daily sports newsletter »
Twitter: @chewkiii
---