Doug O'Neill joins effort to bring horse racing into new millennium, and to millennials, via social media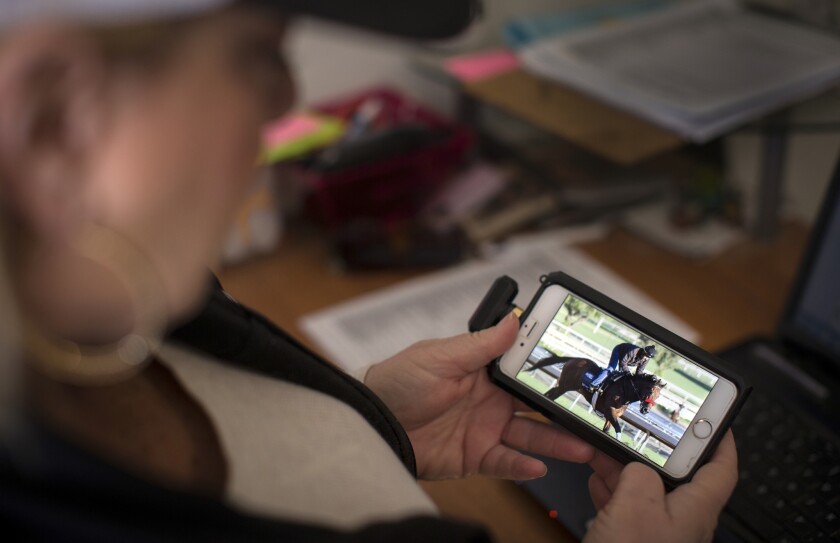 Sharla Sanders' day is typical for anyone in her position. She starts by looking at about 100 emails, plans the social media strategy, makes sure the right video and pictures are available and points everyone to their website.
But what is atypical about Sanders is she works in horse racing, a sport that embraces change and innovation about as easily as someone who still listens to music on their eight-track.
Sanders, an operations manager, plans the digital marketing for trainer Doug O'Neill. The fact she is one of the very few in the industry underscores why the sport has struggled to attract a younger audience.
The idea to go in this direction started more as a point of personal survival.
O'Neill was getting beaten up on social media after the death of a filly at Los Alamitos. Later, when I'll Have Another won the Kentucky Derby and Preakness, O'Neill was in the national spotlight about past medication violations. O'Neill has steadfastly denied ever drugging a horse.
"Doug wanted people to understand he wasn't how he was being portrayed," Sanders said. "We took to Facebook and used that tool to reach out to the racing public and fans to show them how we treat our horses and our philosophy."
From that, www.dougoneillracing.com was born. It is a slickly done website that incorporates personality, videos, press and aggregated social. In one video, an owner is poking fun at rival trainer Bob Baffert.
When asked, it was clear that O'Neill had not seen the video. But, after a pause, he answered the question. "I'm Doug O'Neill and I do endorse that part of the website," he said with a laugh, trying to capture the fun tone of the site.
Sanders works with Gwen Davis to keep the site running. Davis, owner of Davis Innovation in Pittsburgh, was contracted to design the site and help out by Team O'Neill, the umbrella name Doug uses to sell the inclusiveness of his stable.
Davis has also created websites for trainers Dale Romans and Eddie Kenneally. "[Trainers] want to attract new owners and keep current owners satisfied," Davis said. "They want to keep their fans up to date. But marketing is marketing" regardless of the subject.
In addition to Twitter and Facebook, Davis uses Instagram, Snapchat and Periscope to sell the brand. "It's like Facebook is a magazine and Twitter is like your newspaper," Davis said. "You have to cover every single one of them."
Elizabeth Bracken, associate coordinator of the Race Track Industry Program at the University of Arizona, helps put on a yearly symposium on issues in horse racing. "It started out with us talking about how to get likes on Facebook. Now we talk about better ways to measure it, how to get to the influencers, the people that everyone listens to," she said.
Bracken explained that handicappers have long been wise to social media. But for others you have to market a different message.
"We're trying to bring in the millennials," Bracken said. "So you have to make it more of a lifestyle thing. Get dressed up, go out for the night. We have to take it more in that direction. With Twitter, you're just pounding out information to your existing core fans."
There is little doubt that the stars of these campaigns are the horses.
Nyquist, an undefeated 3-year-old that is California's top Kentucky Derby prospect, has his own Twitter account, with a modest 546 followers, and a Facebook page, with more than 2,000 friends. By comparison, California Chrome has about 17,500 followers. But Nyquist's followers will grow exponentially should he win a Triple Crown race.
"He's starting to catch fire," Sanders said. "As the year progresses we will provide more and more and use him to try and get more people involved in the sport."
O'Neill thinks the centerpiece to his site is an occasional video/webcast called "Down Home With Team O'Neill."
The first one introduced people to two of the behind-the-scenes workers plus Sanders doing a question-and-answer segment. The second had former basketball coach Paul Westhead giving tips on how to run a team.
"The third one we'll have [actor] Joe Pesci playing the angry owner and [brother] Dennis trying to pitch a 2-year-old in training to him," O'Neill said.
The host of the segment is Mike Joyce, an on-screen analyst for horse racing network TVG.
"We're definitely trying to reach a new audience by bringing people in through the barn," Joyce said. "You're not going to get a 20-something to sit down and watch Trackside Live [on TVG] for four hours. But they will go to YouTube."
Joyce explained the history of horse racing usually picking the wrong path when it comes to seeing the future.
"Horse racing and baseball were the biggest things 60 years ago," Joyce said. "But when TV came along horse racing thumbed its nose at it. So, we lost at least one generation of fans because of that and now we're trying to get them back."
O'Neill, an admitted technophobe, believes that selling the story by whatever medium is the best way to raise the sport's profile.
"It's all just trying to add value and to try and bring what's going on behind the scenes to more people," O'Neill said. "When they get to see the care that racehorses get and get to see the personalities of the people involved, it's something that we're proud of."
Follow John Cherwa on Twitter: @jcherwa
---
Get the latest on L.A.'s teams in the daily Sports Report newsletter.
You may occasionally receive promotional content from the Los Angeles Times.