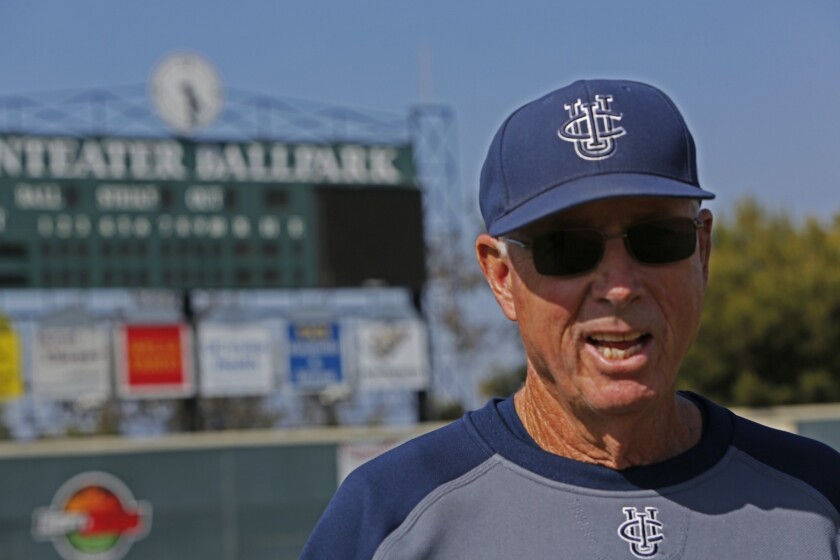 Arms folded, Mike Gillespie slowly circles the dirt-meets-grass perimeter of the infield at UC Irvine's baseball stadium, pausing every few feet to monitor an intrasquad scrimmage from a different angle, with a different gaze, in a different glint of sunlight.
As his team practices, he is searching for cracks in its game.
The coach's voice is a whisper from willing his underdog team to a place at college baseball's mecca, Omaha, Neb., home of the College World Series. No matter. Gillespie doesn't need to yell to establish his command.
Everyone on the field and in the dugout knows who is in charge. And they follow orders, no matter how unpredictable or unorthodox the order is.
A steal of home. A suicide squeeze play with two strikes on the batter. His strategies can be chancy, quirky, or even defy logic.
Gillespie, 74, has used them at the major college level for 27 years — 20 at USC, the last seven at Irvine — and won more than 1,000 games.
Never the type to plan for a home run or double, Gillespie preaches base stealing, sacrifice bunts and hitting the ball to the right side of the field to advance a runner from second base to third. In baseball circles, the approach is called "small ball."
He doesn't care for the term. "I think of them as details," he rasps.
Slack on a detail and an Irvine player might receive an icy stare, a cutting remark, or worse, find himself on the bench for the next game.
"He's not going to put anyone in the lineup that he doesn't feel can get every skill done," outfielder Justin Castro says.
At Irvine, there is less margin for error than there was when Gillespie coached at USC, where the Trojans attracted premier sluggers. Even then he was always looking for an edge.
"I used to make fun of him," says Aaron Boone, a former USC star who had a long career in the major leagues, "because we had 30 different offensive signs."
The coach's hands-on approach to everything has its benefits, Castro says: "We don't have to think too much. He gives us the sign and we just execute."
Irvine doesn't typically win — or even join — recruiting wars for the very best prospects, a truth Gillespie acknowledges "is a little bit of an insult to our players." But an Anteaters ballplayer is skilled in the game's fundamentals, and above all is required to be efficient and selfless.
"We're not in it for the highlights," outfielder Ryan Cooper says, "we're in it for the wins."
Irvine has won five of its last six games after barely qualifying for the postseason. After a blistering stretch in which it won 14 of its first 15 Big West Conference games, the Anteaters lost seven of their last eight in the regular season and were among the final four of the 64 teams chosen for the playoffs.
Seeded third in a four-team, double-elimination regional at Corvallis, Ore., Irvine knocked off Oregon State, the top-ranked team in the nation. From there, the Anteaters headed to Stillwater, Okla., and took the first two games in a best-of-three series against highly regarded Oklahoma State.
Now they are among eight teams headed to Omaha, where on Saturday they will open against Texas, which is making a record 35th appearance in the College World Series.
Irvine plays solid defense and is in the national top 20 in a couple of key pitching categories, but the Anteaters have hit only a dozen home runs all season, scoring just enough runs to get by.
In an era of deadened metal bats and a new pitcher-friendly stadium in Omaha, that combination has won before. UCLA, coached by Gillespie protege John Savage, a former USC assistant, used a similar template in a title run last year.
"They scratched and clawed and figured out a way to move the runner, and to squeeze out a run somehow," Gillespie says. "And it worked."
Whereas UCLA used small-ball tactics to put pressure on defenses by constantly moving runners into scoring position, Irvine is prone to aggressively force the issue.
In one of their regional wins over Oregon State, the Anteaters scored three runs on two risky plays in one inning. Both were suicide squeezes, the baserunner at third breaking for home as the pitcher delivers the ball. The runner is usually an easy out if the batter doesn't put the ball in play.
When it works, Gillespie can look like a genius. Other times, a dolt.
In another regional game against Oregon State, the coach called for a suicide squeeze with the bases loaded, one out, and two strikes on the batter — a hitter who was allowed to swing away and belted a grand slam in a similar situation during an earlier game.
The pitch was fouled off, meaning the batter was out, and the runner had to return to third.
Television cameras caught Gillespie cussing a blue streak in the dugout. He wasn't mad at his player, who was lucky to get a piece of a pitch at his ankles. "He had no chance," the coach recalls. "It was just, you know . . . when it doesn't work you look stupid."
That attitude is typical of the coach, says infielder Grant Palmer: "When things go bad, he takes the responsibility. We all have a lot of respect for him."
Gillespie says the defining moment in his philosophy came when he was guiding USC against Arizona State in the 1998 College World Series. He had never shied from calling for a runner at third to steal home — something he estimates he's done about 60 times in his career, failing only two or three times — but he had always wondered: "Do you really have what it takes to do this if it ever came up in Omaha?"
Yes, he did. And the Trojans scored.
"It was my single most gratifying moment in all my years," Gillespie says. "But I've often thought, 'If he had been out, and we had lost, I would have got fired long before I got fired.'"
The end at USC came in 2006, after the Trojans finished with a losing record. Gillespie, who had played for the Trojans in the early 1960s under legendary coach Rod Dedeaux, had a record of 763-471-2 and won five conference titles guiding his alma mater, but there was nothing sentimental about his departure.
He says he was informed by Mike Garrett, then USC's athletic director, that his services were no longer needed.
"It was a difficult time," Gillespie said, "but I was lucky because I landed on my feet immediately."
Gillespie spent one year as a minor league manager for the New York Yankees, then bounced back into the college game when Irvine's coach, Dave Serrano, was coaxed away by Cal State Fullerton.
Irvine's choice raised some eyebrows. One reason was Gillespie's age, which he admits he is "a little touchy" about.
In Saturday's opener, he'll be in good company. Texas Coach Augie Garrido is 75.
Texas hired Garrido away from Fullerton, where he built the Titans into a national baseball power from the shadows of USC, where Gillespie was in charge. There remains mutual respect — and a shared self-deprecating sense of humor.
Garrido joked that he and Gillespie are so old they should drive to home plate in motorized carts to exchange lineup cards.
Gillespie recalls that his age was a storyline the last time he brought a team to Omaha — USC in 2001.
"Even then I was thought to be old," he says. "If I was old then, I'm Methuselah now."
Retirement is a topic usually brought up by somebody else. An article in Irvine's school newspaper before this season wondered if it was time because the Anteaters had fallen short of the playoffs in two consecutive years.
"I've often felt that retirement is a great thing for people who can afford it and for people that have something to do," Gillespie says. "I can't watch Judge Judy every day, although I like her.
"I'm not proud of this, but I'm a wannabe. I love the stories of fishing and golf. I have not done those things.
"This is what I do."
---