Column: Josh Rosen is right to question the value of student-athletes' education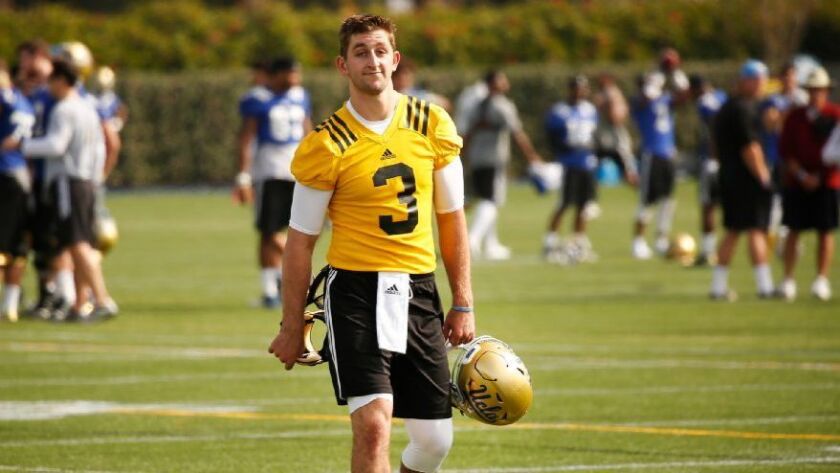 The season hasn't even started, and already UCLA's Josh Rosen is brazenly throwing into traffic.
Mere days after making it clear he was going to take a more subdued approach this fall, the polarizing quarterback made headlines again this week with the publishing of an interview conducted last spring.
In it, Rosen basically said that, when it comes to college football, the phrase, "student-athlete" was a sham.
"Look, football and school don't go together," he told Bleacher Report's Matt Hayes. "They just don't. Trying to do both is like trying to do two full-time jobs.''
Rosen claimed colleges prioritize athletes' eligibility ahead of their education. He criticized the lack of meaningful academic help for athletes facing impossible schedules. He even offered a specific example, citing his inability to sign up for a required UCLA class this spring because it interfered with spring football.
"You have a bunch of people at the universities who are supposed to help you out, and they're more interested in helping you stay eligible," he said. "There's so much money being made in this sport. It's a crime to not do everything you can to help the people who are making it for those who are spending it."
Naturally, his words were immediately condemned from ivory towers to hallowed halls. David Shaw, Stanford coach, called his statements "unfortunate." His coach, Jim Mora, supported his right to speak, but questioned the validity of his opinions.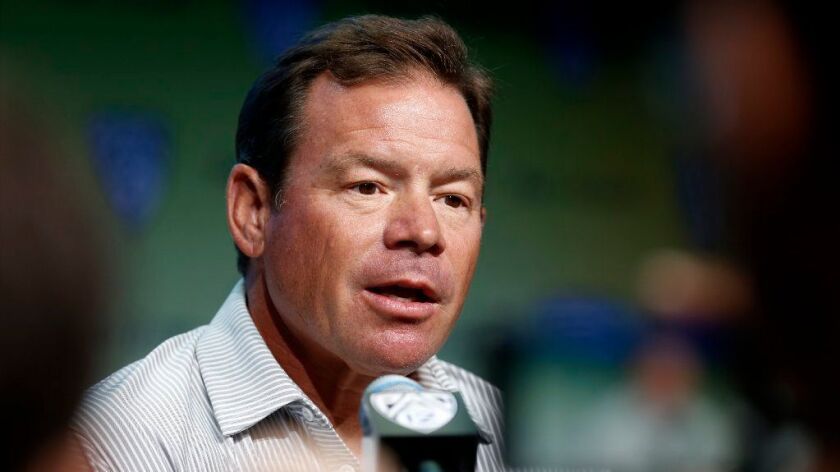 "I'm really proud of the fact that at UCLA, we have a really tremendous balance of academic and athletics,'' Mora told reporters Thursday, later adding, "We spend millions of dollars making sure that our student-athletes are not just graduating, but they're getting an education.''
Seemingly everyone making money off the billion-dollar business of college football immediately attempted to knock down this latest Rosen laser, which should tell you one thing.
It hit its target. In fact, it might have been the most accurate pass of Rosen's career.
Numerous studies validate Rosen's sentiments. Furthermore, there are 280 million reasons why he has the right to express them.
This is the first year of UCLA's college-record $280-million shoe and apparel deal with Under Armour. That money reflects the perceived value when players such as Rosen trot on to national television wearing Under Armour's equipment.
Yet Rosen isn't receiving a penny of that money. Instead, he is being paid in a free education, which some think should be enough to keep him quiet.
It's the opposite. Rosen has not only the right, but the responsibility, to question whether this education is proper payment for his services.
"If his 'pay' is in the form of an education, and then he is unable to extract the full value out of it, he's getting the short end of the deal," said Andy Schwarz, a Bay Area antitrust economist who specializes in college sports issues.
UCLA is everything that Mora is touting. It is among the Pac-12 leaders in graduation rates. Its academics are among the best in the country. Its enrollment standards are high enough that Bruins coaches often complain of the difficulties in recruiting great athletes who are marginal students.
But that doesn't make the life of a UCLA football player any easier, or prohibit Rosen from challenging the school to make the balance between academics and athletics more equitable.
According to a 2015 study of 409 Pac-12 athletes by market researchers Penn Schoen Berland, the average conference athlete spent 50 hours a week on athletics. That's a full-time job.
In the same study, 80% claimed they missed a class for competition, and 54% said they didn't have time to study for tests. That's the result of having two full-time jobs.
Rosen is essentially claiming that academics is clearly the second job, the moonlighting gig, and because of that, players often are steered not toward their real interests, but toward the classes that will keep them in uniform. Rosen correctly wonders, how valuable is that degree if it comes in a field chosen only because it gave him the time to play football?
"They don't realize they're getting screwed until it's too late," Rosen said. "You have a bunch of people at universities who are supposed to help you out, and they're more interested in helping you stay eligible."
Daniel Rascher, sports economist from the University of San Francisco, said one can see the results of these academic barriers in many schools, in the fine print below the players' names on Saturday afternoon television graphics. Indeed, they all seem to be majoring in the same thing, and it's seemingly always some ambiguity about humanity and society.
"Adding in a full academic load would be really challenging," said Rascher. "That's one reason why we see clustering in certain majors that fit with practice schedules."
Yet Josh Rosen dares to complain about these institutionally broken promises and he's the bad guy? Yes, he may have gone overboard in the interview when he targeted Alabama's academics, saying, "OK, raise the SAT requirement at Alabama and see what kind of team they have." But instead of Rosen making college administrators angry, he should be making them think.
"There clearly is an incentive to allow enough time for athletes to be eligible and a disincentive to allow more time to focus primarily on being a student," said Schwarz of college athletics. "As an economist I can say it's clear that the financial incentives align the way you see them: keep athletes eligible and then after that, keep them at practice rather than in an afternoon science lab.''
Josh Rosen is only asking for equal time in both. He and other college athletes are owed as much. It's written right there in the first two syllables of their one-word contract. That's why it's called a scholarship.
Get more of Bill Plaschke's work and follow him on Twitter @BillPlaschke
MORE FROM BILL PLASCHKE
UCLA's Josh Rosen is a shadow of former brash self
She flashed a Dodger Stadium crowd and became a viral sensation. Now Rally Granny is making national headlines
By acquiring Yu Darvish, executives give Dodgers what they need to make World Series dream a reality
---
Get our high school sports newsletter
Prep Rally is devoted to the SoCal high school sports experience, bringing you scores, stories and a behind-the-scenes look at what makes prep sports so popular.
You may occasionally receive promotional content from the Los Angeles Times.