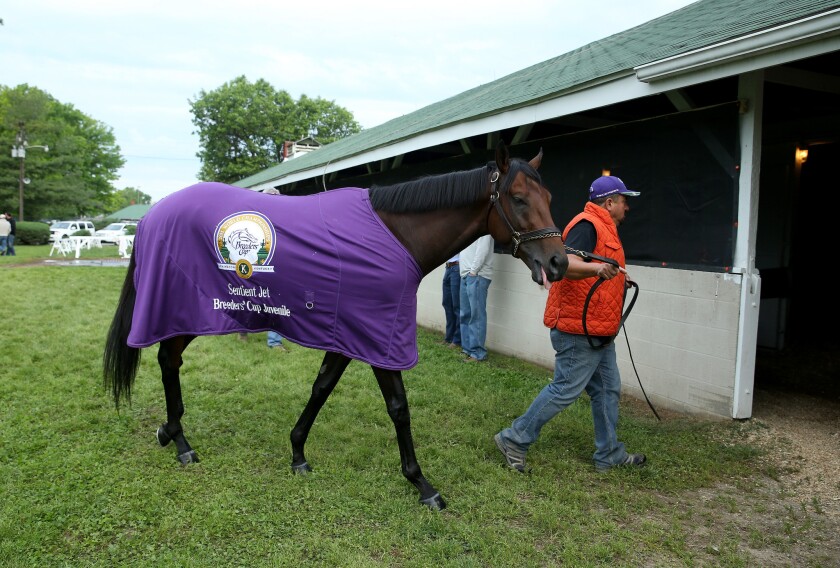 REPORTING FROM LOUISVILLE, Ky. —
The connections of Kentucky Derby favorite Nyquist are hoping that Post 13 works for them as well as the last time he carried that number, when he won the Breeders' Cup Juvenile in October.
"It's good, lucky 13," a smiling Paul Reddam said after the glitzy post-position draw Wednesday at Churchill Downs. "It's been our lucky number."
Trainer Doug O'Neill forgot that fact until Reddam reminded him.
See the most-read stories in Sports this hour>>
"I kept thinking we were the 12 because we broke from the 12 hole" [because of a scratch]," O'Neill said.
Nyquist was installed as the Derby's morning-line favorite at 3-1, followed by Santa Anita Derby winner Exaggerator (11 post) at 8-1. Linemaker Mike Battaglia had three horses — Creator (3), Gun Runner (5) and Mohaymen (14) — as the third choice at 10-1.
The strategy of the race may have changed when Danzing Candy, winner of the San Felipe at Santa Anita, drew the No. 20 position. Danzing Candy and Outwork (15) were considered to be the early speed in the race. Now they have to get in front of a lot of horses from far outside to get the lead.
But it didn't bother Cliff Sise Jr., Danzing Candy's trainer.
"At first you're kind of stunned when they say 20, but … it's not that bad," Sise said. "It's better than the one hole, especially for a speed horse. He can come over gradually and won't sit in the gate long."
O'Neill had hoped to be outside of Danzing Candy, Outwork and Mohaymen, so jockey Mario Gutierrez could keep an eye on them. Now, O'Neill might be thinking about going for the lead.
"I wouldn't mind that at all," O'Neill said. "I think Nyquist has shown the versatility to win on the lead and from off the pace. So we got options, I think."
Mor Spirit, the Bob Baffert-trained runner-up of the Santa Anita Derby, was listed at 12-1. He will break from the No. 17 post. Brody's Cause (19), winner of the Bluegrass Stakes, was also 12-1.
The worst post — the rail — fell to Trojan Nation, the first maiden to run in the race since 1998. He was listed, along with Oscar Nominated (7) at 50-1.
Follow John Cherwa on Twitter @jcherwa
---