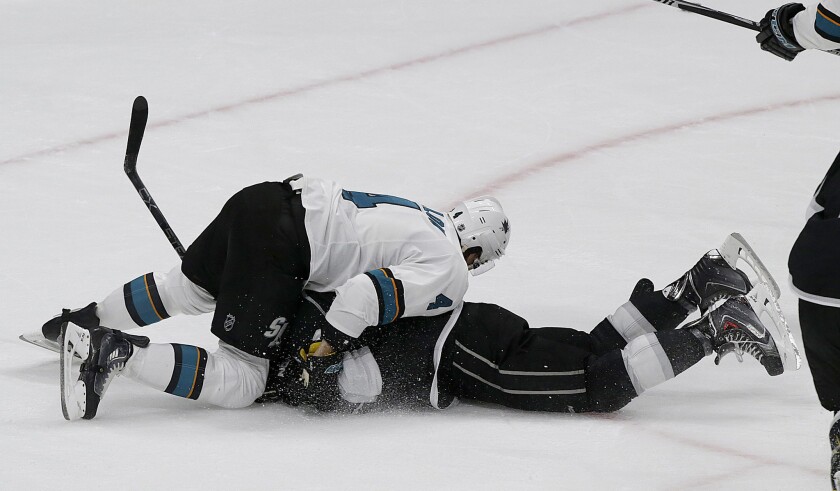 A sign of just how seriously the Kings are taking their 2-0 deficit in their series against the San Jose Sharks: On Sunday, a day off in the series, the Kings met for 45 minutes at their practice facility and then went on the ice for a brisk 20-minute skate to shake out the cobwebs.
Normally, in the Stanley Cup playoffs, practice is limited to extra players and those on the fringes of the roster. But the Kings had lots to talk about in the aftermath of a 2-1 loss Saturday night that put them two games down against their Northern California rival.
The Sharks scored on their first shot on goal and then on a second-period, five-on-three power play, accounting for all their scoring. But it was all they needed. The Kings pushed hard to tie the score — winger Marian Gaborik, playing his first game in nine weeks, created lots of opportunities — but they could get only one past Sharks goaltender Martin Jones.
Kings Coach Darryl Sutter was upset with his team's inaccuracy around the net, noting that while Jones played well, his team was also its own worst enemy, because the Kings constantly missed the net with their shots. So far in the series, the Sharks' best players — led by captain Joe Pavelski — have outplayed their Kings' counterparts. Kings center Anze Kopitar has been limited to a single assist in two games; Tyler Toffoli, the Kings' leading goal-scorer in the regular season, is still looking for his first point of the series.
"I feel when our team is not scoring enough goals and I'm not scoring personally, it goes on my shoulders a little bit," said Toffoli. "It's almost there, but close isn't good enough for this time of year."
Gaborik played 20 shifts in just under 15 minutes of ice time in his return from a sprained right knee and reported that he felt "better and better" as the game progressed Saturday.
"You don't see a lot of pretty goals in the playoffs," said Gaborik. "You need to work for every chance, every goal, especially in the blue paint, and just try to hit the net with the purpose. Even if it's not a great chance, make it so there's a rebound. We have to get that second and third opportunities and find pucks and make it difficult for Jones."
The Sharks have also received strong work from a trio of defenders — Brent Burns, Marc-Edouard Vlasic and Roman Polak. Polak's acquisition at the trade deadline created additional depth. The Sharks have become a quality shot-blocking team under Coach Peter DeBoer, which has also created issues for the Kings.
"We have to find the lanes or create a lane, whether it's the defensemen or us forwards," said Gaborik. "If somebody is in the lane and you're a second late, you've waiting too long. We have to get it off our sticks quick and make sure it goes to the net — and shoot with a purpose."
The shift in venue makes for an interesting dynamic. The Sharks were the NHL's No. 1 road team this season, recording 28 victories, and then followed up with two wins on Staples Center ice. On the other hand, they struggled at different times with their play on home ice, while the Kings were a solid road team, putting together a 22-16-3 record.
"I don't think we're very far off," said Kopitar. "We all know the margin of error in the playoffs is very small too. Obviously, not an ideal start, and we know that. Now we're going into a tough building, but we've also had some success in that building. We're going up there confident.
"Our mind-set is to win the next game and cut [the deficit] in half."
As for the Sharks, they are taking nothing for granted. Two years ago, they managed to lose a first-round series to the Kings after the Kings fell behind, 3-0.
"This series is a long way from being over," said Sharks center Logan Couture, who scored the game-winning goal for San Jose on Saturday night. "I'm sure it's to be well-documented how we played at home this year. They're going to bring it. They're going to have a very good effort in Game 3 and we're going to have to match it and be better than them."
Twitter: @reallisa
---