Column: Kobe Bryant knows the truth: 'The WNBA is a beautiful game to watch'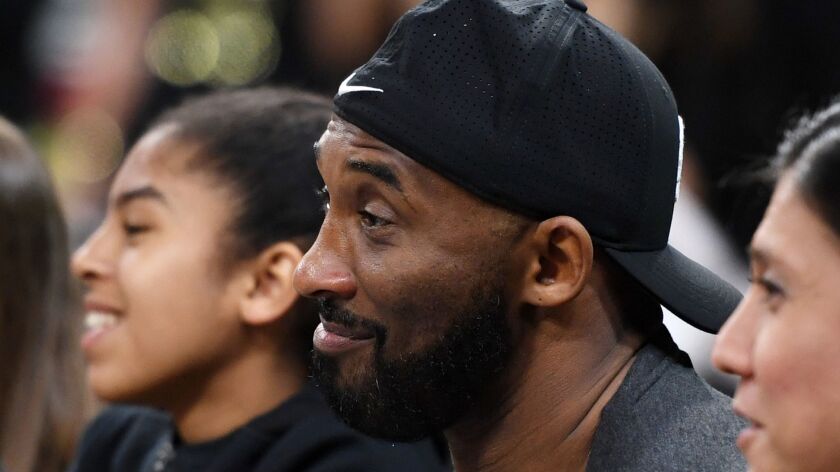 Reporting from Las Vegas —
Kobe Bryant laughs when fans come up to him and tell him they hope he has a son to carry on the Bryant basketball legacy.
Bryant, the only son of former NBA player Joe Bryant, has three children — all girls — but says the family name is in good hands on the basketball court.
"This one," Bryant said, pointing at his 13-year old daughter Gianna. "She's something else."
Bryant, who coaches his daughter's club basketball team, took the girls to watch the Sparks play the Las Vegas Aces in their season opener here Sunday since they were already in town for a tournament. Throughout the game, Bryant spoke to his daughter and her teammates about certain plays and situations.
"There's no better way to learn than to watch the pros do it," Bryant said. "The WNBA is a beautiful game to watch."
As the WNBA enters its 23rd season, Bryant's support of women's basketball is invaluable for a league still dealing with negativity from some men. Criticism is still so prevalent on social media that the WNBA posted a video before the league's openers, with stars such as Diana Taurasi, Brittney Griner and Skylar Diggins-Smith directing comments at "little man trolls."
"People need to follow Kobe's lead, and I'm not just talking about NBA players," Sparks forward Chiney Ogwumike said. "I'm so glad the players come and support us, but just men in general. You look at women's basketball and the WNBA and a lot of men tend to speak on it without knowing it, and a lot of men tend to be ignorant about women's basketball players. But you will have a daughter, and I bet you would want your daughter to play in the WNBA if she's good at basketball. So follow his lead."
After the game, Bryant took his team into the Aces locker room where they got to meet the players and talk to all-stars A'ja Wilson and Liz Cambage.
"We were more excited to see the young girls because they're the future of our game," Wilson said. "We were discussing why this is great and why we need the WNBA. This is why we play, to see young girls get so excited to see us. Just seeing him in the locker room and seeing his AAU team was a great moment for us."
Last week, Bryant took the girls to visit Taurasi, Griner and the rest of the Phoenix Mercury. He plans to do that during the course of the season as his team travels to play in tournaments, and he will take them to watch the Sparks — now coached by his former teammate, Derek Fisher.
"We're all trying to be impactful in this world and it's cool to see Kobe's positivity impacting the women's game and youth girls," said Fisher, who won five titles with Bryant and the Lakers. "He makes a difference when he shows up and when he says something. People react, people listen. To be able to go to a Phoenix Mercury practice and talk to Diana Taurasi and come to Vegas and watch the Sparks and Aces play, for a young girl that's impactful."
A video of Gianna Bryant's basketball highlights recently went viral as she showed off several moves she learned from her father. Bryant can't help but smile recalling how quick she is to remind people he doesn't need a son to continue the family's basketball legacy. She's "hell-bent" on playing for Geno Auriemma at Connecticut, Bryant said, and one day playing in the WNBA.
"They have a similar demeanor and personality," Fisher said of father and daughter. "You can tell he's not far away."
::
One of the first fans in his seat before Sunday's Sparks-Aces game at Mandalay Bay was Raiders owner Mark Davis, who has become a regular at Las Vegas sporting events leading up to his team's move here next year. Davis was in his seat more than 45 minutes before the opening tip, and at one point a fan tapped him on the shoulder and asked for a photo. The fan didn't want a picture with Davis; she wanted him to take a picture of her with her friends. Davis obliged.
::
As the WNBA begins its second season here, MGM Resorts has done a good job of promoting the league and the Aces after buying the San Antonio Stars and relocating the team last year. Team merchandise is sold at MGM gift shops and the games are shown on monitors around the casinos. The one big drawback of having MGM as owner is that none of the properties, which include 10 sports books on the Strip, accept wagers on Aces games or futures.
That is likely to include the WNBA All-Star Game in July, which will be held at the Mandalay Bay Events Center and will presumably include Wilson and Cambage. Bettors interested in placing wagers or futures involving the Aces are directed toward non-MGM properties.
::
Many pro wrestling fans will tell you the height of their fandom came during the "Monday Night Wars," when the WWE would air Monday Night Raw on the USA Network and rival WCW, owned by Ted Turner, would air Monday Nitro on TNT. During the height of their weekly battles, which spanned from 1995-2001, each shows would draw more than four million viewers. The WWE has had monopoly on the industry since 2001 when Vince McMahon bought WCW, but that may soon change.
Sign up for our daily sports newsletter »
Jacksonville Jaguars owners Shahid and Tony Khan have launched All Elite Wrestling and held their first pay-per-view event last Saturday at the MGM Grand here.
Boasting several stars who performed in the WWE and WCW, the show was responsible for the highest-trending topics on Twitter, and AEW announced it would be launching a weekly show on TNT later this year, giving the WWE their first real competitor in nearly 20 years.
"Wrestling fans have wanted, and needed, something different, authentic and better for far too long," Tony Khan said. "AEW is answering the call."
---
Get our high school sports newsletter
Prep Rally is devoted to the SoCal high school sports experience, bringing you scores, stories and a behind-the-scenes look at what makes prep sports so popular.
You may occasionally receive promotional content from the Los Angeles Times.