Letters: Can't say this Dodgers season hasn't been exciting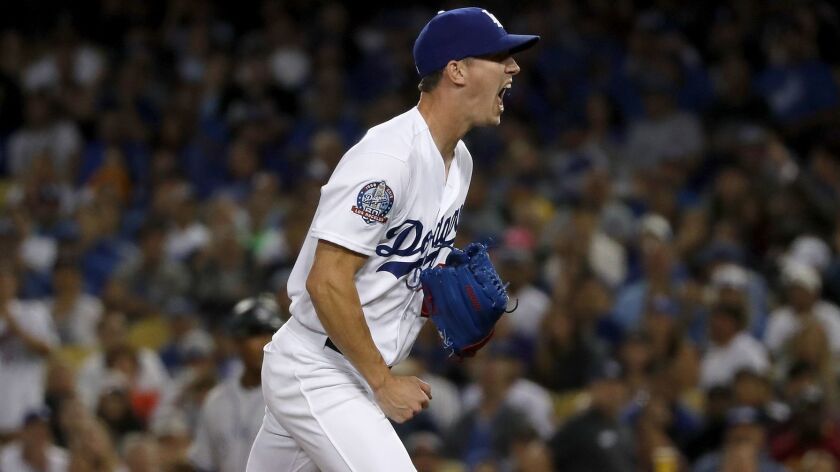 I heard that Universal Studios is replacing the Jurassic Park Ride with a new roller coaster called the Dodgers Ride. It makes you feel a range of emotions from at times feeling very happy to moments of fear. At times it will make you feel so dizzy that you want to throw up.
But just like every roller coaster you know it has to end and you're usually disappointed because from all that waiting and money spent, you think you deserve more. And just like every ride, you wait in line for the next expecting a different finish.
Richard Katz
Los Angeles
::
It was only a few weeks ago that Dodgers fans were endlessly complaining about manager Dave Roberts. Their main gripe was that he had no clue as to when to leave a pitcher in the game or when to take him out. But now that the Dodgers are finally on top in the NL West, it looks like Roberts knew what he was doing all along. There are still some games remaining, but the division title is once again within their grasp. Through it all, Roberts has never lost his cool and kept faith in his players. The results are there for all the naysayers to see.
Charles Reilly
Manhattan Beach
::
After the sweep of Colorado, hopefully the Dodgers continue their winning ways. One thing though, Dodgers players: Please, please please, if you do win the NL West, act like you've been there before. You have! No need for a huge champagne party complete with goggles, just keep an eye on the prize, a win in the World Series.
Phillip Trujillo
Ontario
Tough starts
So much for letting a high school senior be your quarterback. Perhaps the Trojans should consider going to 12-minute quarters for the rest of the season and insist on being able to invoke the mercy rule. They will need it.
George M. Lewis
Los Osos
::
USC has put together highly rated recruiting classes, but they were for headliners, not workers. Hollywood flash with little substance. O-line has been an afterthought for years, in sharp contrast to the Trojan championship teams and current national championship teams. Not an easy fix when top O-linemen know that USC does not care about them and go to teams that do.
Jim Duke
Santa Monica
::
Losing to Stanford is one thing, but being boat-raced by a mediocre Texas team is quite another! Suffice to say, the Trojans' special teams were less than special. A blocked field goal for a touchdown, roughing the kicker and numerous punts that resembled my cat playing with yarn were simply embarrassing.
Looks like a long year for Troy, The only solace is UCLA is actually worse!
Mark S. Roth
Los Angeles
::
USC has two punters on scholarship and neither of them can consistently punt the ball more than 15 yards, which places their defense in an unwinnable situation.
Here's a solution: Walk across campus and contact the goalie for the women's soccer team and give her a tryout. If she demonstrates she can consistently punt a ball more than 15 yards at a time (and I am confident she will), suit her up and bench the two scholarship guys for the rest of the year.
Richard Raulston
Eastvale
::
USC has again displayed that they have become a team that is able to compete only in a very weak Pac-12 Southern Division. They are nowhere near being a candidate for a national championship. USC is simply a finesse team with very poor offensive and defensive line play. Either Helton continues to recruit soft linemen or they are being poorly coached.
If this satisfies Lynn Swann and other Trojans fans, then you have the man you deserve.
Bruce Olson
Alta Loma
::
In case anyone is interested, Ed Orgeron's 3-0 LSU Trojans, I mean Tigers, are now ranked No. 6 in the country after beating their second top-10 team of the year. Just sayin'.
PJ Gendell
Beverly Hills
::
As the USC Board of Trustees continues its search for a new university president, I suggest the search committee expand the search for a new head football coach.
I'm sure Clay Helton will make a fine offensive coordinator elsewhere and it is lamentable that Leo Durocher's maxim appears true: "Nice guys finish last."
Kevin S. Avery
Tarzana
::
USC football: Curing insomnia and making mediocrity great again.
Jack Von Bulow
Temple City
And the Bruins...
Now that Mr. Robinson has let us all know that he has graduated from the LaVar Ball School of Stage Dads, Chip Kelly can get on with the real work of building the program. I'm sure JT Daniels' dad feels exactly the same way about Clay Helton. The difference is that JT's dad would be right.
William David Stone
Beverly Hills
::
UCLA quarterback Dorian Thompson-Robinson's dad has pulled a LaVar Ball by publicly blaming Chip Kelly for his son's subpar performance, which is mostly due to inexperience. I would tell Mr. Robinson that coach Kelly has not missed a single block or tackle, fumbled a ball, thrown a pick, or committed a stupid penalty, unlike most of the players, including your son. It is time to be supportive, allow this young team to grow, and be a better role model for your son.
Alan Abajian
Alta Loma
::
In speaking about Dorian Thompson-Robinson,Chip Kelly said "If he makes a mistake,it's a one-time mistake. I've said that about 100 times about him so far." Aren't 100 different mistakes a lot to have made at this point in the season?
Gerry Swider
Sherman Oaks
::
After three games, the Bruins revealed themselves as a bad football team. Poorly coached for the most part. The freshmen have had too many drive-stopping penalties, too many interceptions, too many fumbles and too many missed tackles. Defensive backs that are too small to cover tall receivers and way too much time for the quarterback to pick his receivers. Make no mistake, so far this is a bad football team and a poor coach.
Lou Rosen
Pacific Palisades
::
After watching UCLA fall to 0-3, I immediately wondered if the Bruins could contact Under Armour to create a new slate of interchangeable uniform designs. If UCLA incorporated five more helmets, six more jerseys and four more pants in a myriad of colors into its uniform scheme, maybe the Bruins would be psychologically inspired to play better. It apparently worked for Chip Kelly and Nike for Oregon a while ago.
Mark J. Featherstone
Windsor Hills
::
The Bruins are on target to finish the season 0-12. Does that mean next year they get featured in HBO's "Gutty Little Hard Knocks"?
Jeff Black
Los Angeles
::
I've been wondering (and worried) for months why Chip Kelly was so quiet and not popping off about the upcoming season like so many previous UCLA coaches have. Now I know.
John Mark
Newport Beach
::
Flipping channels between the USC game and UCLA game last Saturday night was like changing deckchairs on the Titanic.
Vaughn Hardenberg
Westwood
Ramming it
I guess no one told the Arizona Cardinals. The first 50 yards in the Coliseum are owned by the Rams.
Bill Simpson
Rancho Palos Verdes
::
I happened to read this during the High Holidays. Is Daniel talking about our unbeaten Rams? No mention of the east makes me uneasy.
Daniel 8:4-8: "I saw the ram butting westward, northward, and southward, and no other beasts could stand before him nor was there anyone to rescue from his power, but he did as he pleased and magnified himself."
Earl Roth
Oak Park
On Serena's side
If Serena Williams were a white male, four out of the five letters about her in the Times last week would never have been written. I seriously doubt that John McEnroe or JImmy Connors ever completed a tennis match without dropping the F-bomb several times, and usually with nothing more than a warning. Serena calls the umpire a thief and loses points. She should not have broken her racket, but white men do it all the time without losing points.
Clearly racism and sexism are still a problem in sports and in general in the U.S.
Dick Terrill
Torrance
Off the air
Kings management thinks that removing the games from terrestrial radio is a smart move? Really? I beg to differ. My guess is that this is going to prevent a lot of loyal Kings fans from hearing the broadcasts. Even during the darkest days of this franchise during the 1970s and 1980s the Kings managed to find a radio station to broadcast the games. Sounds like the Kings are taking sports marketing lessons from Guggenheim Baseball Management.
Jeff Davine
West Hills
Too much
I'm a die-hard Lakers fan. But $512 for two tickets in the nose-bleed section at Staples Center for their home opener is ridiculous. Guess I'll be watching from home. The Lakers should find another way to pay their superstars' salaries other than on the backs of their fans.
Susan Schless
Northridge
He's here to help
A few weeks ago, when Yasiel Puig was suspended for shoving an opposing player, Plaschke wrote how much a detriment Puig was to the Dodgers and should be traded.
Last week, Puig hit over .400, had five home runs in two days, and was named NL player of the week.
After the Rams' opening, but not overwhelming, win over the Raiders, Plaschke wrote what a mistake coach McVay made by benching his starters during the preseason. The next game, Rams shut out the Cardinals 34-0.
Bill, please write a column what a mistake it was for the Lakers to acquire LeBron James and that they are doomed for last place.
Joe Zingg
Palm Springs
::
The Los Angeles Times welcomes expressions of all views. Letters should be brief and become the property of The Times. They may be edited and republished in any format. Each must include a valid mailing address and telephone number. Pseudonyms will not be used.
Mail: Sports Viewpoint
Los Angeles Times
2300 E. Imperial Hwy.
El Segundo, CA 90245
Email:
sports@latimes.com
---
Get the latest on L.A.'s teams in the daily Sports Report newsletter.
You may occasionally receive promotional content from the Los Angeles Times.