Column: Mikey Garcia must overcome more than just his weight to defeat Errol Spence Jr.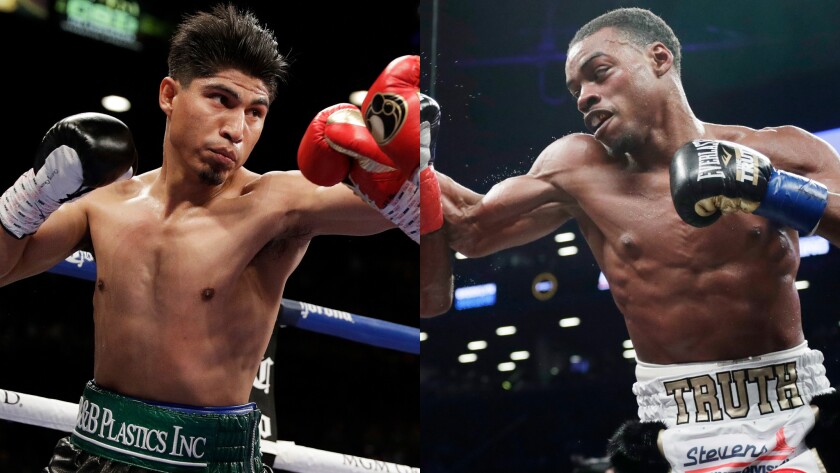 Reporting from Arlington, Texas —
Errol Spence is just too big.
That was the initial reaction in boxing circles when Mikey Garcia declared his intention of moving up two entire weight categories to challenge the welterweight champion.
And that is still the conventional thinking now, which is why Garcia remains a steady underdog entering their showdown Saturday at AT&T Stadium.
The world champion at the 135-pound lightweight division, the Oxnard-born and Riverside-based Garcia weighed in at 145½ pounds on the eve of boxing's most important fight of the year. Spence was 146 1/4 pounds.
With the fighters presumably rehydrating after stepping on the scales, the difference in their respective weights could be considerable by the time the opening bell sounds, with the 5-foot-9 Spence expected to outweigh the 5-foot-6 Garcia by 10 or more pounds.
Weight classes exist for a reason, summarized in the old adage that a good big man will always beat a good little man. Stylistically, this fight has drawn comparisons to former lightweight champion Roberto Duran's narrow decision loss to middleweight champion Marvin Hagler, who, like Spence, is a hard-hitting southpaw. Garcia is no Duran, but he's significantly closer to Duran in ability than the one-dimensional Spence is to Hagler.
"I believe I'm a better fighter overall," Garcia said. "When it comes to footwork, I think I have better footwork. When it comes to speed, I think I have better speed. When it comes to defense, I have defense. Timing, I have better timing. All these other things are what will help me win my fight. The only thing that he has going for him that's apparent is his size — the height, the weight, the reach, which is a big challenge. But I have everything to overcome that. That's what I'm betting on."
The 31-year-old Garcia (39-0, 31 knockouts) is as intelligent and technically sound a boxer as there is today, but his profile doesn't match that of past fighters who successfully conquered much larger opponents. Generally speaking, such fighters can be divided into two categories: defensive masters such as Duran and Floyd Mayweather Jr.; and physical freaks such as Roy Jones Jr. or Manny Pacquiao, who had the footspeed necessary to spend the majority of their fights outside their opponent's punching range without compromising their own offensive output.
The early stages of the fight will be telling about Garcia's chances.
There will be two critical moments: the first time Garcia strikes clearly on Spence and the first time Spence lands anything on Garcia.
The 29-year-old Spence (24-0, 21 KOs) is best when he is moving forward, advancing in his trademark southpaw stance behind a high guard with his front foot bearing the majority of his weight. He lacks head movement, which should offer Garcia a chance to connect. Garcia doesn't necessarily have to hurt Spence, but he has to at least stop his feet. If he fails to do that, Spence will transform into something resembling a runaway train.
In a fight last year against Sergey Lipinets, at a career-high 140 pounds, Garcia was able to halt his opponent, but not always. Garcia was, consequently, hit more in that fight than any other.
"He was probably the strongest guy I had faced up until then," Garcia said. "He hit me with some good shots. Even when I dropped him, we exchanged hooks, and as I'm walking away, because he was on the ground, I'm like, 'Damn, the guy can hit.' "
Equally important will be how Garcia absorbs the power of Spence, who has stopped 21 of his 24 previous opponents. Spence can be predictable at times, as he likes to double up on his jab and follow up with a sweeping left hand. His lefts are long and looping, but they often land because of the paralyzing effect of his jab. Virtually every punch Spence throws is hard.
"I'm going to [beat] him up," said Spence, who used an expletive to describe what he would do to Garcia.
To have a chance, Garcia will at very least have to make Spence proceed with caution. The more the fight is in the middle of the ring, the more of a chance there is Garcia's superior boxing technique can win the fight. But if Spence walks through punches and starts throwing his own blows with reckless abandon, Garcia will encounter a very real danger of being knocked out. What Garcia absolutely can't afford is to be backed into the ropes.
The best-case scenario for Garcia is if the training he did with former BALCO mastermind Victor Conte allows him to be as strong at the 147-pound limit as he was at 130 or 135. Garcia and his trainer-brother have dropped hints they could be looking to back up Spence, which would force the front-foot-fighting Spence into the uncomfortable position of fighting off his back foot. The shift in balance would almost certainly diminish Spence's trademark power and Spence's defensive shortcomings could turn him into a punching bag.
Sign up for our daily sports newsletter »
In training camp, Garcia sparring partners included middleweight Falcao and super welterweight Carlos Adames.
"We didn't expect him to be able to do what he's doing in the ring with these guys," Garcia's brother-trainer Robert Garcia said. "There's times where he plans out to push them back and then back them up and he's able to do it. We asked Falcao, 'Did you purposely let him do that?' He's like, 'No, I can't back him up. He's just too strong.' "
There's no guarantee Garcia can do that against Spence. There's a reason not many former featherweight champions have won titles at welterweight, and there's a reason a victory by Garcia would make him the consensus No. 1 pound-for-pound fighter in the world. History is on Spence's side. The question is whether Garcia has the power necessary to overcome that.
Follow Dylan Hernandez on Twitter @dylanohernandez
---
Get the latest on L.A.'s teams in the daily Sports Report newsletter.
You may occasionally receive promotional content from the Los Angeles Times.