Boxer Mikey Garcia draws inspiration and his 'fighting rooster' spirit from father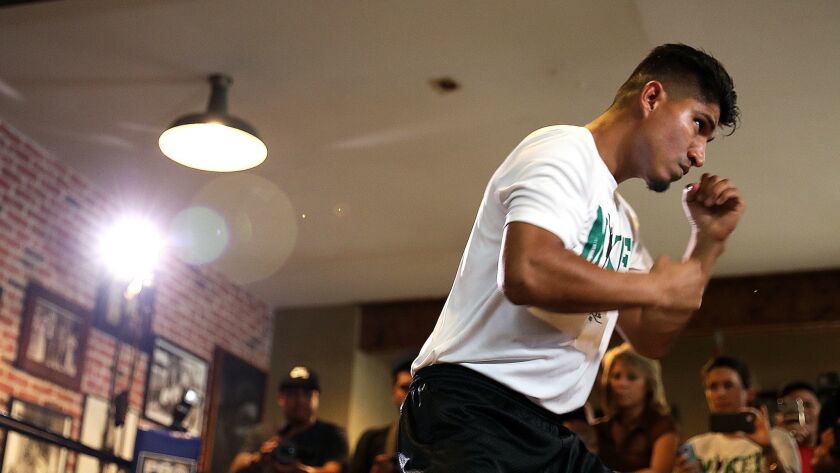 As Mikey Garcia pauses to consider walking through the Dallas Cowboys' massive AT&T Stadium accompanied by his father and brother, he repeats the word, "unbelievable."
"There's nothing more special than that, nothing more I can ask for," Garcia said. "Everything my dad started I'm adding to. In the same corner. In that stadium. All those fans. Millions gathered around the world in their homes to watch us … .
"From a man who started it all, who started in Mexico with a fourth-grade education … to be here right now is unbelievable."
Saturday night on Fox pay-per-view, Oxnard's four-division world champion Garcia (39-0, 30 knockouts) moves up two weight classes to challenge International Boxing Federation welterweight champion Errol Spence Jr. (24-0, 21 KOs) of Texas.
The journey began with Garcia's father and assistant trainer, Eduardo Garcia, now 74, who crossed the border from Mexico and spent more than 20 years picking strawberries in the fields off the Ventura Freeway.
"The most I ever made in one day was $70, and that was in the final years," Eduardo Garcia said.
The patriarch's later years in the fields coincided with his peak years as a boxing trainer. Eduardo Garcia was the cornerman for both former super-welterweight champion Fernando Vargas and Garcia's own son, former super-featherweight champion Robert Garcia, who won his first title 21 years ago this week.
"I will never forget seeing my parents coming home from the strawberry fields, looking through their bags to see if they had any leftover Doritos bags he'd buy," said Mikey Garcia, who was 11 in 1998.
"My parents' story is a great example of the American dream. Their struggles, their hard work for a better family … it inspires — that no matter how bad it might seem, you can always move past that and better yourself."
Despite Robert's world-title belt, Eduardo still had work to do. He committed to picking for the entire strawberry season from January to July of that year out of loyalty.
"The last day, I told my boss, 'This is my final day. Thank you for the work you've given me,'" Eduardo Garcia said. "I was happy that there was a new future for me, but I was sad because that's what I was accustomed to doing for several years: working.
"When I came from Mexico, I didn't have anything, no land to work on and I'd just got married. I came here for the correct reasons: to work. The majority of people who come here are coming to better their family."
In a household conversation a few years later, Mikey, who hadn't boxed, listened to his father tell him, "Everything I have when I die will be yours."
Then 14, Mikey responded, "I see how hard you work. I see all the sacrifices and everything you do for me … I'm not waiting for you to die. I'm going to give you something. I'm going to make your life better."
Sign up for our boxing and MMA newsletter »
Mikey ventured to the 2003 National Junior Olympic Tournament in Alexandria, La., winning nine fights to reach a final he lost by a split decision. "If I can make it to the final," he thought to himself, "there may be a gift here."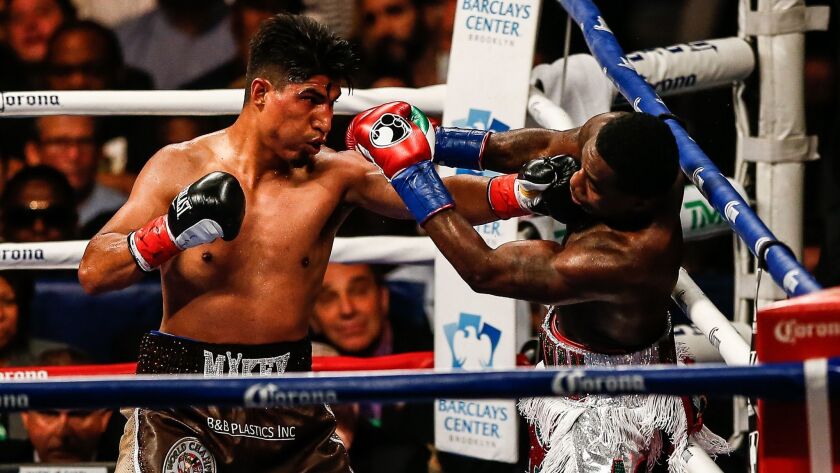 The thought prevailed even after Mikey gained an Associate of Arts degree and went through a police academy.
"There's other times you should fight with your intelligence. That's something I've always tried to follow," Mikey Garcia said. "My dad's saying is, 'Pelea con inteligencia primero y luego con valor' — 'fight smart first, and then fight brave.' I've always thought of that."
Garcia said he's ready to display both his intelligence and his power.
"No one has seen me in those [ultimate] situations, but I know I'm up to it," he said. "My dad knows. You don't breed a fighting rooster from a regular chicken coop. It comes from the blood, the lineage. My brother fought like that. My dad has it in him. My nephew was just fighting, his nose was all bloody and he wouldn't stop. Why? Because it's in the blood."
Garcia expects his full boxing heart to be revealed against the bigger Spence, who could weigh 10 pounds or more than Garcia on fight night after post-weigh-in rehydration.
Should he win, Garcia will have defeated three unbeaten champions in three separate divisions within one year's time.
"I've never wanted to win a fight as much as I want to win this one," Garcia said. "It's going to put me where I want my legacy to be — as one of the greatest to ever lace them up."
Twitter: @latimespugmire
---
Get the latest on L.A.'s teams in the daily Sports Report newsletter.
You may occasionally receive promotional content from the Los Angeles Times.