Morning Briefing: L.A. romance with a Dodger Stadium setting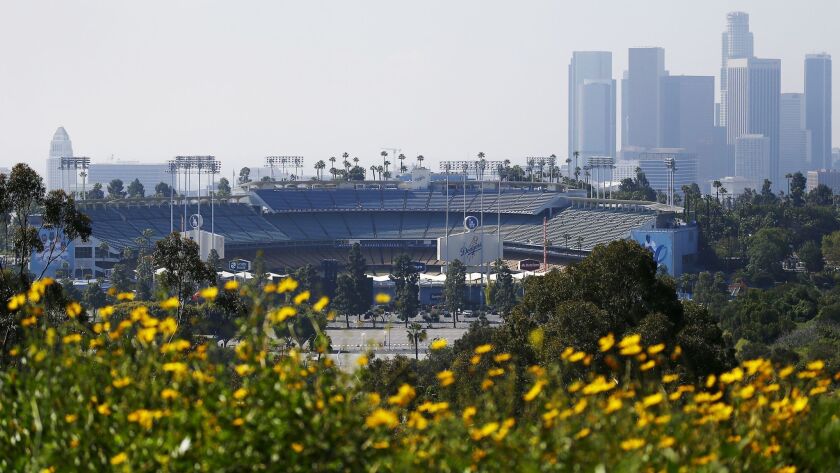 If we may suggest ways to break up the June gloom, this week we'll present a summer reading list featuring titles that fall into an interesting ultra-subgenre: "books that don't appear to have any sort of sports hook but kinda do."
Our first proposal: "The Proposal," by Jasmine Guillory, a chick-lit piece with a 3.4 rating out of five on GoodReads.com.
The cover may give it away. A guy with a blue hat. A baseball. Some palm trees.
Welcome to Dodger Stadium.
Guillory's main protagonist is Nikole Paterson, a freelance writer five months into dating a man-bun-wearing actor named Fisher. It's his birthday, and he drags her along with some of his friends to the Ravine.
"She didn't have anything against baseball, exactly," Guillory writes in Chapter 1. "It was just that she'd rather be spending this beautiful spring day at home with her laptop and a glass of bourbon on the rocks than outside at a baseball game with warm beer. But when the hot dude you were sleeping with wanted to go do a Dodgers game for his birthday, you sucked it up and went along with him and his bros."
But out of the blue, Fisher gets down on one knee, springs a ring on her and the words appear on the video scoreboard: "Nicole: I love you. Will you marry me? Fisher."
The first red flag there of a possible problem? Her name is misspelled.
Nikole awkwardly declines. The beau and his bros leave in a huff, "which left Nik alone to face the forty-five thousand pairs of eyes on her." Social media trolls her, and by Chapter 2, the girl from Silver Lake becomes the girl "who broke the pretty blond boy's heart live on the JumboTron."
We can't promise a Hollywood ending, but we already have a sequel proposal: The two run into each other at Staples Center, during a WNBA game. Time for a rebound? Sparks fly.
United they stood
USC's recent announcement of a compromise with United Airlines for 10 years of naming rights at the Coliseum — the company will paint its logo on the field instead of the actual facility facade — feels like a subdued reaction to this partnership, which actually became news in May 2017.
Way back then, some folks created a T-shirt at Teespring.com that read "I Still Call It the L.A. Coliseum," the words surrounding the Olympic flame silhouette. They're still available in the colors of USC, the Rams (or is it UCLA?) and the Raiders for about $22.
Wake up call
Longtime college football writer Jon Wilner of the Mercury News in San Jose offered a "radical schedule suggestion" for Pac-12 football games for those who find the "After Dark" Saturday night kickoffs too problematic. Why not reverse field on our circadian rhythms and launch a handful of games with a local 9 a.m. PDT start?
"We're at the point now that these things have to be on the table," Fox analyst and former Washington quarterback Brock Huard says in the story.
Ryan Abraham responded on Twitter that his "unofficial poll" on @ThePeristyle "tells me #USC fans HATE @wilnerhotline's idea."
Wilner's response:
"By all means, #HateOn, but … No traffic on the drive in from Orange County. … Walk over from breakfast at the Pantry. …Be back home in time for an afternoon at the beach.
"Downside: Longer wait to hear @PetrosAndMoney rehash it all out on Monday."
Plus, the hash at the Pantry is worthy to bring to a tailgate.
---
Get our high school sports newsletter
Prep Rally is devoted to the SoCal high school sports experience, bringing you scores, stories and a behind-the-scenes look at what makes prep sports so popular.
You may occasionally receive promotional content from the Los Angeles Times.