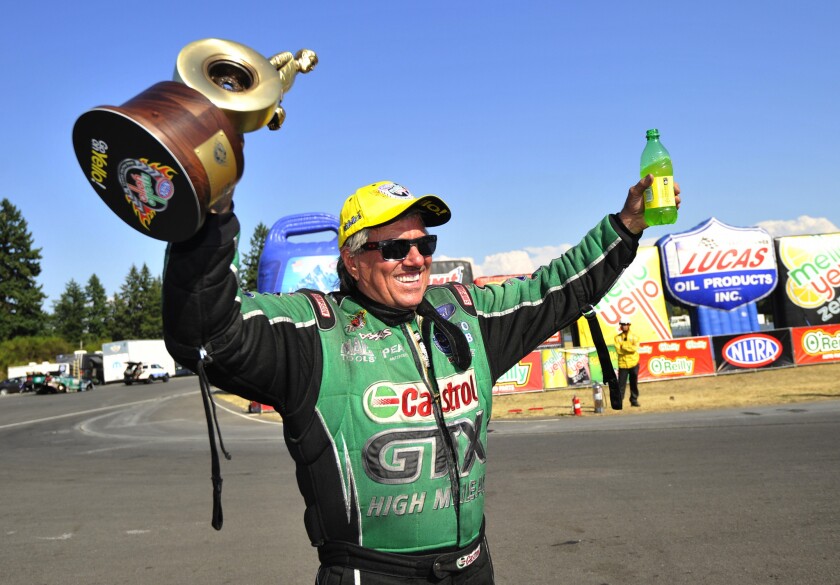 Drag racing's best are eager to get back to speeding 300 mph this weekend at the season opener in Pomona, but perhaps no one more than John Force.
The 65-year-old Force, a National Hot Rod Assn. legend with 16 funny car titles, has spent most of the off-season preoccupied with selling much-needed sponsorships for his four-car team.
With the funding now secure, Force can put most of his focus back on the dragstrip starting Friday for the Circle K Winternationals at Auto Club Raceway, the first race of the NHRA's Mello Yello Series.
"I want to get in the car and drive," said Force, whose team includes his daughters Courtney and Brittany, as well as Robert Hight, the team's president and Force's son-in-law.
Force said in an interview that during a recent test session in Phoenix, "Robert told me, 'Your personality changed. You're a different person [in the car] because that's what you love.' This office stuff kills me."
Force is the defending winner of the Winternationals and he finished second in the title standings last year behind Matt Hagan, who won his second funny car championship.
In drag racing's other elite class, top fuel, Tony Schumacher won a record eighth championship last year. Both Hagan and Schumacher drive for the team owned by Schumacher's father, Don Schumacher Racing.
Hagan, 32, is almost half Force's age — Force was about to enter his first full season when Hagan was born in 1982 — and Force is much older than most other top drag racers. Hight and Schumacher are 45, funny car driver Tommy Johnson Jr. is 46 and top-fuel racer Doug Kalitta is 50.
The irrepressible Force, who has given no timetable for when he might retire, had to find new sponsors because he lost two major ones after last season that provided much of the funding for his team's estimated annual budget of $20 million-plus.
In addition, Force had to deal with the abrupt departure of veteran crew chief Jimmy Prock, who left Force's team for Schumacher's team late last season.
Force's new crew chief is 27-year-old Jon Schaffer, a former assistant crew chief on Hight's car. And it took awhile for Schaffer and his crew to stop being intimidated by Force — no one wanted to mess up the legend's dragster — and were slow to get his car ready between rounds.
"So I went over and told them, 'Hey I'm just like you guys,'" Force said. "I don't look at myself as a legend. I'm a truck driver, that's where I came from. I hugged them all and said, 'We're going to win some races, we're going to lose together.'"
Hight and Courtney Force also are among the early-season favorites to win a funny car title. Hight, who won the championship in 2009, had five wins last season and Courtney Force was a four-time winner.
Other funny car contenders are Johnson, who finished third in the title standings last year; Alexis DeJoria, who won three races in 2014; and Ron Capps, a two-time winner last season.
Schumacher's main rivals for the top-fuel championship include two of his other teammates, Spencer Massey and 2012 top-fuel champion Antron Brown. Massey won three times last year and finished third in the points and Brown had a career-best six wins last season.
Twitter: @PeltzLATimes
---