Column: Players should get a cut of College Football Playoff money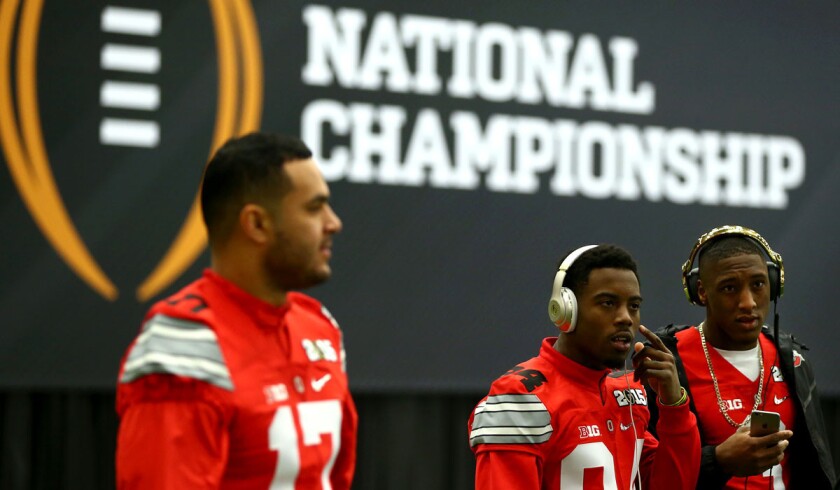 From Dallas —
On the day college football officially turned pro, a bunch of kids with acne and bed hair and baggy sweats stepped off their school's buses and walked single file into a super bowl.
"Pretty crazy," Ohio State defensive end Joey Bosa said.
It was media day Saturday at the inaugural $1 billion College Football Playoff national championship game, and grateful officials appropriately rolled out not a red carpet, but a green one. With their fight songs blaring over loudspeakers, players from finalists Oregon and Ohio State took turns marching into a hangar-sized space at the Kay Bailey Hutchison Convention Center in Dallas and on to a giant fake football field. Once there, they were immediately surrounded by hundreds of cameras and notebooks while being watched from the stands by cheering fans.
"I'm thinking, artifical turf just for media day?" Oregon guard Cameron Hunt said. "Then I thought, maybe they're clearing out the tables and we're practicing here afterward?"
He spoke with wide eyes shared by many of the players who were overwhelmed with the hype that has already turned the biggest college sports event in history into something that has little to do with college.
It's no coincidence that Saturday's event mirrored the NFL's Super Bowl media day, right down to the podiums for the stars, the ticketed fans, and the feeling that this was clearly a pay-per-view show.
"It's clear," Ohio State tight end Jeff Heuerman said. "It's real clear."
When the Buckeyes play the Ducks on Monday at that perfect monument to excess known as Jerryworld — officially AT&T Stadium in nearby Arlington — it will indeed not only be the most viewed sports event ever, but one of the richest. The bucks will flow from the $7.3 billion that ESPN paid for a 12-year privilege of televising the title game and the six bowl games that will rotate as national semifinal games. Perhaps a better verb is "sprays," because it touches seemingly everyone.
The five power conferences will get about $50 million each under this new system. The game's two coaches, Ohio State's Urban Meyer and Oregon's Mark Helfrich, have a combined salary of $6.5 million, yet for coaching in this game, they will also be given bonuses totaling nearly one-third that figure.
Then there are revenues earned in Playoff Fan Central, an interactive activity center steps away from the media day field. Almost within earshot of players talking about the demands of amateur athletics, fans were paying $17 apiece — $12 for children — to pose for photos with these players' poster-size images, listen to experts talk about their team's chances, and purchase their team's jerseys, although many showed up wearing Oregon No. 8 jerseys bearing the name of Heisman Trophy winner Marcus Mariota.
The highlight of the ticket was a chance to line the players' walkway from their bus to the fake field and cheer their entrance. Fans then filled the stands to listen to them speak. Hey, its cheaper than the average $690 being paid to watch the game live.
"How can they even hear us from over there?" said Oregon's Hunt, looking at the stands, his voice barely rising above the din.
Oh, yeah, the fans were given tiny radios that picked up the words of the handful of stars speaking into microphones. These College Football Playoff folks have thought of everything, everyone seemingly making money off this game with one exception.
That being, of course, the guys actually playing in it.
"Hearing about all these millions in revenue being made and not getting any of it, it's kind of tough," Hunt said.
This column space has long contained the argument that college athletes should not be paid because they are already paid. They are paid for their education. They are learning for free. With tuition, room and board, the Oregon players get as much as $45,000 per year and the Ohio State athletes as much as $38,000 per year.
"You know what they say, everyone knows the deal, you're getting a free education," Ohio State safety Tyvis Powell said.
Yet, set against the backdrop of Saturday's first glimpse into the future of college football's coin-shining moment, it truly seems ridiculous that the players are not sharing even a small piece of this value they create.
"They do make a lot of money off us," Powell said.
It's a positive step that, for the first time, players from power conferences are allowed to receive up to $5,000 stipends to cover their full cost of attendance. The NCAA also recently agreed to help fund travel to this championship game, and future Final Four basketball games, for players' parents or guardians.
But it's the least they can do for athletes who are already setting monetary records faster than football records. This year's semifinal Rose Bowl and the Sugar Bowl, with a respective 28.2 and 28.3 million viewers, were the most-watched cable programs in history. Both figures top last year's national championship basketball game and championship football game. The viewership was even higher than the NFL playoff game between the Carolina Panthers and Arizona Cardinals, and when is the last time the NFL has lost a television war with anyone?
It is clear this new College Football Playoff system has rocketed the sport into a new stratosphere. The surroundings have changed. The feeling is different. These might be college kids the rest of the year, but this weekend in Dallas, they are being sold like professionals — "Almost feels like it," Hunt said — and should be somehow compensated for it.
At least the NCAA is being honest about one thing. Unlike during Final Four media days, there didn't seem to be any use of the word, "student-athlete." And how could there be? With the playoffs extending the college football season by a couple of weeks, many classes are now being held without the possibility of the players' full attention. Oregon students returned from winter break a week ago and Ohio State's winter semester begins Monday, the day of the national championship game.
School's in. School's out. Welcome to college football's final frontier.
Twitter: @billplaschke
---
Get our high school sports newsletter
Prep Rally is devoted to the SoCal high school sports experience, bringing you scores, stories and a behind-the-scenes look at what makes prep sports so popular.
You may occasionally receive promotional content from the Los Angeles Times.