Column: Patriots are football's perfect villain — cheating, haughty, hated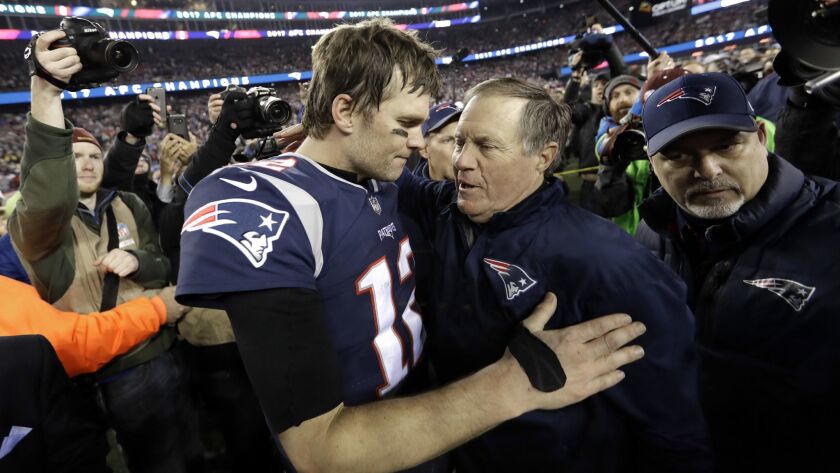 For three years, the Rams have been searching for something to push the uncertain Los Angeles football fan into their embrace.
Early Sunday night, several hours after the Rams defeated the New Orleans Saints to advance to the Super Bowl, they found it.
The galvanizing moment occurred when their Super Bowl opponent became the New England Patriots.
The cheating Patriots. The haughty Patriots. The hated Patriots.
I bet you're shouting "Rams House!'' now, aren't you? If you weren't yet on the bandwagon, the mere sight of Bill Belichick in a wrinkled hoodie surely will make you chase it down.
I bet you're searching to buy a Rams car flag now, aren't you? If you weren't yet ready to battle, the smug grin of Tom Brady has given you horns.
Nothing quite raises the ire of the Los Angeles sports fan like the sight of anything Boston, and here comes another one of its stinking teams, resurrecting all kinds of recent nasty memories.
It seems like yesterday — actually, it almost was — when those Boston fans filled the Dodger Stadium box seats while chanting, "Let's Go Red Sawx!'' at their celebrating World Series champions.
It was more than 10 years ago, but it also seems like yesterday, when faker Paul Pierce stood up out of a wheelchair and led the Celtics to an NBA Finals win against the Lakers that led to another championship.
The Los Angeles team has won three of the last five championship meetings between the two cities in the four major sports, but Boston still leads overall, 10-3, and every loss carries a special pain.
From Kevin McHale's clothesline of Kurt Rambis to Joe Kelly's screaming into the Chavez Ravine night, teams from Boston have long cheated and swaggered against our locals, and now comes the ultimate irritants.
If the thoughts of Brady and Belichick and Tuck Rule and Spygate and Deflategate don't put a watermelon on your head and a Dickerson jersey on your back, nothing will.
The Patriots are the perfect Super Bowl villain because, by my unofficial count, basically everyone outside of New England hates them. Most polls agree, including one conducted by SB Nation last week in which 69% of the 1,970 respondents listed the Patriots as the team they most wanted to see lose on championship weekend, twice as much as the other three contenders combined.
The Rams were back at practice, a day after defeating the New Orleans Saints and advancing to Super Bowl LIII.
"The Patriots are the Evil Empire, the old New York Yankees, the old Dallas Cowboys,'' said Dan Shaughnessy, longtime Boston Globe sports columnist who has had a front-row seat for the Brady-Belichick era. "At worst, people don't like them because they think they are cheaters and arrogant. But basically it's because they win all the time.''
He's right, they win all the time. With Brady and Belichick, they've been to the Super Bowl an amazing nine times in the last 18 years — that's basically every other year — and this will be their third straight appearance.
"It's jealousy, it's envy, people are just tired of them,'' Shaughnessy said. "It's like watching the Oscars and Meryl Streep is accepting awards every year and you're like, 'C'mon, let somebody else win.' It's Patriot fatigue.''
Yet the guess here is, people are tired of more than just the winning. An equally big problem is with that ''cheaters and arrogant'' thing.
That's what does it for me. That's why, while I respect Brady and Belichick as the best quarterback and coach in NFL history, my skin crawls at every success they create.
This is an organization that has had not one, but two major cheating scandals. They have spied on opponents and deflated footballs. They were caught and punished for both. One can argue the details of both football crimes, but one cannot argue the fact that some of their success was built on scams.
This is an organization that has been accused of other incidents of dishonesty. There have been charges of team employees stealing opponents' play sheets out of visiting locker rooms at the Patriots' Gillette Stadium, accusations that have led to some team leaving out fake play sheets. Then there is the issue of headsets worn by opposing coaches at Gillette Stadium, which reportedly break at a far higher rate than other places.
Even the start of the Brady-Belichick dynasty was based on a lie, with a Brady lost fumble being wrongly negated by a since-eliminated "Tuck Rule,'' a play that eventually allowed the Patriots to defeat the Oakland Raiders in a playoff game on their march to their first Super Bowl.
"The nefarious ways don't help their reputation,'' Shaughnessy said. "There's always the inference that they don't do it on the level.''
And when they are on the level, they still seem screwed up. They once cut a player 24 hours before the Super Bowl. Belichick scowls and winces through every interview. Brady wrote a book that sells debatable medical advice. Folks in New England talk about "The Patriot Way'' like it was a sacred gospel instead of a bottom-line culture in which one does whatever it takes to win, even if it means breaking the rules.
Last week, they upped their distastefulness to a new level when Brady had the nerve to cast the Patriots as the woeful underdogs in their AFC championship game against the Kansas City Chiefs.
"I know you know everyone thinks we suck, and you know, we can't win any games,'' he told CBS.
Right. Like there is someone out there that really thinks the greatest dynasty in football history can't win any games.
Before last year's Super Bowl, I wrote that Brady's smug demeanor was apparently thawing. Maybe I was a tad premature.
After their victory over the Chiefs, Brady posted a video on Instagram of him and teammate Rob Gronkowski walking out of Arrowhead Stadium smirking to the "We ain't goin' nowhere'' beat of P. Diddy's "Bad Boy For Life."
That rap soon will be replaced by a different set of inspirational lyrics, ones that likely will be heard at Atlanta's Mercedes-Benz Stadium just in time to turn even the most dispassionate Angeleno into a nutty Rams honk.
Are you ready for the first-ever "Beat L.A.'' chant at a Super Bowl game?
Can't stand it.
Can't wait.
Sign up for our daily sports newsletter »
Get more of Bill Plaschke's work and follow him on Twitter @BillPlaschke
---
Get our high school sports newsletter
Prep Rally is devoted to the SoCal high school sports experience, bringing you scores, stories and a behind-the-scenes look at what makes prep sports so popular.
You may occasionally receive promotional content from the Los Angeles Times.