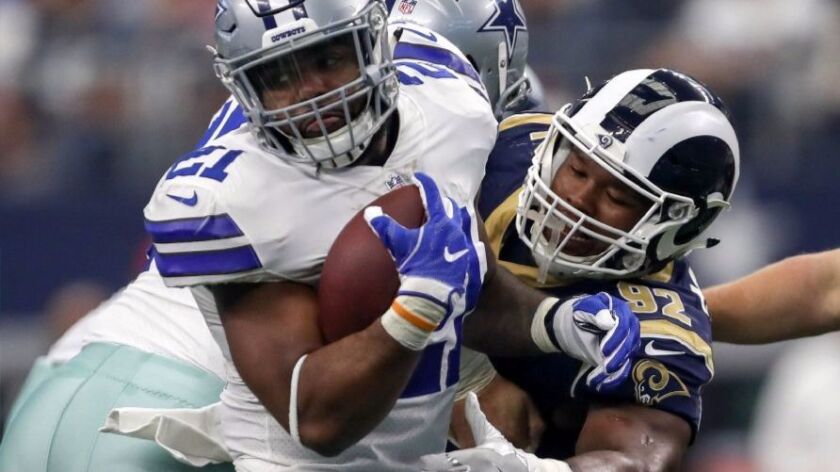 Rams rookie defensive tackle Tanzel Smart made his first start Sunday in a 35-30 victory over the Dallas Cowboys at AT&T Stadium.
Smart played alongside tackles Michael Brockers and Aaron Donald.
"It's crazy being in an environment like that and making your first NFL start," Tanzel said after the game.
Smart, a sixth-round pick from Tulane, played 30 of 71 snaps and recorded a tackle for a loss.
"I still have a lot of stuff to work on," Smart said.
Linebacker Robert Quinn said Smart was a versatile player who showed potential since training camp.
Smart was inserted into the lineup after the Rams struggled to stop the run the last two weeks. The Cowboys rushed for 133 yards in the first half, but only 56 in the second.
"He's going to be a hidden gem for us," Quinn said, adding that Smart reminded him of Donald as a rookie.
"They way he's playing, the way he's studying and approaching the game," Quinn said, "to be honest, the only rookie I've seen like that was [Donald].
"He's got a lot of upside."
Smart has made eight tackles this season and also has deflected a pass.
Follow Lindsey Thiry on Facebook and Twitter @LindseyThiry
---