Column: Rick Reilly wants the public to know the truth about President Trump's golf game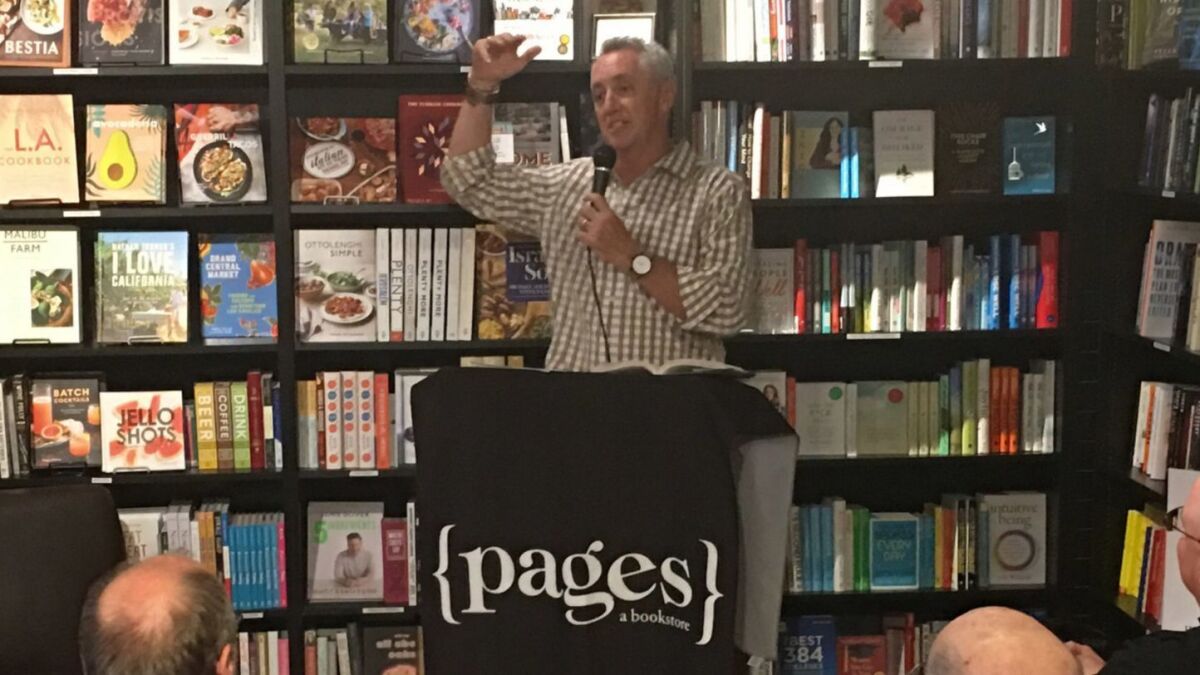 Rick Reilly's course of action isn't to cheat the audience.
The former L.A. Times, Sports Illustrated and ESPN writer sized up the room of about 30 bunched into the center of an independent book store in Manhattan Beach the other night and declared: As a golfer, your president is all about unplayable lies.
"If he's making America great, he's made golf gross," Reilly exclaimed.
It's all there on the cover of the book Reilly is promoting — "Commander In Cheat: How Golf Explains Trump" (Hachette Books, $28, 244 pages), hacking its way up all sorts of bestseller lists.
Drawing upon his journalistic DNA, Reilly dedicated this book to "the truth … it's still a thing." In his acknowledgments, he thanks "every reporter out there who keeps pursuing the truth head-first into the worst hurricane of lies, insults and Constitution-trampling I've ever seen in my 40 years in the business. You inspire me."
What also inspired Reilly to write this was his own experiences over the years with businessman Donald Trump, going back to writing "Who's Your Caddy: Looping for the Great, Near Great and Reprobates of Golf" (2003). Trump lobbied to be one of the celebrities included in Reilly's experiment: how he could mine information about someone's soul while carrying their golf bag for a few hours.
Reilly, a self-proclaimed part-time screenwriter living in Hermosa Beach with the ability to jet off with his wife Cynthia to a home in Florence, Italy, said he initially was interested in writing a magazine piece about all he knew from first-hand experience.
"It just kept getting bigger and bigger and I thought: Someone has to stand up for the truth," Reilly said. "I never thought the truth would be up for debate. I just want golfers to know this guy who's supposedly repping golf doesn't really rep them at all. Leave golf alone."
Reilly's media circle of friends continued to tell him stories about how Trump's insipid need to win usually meant cheating all playing partners before, he believed, they would cheat him. One story involves him playing with ESPN broadcasters Mike Tirico, Ron Jaworski and Jon Gruden.
Sign up for our daily sports newsletter »
At a blind par-five hole, Tirico hit a three-wood to the green to set up an eagle putt. But when he arrived, his ball was somehow in a bunker.
"Lousy break," Trump said.
Tirico, who ended up taking a 7, said Trump's caddie later confessed Trump raced up to the green first and threw Tirico's ball into the trap. Tirico laughed and still paid his bet.
Reilly's research creates more divots of the psyche, his book equally amusing and alarming. With no political agenda or slant, just a litany of lunacy attributed to someone who purports to love the game so much he has invested in and rehabbed more than a dozen well-known courses around the world, Reilly's book has an entire chapter about how Trump National Golf Club Los Angeles (actually in Palos Verdes Estates) serves as a microcosm of all Trump's button-pushing to get his way.
Since the book's release, Reilly has yet to hear any response from serial-tweeter Trump. He's willing to give him only so many unimpeachable mulligans.
"I'm begging for a tweet about this," Reilly told the audience. "I know what he'll say. However he rips you, you're just in the same group as Meryl Streep, LeBron James and Robert DeNiro.
"Whatever he says — 'most dishonest writer ever' — I have a tweet in the chamber ready to go about the book: 'OK, so who read it to you?'"
A dish served NFL cold
The latest bewildering instance of AT&T systematically devaluing the once prized DirecTV comes as the company dropped the NFL Network and the league-owned RedZone channels last week. Not just from the satellite system's menu, but also on AT&T U-Verse, right before the NFL draft coverage goes full bore with ABC and ESPN.
Customers who ask about it get a pat answer: The rights deal expired. Reading between the lines, AT&T is miffed the NFL is shopping around the "Sunday Ticket" package's digital rights to Amazon and Disney, which breaks an exclusive 25-year deal between the partners. The NFL also has been negotiating with Verizon, for a 5G service of products.
DirecTV's recent history of refusing distribution of SportsNet LA and the Pac-12 Network continues a petty trend of ignoring a marketing pledge to be the place sports viewers were treated as kings. The El Segundo-based company seems willing to dish out the nastiness; what will be the tipping point for consumers to stop taking it?
Tune it in
— Before taking a leap of faith and becoming an extreme media camera operator, take in HBO's latest "Real Sports With Bryant Gumbel" (Tuesday, 10 p.m.) for a Jon Frankel segment called "Risky Business." Four daredevil cameramen, including windsuit jumper Jeb Corliss of Venice, have the lenses turned on them as they explain how they've won awards for getting the perfect shot on mountain climbing and big-wave surfing assignments.
— No debate that NBA TV is where playoff games go to die. Charles Barkley confirmed it last week before Indiana-Boston Game 2. After TNT studio analyst Shaquille O'Neal asked why Milwaukee-Detroit Game 2 was airing on NBA TV and not his network or ESPN, Barkley responded: "Actually, Shaq, it's really the Pistons on NBA TV. That's where we put the games we don't care about. Name me how many times LeBron has been on NBA TV. He's never been on NBA TV." Added Ernie Johnson: "Not during the playoffs."
Tune it out
— ESPNU's coverage of the NCAA women's gymnastics championship Saturday proved this new format confuses rather than informs — particularly the four-picture split screen. The alternative of focusing on one team in one event and basically ignoring the other three teams and events going on at the same time is no better, and it practically begs viewers to find the ESPN app or go online to focus on particular teams and apparatus competition.The Pac-12 Network, on the other hand, has perfected these broadcasts of multi-team competitions.
— To this point, let's call new Dodgers radio play-by-play man Tim Neverett spectacularly average. Sure, a noted improvement. Still, nothing like what had been cultivated with a Rick Monday-Kevin Kennedy tandem.
Get our high school sports newsletter
Prep Rally is devoted to the SoCal high school sports experience, bringing you scores, stories and a behind-the-scenes look at what makes prep sports so popular.
You may occasionally receive promotional content from the Los Angeles Times.