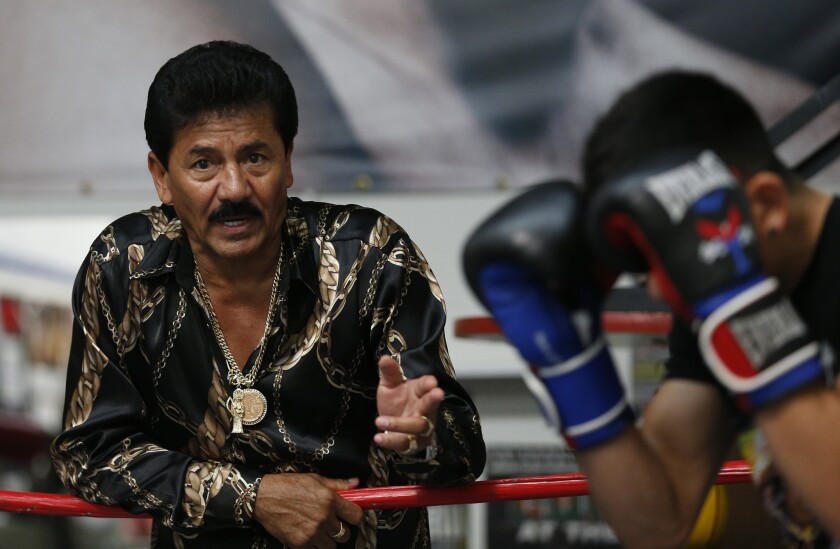 In San Diego on Tuesday, there was an emotional tribute to those who've been lost to or are fighting cancer. The "Stand Up 2 Cancer" segment of the All-Star Game stopped everyone who watched it in their tracks.
Hours earlier, at a gym in Los Angeles, boxing trainer Jose Santa Cruz was literally standing up to cancer.
Less than three months since he was a gaunt figure in a wheelchair watching a fight at StubHub Center, Jose Santa Cruz said rounds of chemotherapy and radiation on his spine cancer have done wonders.
"I'm still on medication, but on the day of the fight, I'll be there," Santa Cruz said in Spanish, referring to his son Leo Santa Cruz's World Boxing Assn. featherweight title defense against unbeaten super-bantamweight champion Carl Frampton of Ireland July 30 at Barclays Center in Brooklyn, a Premier Boxing Champions bout televised by Showtime.
"Cancer's a tough disease, but we're going to face it straight on," Jose Santa Cruz, 56, said. "I was in a lot of pain. Thank God [the worst of it] is over."
The elder Santa Cruz still takes oral chemotherapy medication, but he looked vibrant Tuesday while catching up with old friends, assuring them he was doing better, at his son's media day.
"I wanted to be there because I'm the trainer. I'm the support," Jose Santa Cruz said. "But I also wanted to be there because I've never missed a fight [of Leo's]. That gave me the strength to keep pushing.
"I'm his father, so his father's always needed in his corner. And everyone was telling me when I'm not in the gym, there's something missing. Maybe there's an aura around me that's needed in that gym.
"I push him -- push him hard -- and in this business, the trainer needs to be strong. If the trainer's not strong, the fighter's weak."
After Leo Santa Cruz (32-0-1, 18 knockouts) won his third division title in August 2015, defeating former four-division champion Abner Mares by decision at Staples Center, he's now traveling to New York for the first time to meet Frampton (22-0, 14 KOs).
Jose Santa Cruz's well-known confidence has obviously returned. When asked if Frampton, a talented, hearty, fast fighter, was Leo's most difficult opponent yet, he replied, "I really don't think so. We've seen a little weakness in Frampton's game and think we can capitalize upon it."
Proving that would provide Jose Santa Cruz the moment that sustained him through the cancer fight, the hope that he could be back in the ring celebrating victory with his son.
Did he hang onto that vision fiercely through the low points? "Yes," he said, "Of course."
---