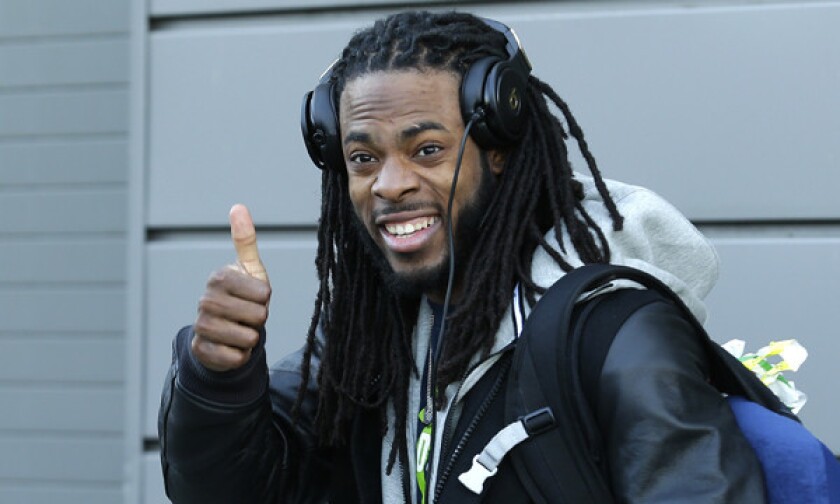 JERSEY CITY, N.J. — Richard Sherman and the Seattle Seahawks arrived Sunday night for a week of Super Bowl preparations, and the third-year cornerback was greeted by a six-deep crowd of dozens of reporters during a news conference at the team hotel.
"I'm a little surprised by it," Sherman said of the massive reception. "But they told me to expect a little bit after last week."
Sherman, who played at Compton Dominguez High and Stanford, then laughed heartily.
Sherman, of course, became one of the Super Bowl's main story lines after tipping away a potential game-winning pass against the San Francisco 49ers and then punctuating the play with his postgame comments about 49ers receiver Michael Crabtree.
Sherman's comments and the emotional way he delivered them sparked an intense weeklong debate across all media platforms.
Asked about the past week, with so much attention focused on him, Sherman said it had been fun.
"It's fun to learn new things, to learn new things about people," he said. "To hear the bad, to hear the good, to just see people grow and to see the world go back to having an open dialogue about race and to see how much, how far we've grown."
Sherman said he had spoken to former defensive backs such as Pro Football Hall of Famers Ronnie Lott and Deion Sanders as he prepares for his first Super Bowl.
"Anybody who has any brain about them wants to get as much information and learn from people that have been there," he said.
Sorry, bro, can't help
Peyton Manning has gotten help on ticket requests from his younger brother, New York Giants quarterback Eli Manning, and some tips on playing at MetLife Stadium.
As for pointers on facing the Seahawks?
"Yeah, he told me he couldn't help me much with Seattle — it wasn't one of the Giants' better days, so he said don't ask him for a whole lot of help there," Peyton said with a laugh.
On Dec. 15 at MetLife, the Seahawks beat the Giants, 23-0, and picked off Eli five times.
Seattle send-off
The Seahawks were buoyed on their cross-country flight by the send-off they received from fans before leaving Seattle.
Thousands of fans waving 12th Man flags and other signs reportedly lined the street as the NFC champions left an interstate and made their way to the airport.
"They swarmed into the streets," said Seahawks Coach Pete Carroll. "It was really fun to see. They weren't just waving. They were jumping up and down and cheering and going crazy just like the 12s do.
"Our following was well represented… It was extraordinarily fun for everybody to see that. Everybody had a blast — they were pounding on the bus, the whole thing. So it was very collegiate-like in a sense. But it was really cool."
Here at last
Broncos cornerback Champ Bailey is not just a probable first-ballot Hall of Famer.
He's also a first-time Super Bowl participant.
In his 15 seasons, Bailey has made the Pro Bowl an NFL-record-tying 12 times, and has been selected to the All-Pro team seven times. He has 52 career interceptions … but until this point had never gotten this close to a ring.
"It has been a long road," he said after arriving Sunday. "But I'm just taking it in stride. I'm not trying to hype it up more than it should be. I mean, it's still football."
Over the years, he has watched countless friends get to this point.
"I did pay attention. I mean, I'm a fan of the game," he said, adding, "I never say, 'It should be me,' or take anything away from guys that have earned it. I just congratulate everybody that's been here and had a chance to play here."
Twitter: @LATimesklein
Twitter: @LATimesfarmer
---