Column: Utah quarterback Troy Williams has hometown motivation against USC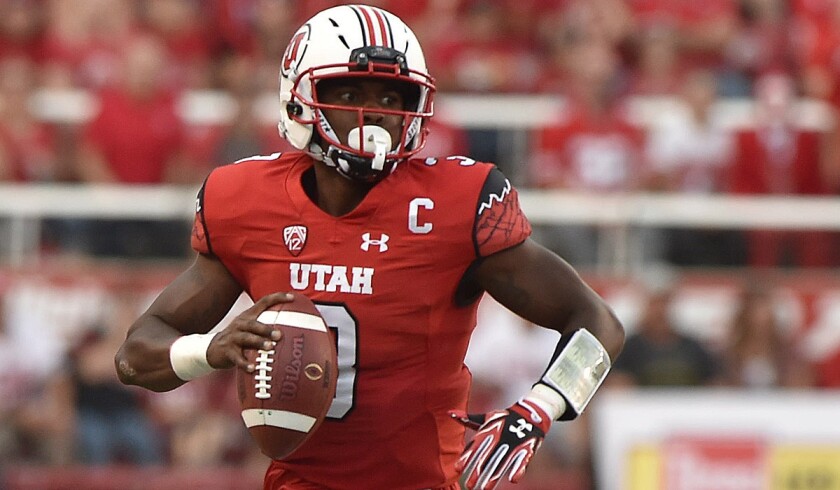 Long before he became a premier dual-threat quarterback at Harbor City Narbonne High and a two-time Los Angeles City Section Division I player of the year, long before Carson native Troy Williams began to draw attention from a dozen schools around the country, he had eyes only for USC.
As it turned out, the interest wasn't mutual.
"Of course, growing up an L.A. kid, I was a huge SC fan. I watched them every weekend," he said. "It was every kid's dream in L.A. to go to SC or UCLA. It was a dream of mine, but I wasn't recruited by them and it kind of puts a little extra fire in me. But I try not to pay attention to it too much. I guess I just wasn't their type of player."
Williams went to Washington after being recruited by Steve Sarkisian and getting an offer when he was a sophomore, but Sarkisian's departure to become USC's coach left Williams feeling stranded. He made only one start in five appearances in 2014 before he transferred to Santa Monica College. It wasn't long before Utah noticed his numbers there — he completed 180 of 265 passes for 2,750 yards and 31 touchdowns with four interceptions in 10 games — and coaxed him to Salt Lake City.
"It's been a long and winding road, for sure," said Williams' high school coach, Manuel Douglas, who still texts him with advice and stays in contact with Williams' family.
Williams didn't waste his second chance. He started the first three games this season for the Utes (3-0), racking up 723 yards while completing 54 of 86 passes for four touchdowns, with four interceptions. He's eagerly anticipating Friday's game at Rice-Eccles Stadium against USC and plans to use that old recruiting snub as motivation when he confronts the Trojans (1-2) and the many players he faced or teamed with in the days he envisioned wearing cardinal and gold.
It was every kid's dream in L.A. to go to SC or UCLA. It was a dream of mine, but I wasn't recruited by them and it kind of puts a little extra fire in me.
— Utah quarterback Troy Williams
"Just being from L.A. and knowing a lot of guys over there on that team, guys I grew up playing football with, it should be fun," Williams said in a phone interview, listing Olajuwon Tucker, former Narbonne teammate Uchenna Nwosu, Darreus Rogers, De'Quan Hampton and Adoree' Jackson among the Trojans he knows best.
"I'm sure there will be a little trash talking in there, but nothing too much."
In Douglas' eyes, throwing another interception would be a bigger sin than indulging in a bit of trash talking.
Douglas texted after Williams had three passes intercepted during a 20-19 Utah victory over Brigham Young on Sept. 10, reminding Williams to target his efforts more precisely. It's a message Douglas successfully delivered before: After collecting 3,247 passing yards with 34 touchdowns and 11 interceptions as a junior at Narbonne, Williams threw for less yardage (2,881) as a senior but had 39 touchdowns with only six interceptions.
"As a quarterback, you have to manage the game instead of being a gunslinger," Douglas said. "The difference between those years was how he managed the game. We talked about that. Focus on managing the game, not trying to do too much, playing within yourself and don't force things down by the goal line in the red zone. That will kill you every time. And to trust and believe in his teammates, and in the defense, that they'll get a stop, so you don't have to force things."
The reminder hit home, and Williams was intercepted only once the following week while passing for 257 yards and one touchdown in a 34-17 victory at San Jose State. "He didn't throw three interceptions, but he still threw an interception, so he's got to get better," Douglas said. "And I know that he knows that. He does not think he's arrived. After the three-interception game, his whole thing was, 'I've got to get better.' Part of the problem for a lot of people is that if you don't accept responsibility, you can't change anything. He does. I'm proud of him for that."
Williams said the transition to Utah "was a little rough at first," but added that he's enjoying the learning process and feels more comfortable. He was elected a team captain early on. "I've been able to continue to go out and try to get better every day," said Williams, whose parents, Troy and Kimberly, live in Carson near Del Amo Park. "This is a great school with a great atmosphere. It felt like a family when I came up here. And it was another chance to get back in the Pac-12 and compete at a high level."
Competing against the Trojans will be a special moment for him. "They're a great team, no matter what their record is," he said. "They always have a lot of athletes that can play both sides of the ball if they really need them to; that's how athletic they are. And they have tradition. We know they're going to come out with their best and give us their best shot."
Williams believes he and the Utes can do the same. That long and winding road just might have taken him where he was meant to be.
"We're going in confident, expecting to win," he said. "That should be everybody's mindset, go in there and execute and hopefully coming out with the win."
helene.elliott@latimes.com
Twitter: @helenenothelen
---
Get our high school sports newsletter
Prep Rally is devoted to the SoCal high school sports experience, bringing you scores, stories and a behind-the-scenes look at what makes prep sports so popular.
You may occasionally receive promotional content from the Los Angeles Times.