Column: Lakers' coaching saga continues with the team and Tyronn Lue at impasse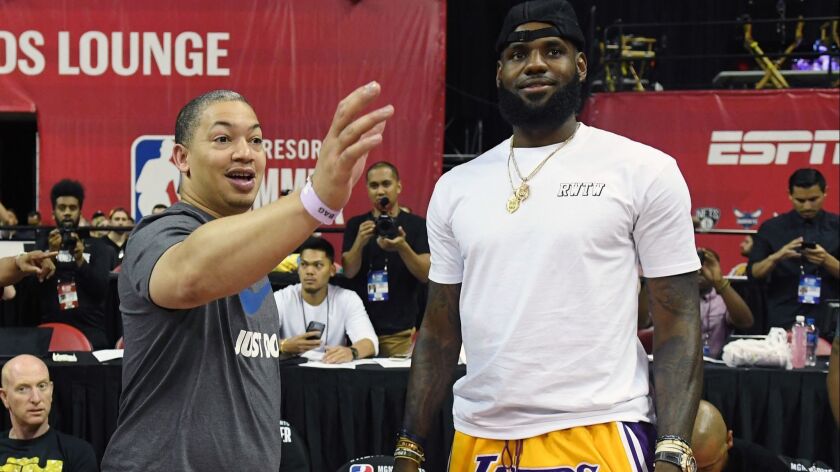 It would make sense that a Lakers offseason which began with Magic Johnson quitting in order to tweet more would now be highlighted by the Lakers losing their next coach to nothing more than self-respect.
Some would argue that's a step above an offseason that saw their coach leave to the Sacramento Kings and a top candidate to the Phoenix Suns but they're all equally depressing if you're the Lakers.
Tyronn Lue should be the head coach of the Lakers today. It's a decision that should have been made last week when he celebrated his birthday with a Lakers logo on his cake. The only real question at that point was who would be on Lue's staff in Los Angeles.
On Wednesday, the Lakers lost the best candidate to be their next head coach. Lue decided to move on, not because he's in line to get another job like Luke Walton or Monty Williams, but because the team wouldn't let him assemble his own staff and wouldn't guarantee him a contract of more than three years. The Lakers apparently didn't like Lue enough to budge on either issue and moved on as well.
The Lakers lost Lue over details that should have been ironed out within minutes, and highlights the state of a franchise that has gone from a destination franchise to perhaps the least desirable workplace in the league.
There will be those who don't view this as a big loss because they never thought Lue was the right man for the job. They're wrong. Lue was the best man for the job and anyone they get now is clearly third place, befitting a franchise that has gone from the gold to bronze standard.
Lue wasn't going to be LeBron James' lackey. He wasn't in Cleveland and he wasn't going to be in Los Angeles. There's a difference between having a good working relationship with someone and being a yes man. Lue is the furthest thing from the latter.
Sign up for our daily sports newsletter »
He was one of the most talked about assistant coaches when the Cavaliers hired him as an associate head coach in 2014 and made him the highest-paid assistant in the league. He had been an assistant coach under Doc Rivers with the Boston Celtics (2011-2013) and the Clippers (2013-2014) and was in line to be a head coach. He finally got his chance in 2016 after David Blatt was fired midseason and signed a three-year deal.
Over the next three years, the Cavaliers played in three straight NBA Finals, winning one. Lue compiled a 128-77 record. After winning back-to-back championships with the Lakers as a player, he became just the 14th person in NBA history to win a title as both a player and a coach.
Lue wanted the pay and respect that comes with that resume. Nothing more, nothing less.
If you want to focus on the fact that Cleveland lost in the NBA Finals three out of the four years they advanced there to a Warriors team that will go down as one of the greatest teams in NBA history, perhaps you've forgotten that the Lakers have missed the playoffs the past six seasons and haven't won a playoff game in seven years. Anyone associated with the Lakers frowning on winning a conference title and losing in the NBA Finals at this point is more delusional than previously thought.
There were some within the organization who thought Williams was the better pick. That's fine.
Williams is a fantastic coach and one of the most respected men in the league but his record as a head coach is 173-221 and he's never won a playoff series. His last playoff win came against the Lakers in 2011, which would end up being Phil Jackson's last playoff series win with the Lakers. He played nine seasons in the NBA but never got past the second round. If wins and losses and playoff success mean anything to you, I'm not sure how you can look at Lue and Williams' resumes and pick Williams.
Either way, the Lakers lost Williams for the same reasons they lost Lue and now they're without either. They're now left to search for someone, anyone who will take the job.
Walton and Williams wanted the long-term stability Sacramento and Phoenix gave them without the expectation of turning around a team that missed the playoffs last season into a championship contender next season.
Lue wanted that pressure. He wanted the job. Shoot, he probably thought he had job when he took pictures in front of that Lakers cake last week. The fact that it all came crumbling down because the Lakers refused to fully commit to him is a shame.
He was the perfect coach for this team at this time. Lue had James' support and respect, which is something Walton, who was in the same draft class as James, never enjoyed as his coach. Lue knew the championship expectations that come with both coaching James and being on the Lakers, and wasn't going to be intimidated by either. He was going to hold James and this team accountable and get the most out of them.
But in order to do his job effectively, the Lakers needed to give him the same respect he was going to demand from James and his team. Lue couldn't have the organization handpick his staff and potentially his successor if the Lakers had a slow start next season. He couldn't walk through the door with a short-term deal the Lakers could easily eat next year. He just wanted to be shown more respect. In the end, he turned down his dream job in order to keep his self-respect.
---
Get our high school sports newsletter
Prep Rally is devoted to the SoCal high school sports experience, bringing you scores, stories and a behind-the-scenes look at what makes prep sports so popular.
You may occasionally receive promotional content from the Los Angeles Times.