Rafael Nadal's Grand Slam losses are a loss for tennis, and tennis fans, too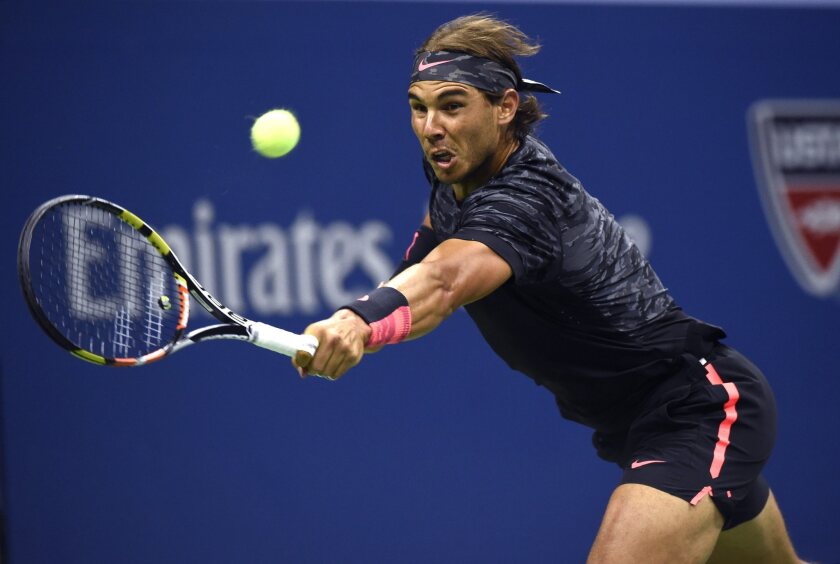 NEW YORK —
What was once one of the greatest rivalries in sports, not just tennis, is now a frown and a shoulder shrug.
Rafa and Roger. Fire and ice. Slide and glide. Muscle and maestro.
Where have you gone, Rafael Nadal? A world of sports fans turns its lonely eyes to you.
It was 1:26 a.m. Saturday in Arthur Ashe Stadium when the most unlikely of players completed a further unraveling of both the image and reality of one of the most engaging and compelling tennis players of our time.
Fabio Fognini, a 28-year-old tour journeyman from Italy who had entered the U.S. Open with a nine-match hard-court losing streak, had just beaten the once nearly unbeatable Nadal, 3-6, 4-6, 6-4, 6-3, 6-4. They had played 3 hours 46 minutes of incredible baseline tennis, and as Fognini stood at center court, answering interview questions in a daze, an equally dazed Nadal stumbled down the hallway and into the locker room. His eyes rolled back in disbelief.
Less than 12 hours later, Roger Federer strolled onto the same tennis court, nary a hair out of place, and dispatched Germany's Philipp Kohlschreiber, 6-3, 6-4, 6-4, in 1 hour 33 minutes.
That might be a moral victory for Kohlschreiber. In his first two rounds, Federer had not lost more than two games in a set.
Kohlschreiber's post-match summary was most revealing.
"I didn't feel he was unbelievable today," he said, apparently having expected to be triple-bageled.
Kohlschreiber's perspective should be a good one. He is now 0-10 against Federer.
Federer said he turned off the telecast of the Nadal-Fognini match when Nadal had a two-set lead and had broken serve to go up 3-1 in the third. That lead had emptied many of the 22,000-plus seats in Ashe Stadium, as well as a major portion of the media center.
But what ensued could hardly have been more memorable. Fognini, considered an underachiever by many tour observers, began slapping Nadal around like you would a light bag in a boxing gym. He ended up hitting 70 winners — yes, 70 — and a good portion of those weren't just winners, but spectacular angled shots off both sides.
Nadal fought back. Nadal always fights back.
But the Nadal of old never would have lost this match, never would have hit balls as short as he did against Fognini, never would have made only 30 winners himself in a match this long. Nadal, once the dominator, now was being dominated. And by a player ranked No. 32, whose best Grand Slam advance was a spot in the French Open quarterfinals in 2011.
As much as Fognini's incredible performance needs to be praised, Nadal's failure to ride out the storm and win, as he always had, needs to be scrutinized.
The current loss of Nadal vs. Federer is, to tennis fans, like the removal of the Red Sox from the Yankees' schedule. Rafa and Roger isn't just a rivalry. It is a brand, a monument to tennis, a reason for huge purses and TV audiences. They are a reason to watch and care.
Sports numbers are often boring and meaningless. These aren't.
Nadal and Federer have played 33 times. Stunningly, Nadal has won 23 of those. Nadal has won 14 majors. Federer holds the record with 17. This year, Nadal failed to win at least one major for the first time in 11 years.
When Fognini forced the final miss by Nadal, it meant that the Spaniard's record at the U.S. Open, which he has won twice, was 22-2 since 2010. He won that year (it takes seven matches), lost to Novak Djokovic in the 2011 final, didn't play because of injuries in 2012, won in 2013, didn't play because of injuries in 2014 and was 2-0 this year until Fognini.
Two more startling numbers. Nadal is 29, Federer 34.
Nadal was seeded eighth here, Federer second. Since 2004, Nadal has spent most of his time at No. 1 or No. 2. Same for Federer, but since 2003.
But they haven't played each other since the Australian Open in 2014, which means seven majors and 20 months without these two looking across the net at each other, hands poised above their holsters.
For tennis, for sports, that's bad news.
Tennis now seems to gear up for Federer and Djokovic in the big matches. That seldom disappoints. But it doesn't feel the same, doesn't evoke the same fire.
You need contrasts, opposites that attract. Federer's game is smooth and flowing, Nadal's powerful and intimidating. Their matches are sanctioned street fights. One guy has a tire iron, the other a sharp knife. You can't turn your eyes away.
Now, as their fortunes go in different directions, we don't even get a chance to look. Nadal doesn't advance far enough to be in the conversation.
Have all those long points and long matches in a 13-year career taken their toll? Has having to hit twice as many shots as Federer made Nadal the older guy, despite what their birth certificates say? Is Rafa really 40, in forehand and backhand years?
After the Fognini match, Nadal said he did not lose, that Fognini won.
"He played better than me," he said. "I didn't play bad at all."
That's either correct self-analysis or rationalization. When things go wrong, it is human nature to grope for some good in the bad.
Nadal admitted that, earlier this season, he didn't have the nerves, or the fighting spirit, to be the Rafa of old. He said that has changed.
"When I am losing [now]," he said, "I am losing because the opponents beat me, not because I lose the match."
Will Nadal become Nadal again before Federer starts taking the court in a walker? Will their next head-to-head be on the senior tour? Are we ready to let it go and prepare ourselves for the Federer-Fognini rivalry?
Are you kidding?
Twitter: @ DwyreLATimes
---
Get the latest on L.A.'s teams in the daily Sports Report newsletter.
You may occasionally receive promotional content from the Los Angeles Times.