It's Venus vs. Serena again - a tough situation for Williams sisters, and tennis fans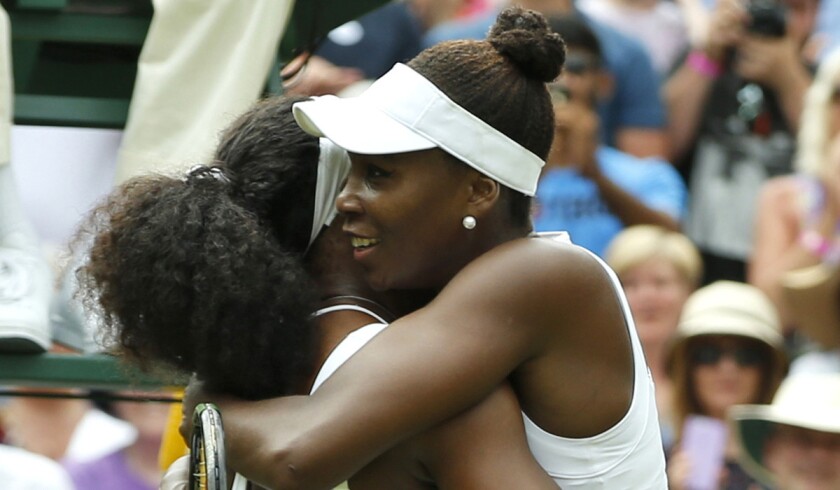 Reporting from NEW YORK —
Venus and Serena Williams will play each other Tuesday in the quarterfinals of the U.S. Open. Tennis fans will see that as exciting. Psychologists would see it as a sibling nightmare.
They are both great tennis players. Serena's 21 major titles and Venus' seven speak to that.
But there is so much else going on that what very well might take place is something athletically sound, but aesthetically robotic and joyless.
That was the case in their most recent match, in the round of 16 at Wimbledon. Serena won, 6-4, 6-3, and if there ever was an hour and a half of going through the motions on a tennis court, that was it. All the body language translated to: "I don't really want to be here."
In that match, as here in the U.S. Open, Serena and her quest for history were on center stage.
At Wimbledon, she was going for what she called her Serena Slam, a fourth straight major title going back to last year's U.S. Open, when she repeated as winner. Here, she is going for all four majors in a single year, something that has been done in the women's game only by Maureen Connolly in 1953, Margaret Court in 1970 and Steffi Graf, rather famously in 1988, when she also won an Olympic gold medal.
The same-year Grand Slam has been accomplished only three times by the men — Don Budge in 1938 and Rod Laver in 1962 and '69.
So it's obviously a big deal, and when Serena Williams cruised past another U.S. player, Madison Keys, 6-3, 6-3, in Arthur Ashe Stadium on Sunday, it got her to within three wins of that sacred tennis territory.
Her next win now would have to come against big sister Venus, who began, years ago, as the better player, role model and shoulder to cry on — normal big-sister things.
"Growing up," Serena says, "I never beat her."
Now, after dominating a qualifier from Estonia named Anett Kontaveit, 6-2, 6-1, in the Ashe Stadium match preceding Serena and Keys, it is big sister Venus who next stands in the way of the history-making of little sis.
The recent Wimbledon matchup brought nice forehands and backhands and plenty of big serves. It also was an emotional and entertainment dud.
Why should we expect anything different?
If they didn't get along, if they were vastly different people with greatly varying goals and values, there would be a chance for some fireworks. But they aren't.
Although their determined inscrutability about their personal relationship often produces bland responses to questions about deeper feelings, everything they say and do points to their being not only sisters, but best friends.
Same-sport siblings, in sports where you have to go head-to-head, are rare.
Ukrainians Vitali and Wladimir Klitschko held all the heavyweight boxing titles for awhile, before Vitali, now mayor of Kiev, retired to go into politics. But there was never going to be a brotherly matchup in the boxing ring. Their mother made them swear to it, and no amount of money — and plenty was offered — would make them cave.
Unlike boxing, tennis doesn't allow the freedom of controlling your opponents.
The Williams sisters are 15 months apart in age. Venus is 35 and Serena will turn 34 Sept. 26.
Tuesday will be their 26th meeting — not including the infamous 2001 default by Venus to Serena at Indian Wells that brought on 14 years of controversy and boycott. Serena has won 14 of those 26, including 11 in majors, six of them in major finals.
They have played only three times since 2013, Serena winning twice. In recent years, Venus has not only gotten a bit older, but battled an illness that affected her stamina.
Any real hints of whether Tuesday's matchup will trigger any fireworks whatsoever were not forthcoming Sunday.
Venus was asked on court, after her victory, what it was like to be part of this great sibling rivalry.
"It's awesome," she said. "I'm proud of her. She's proud of me."
Serena said, "I'm playing the best player in the tournament. She knows how to play, how to win. She knows all my weaknesses."
And later, "We have proven you can be enemies on the court and friends after."
So there it is. Welcome to Disneyland with the Williams sisters. All is rosy, even if it might not be. What you will see is what you will get. What you hear probably means nothing.
And why should it be any different? They will be sisters long after they are tennis competitors.
You probably won't get Borg and McEnroe on Tuesday. All the fire is likely to stay well hidden in the bellies. They say they are happy to be out there, facing each other, and they really aren't. They will come to work, lunch buckets in tow, and punch the clock on the way out the door.
Who can blame them?
Keys, a charming 20-year-old with a great smile and a greater tennis future, said that, now that she had lost, she wants Serena to win so she can get her Grand Slam. But then she added the elephant-in-the room summary:
"It' always tough to watch Venus and Serena play each other."
Twitter: @DwyreLATimes
---
Get our high school sports newsletter
Prep Rally is devoted to the SoCal high school sports experience, bringing you scores, stories and a behind-the-scenes look at what makes prep sports so popular.
You may occasionally receive promotional content from the Los Angeles Times.