5 Questions: Olympic swimmer Matt Grevers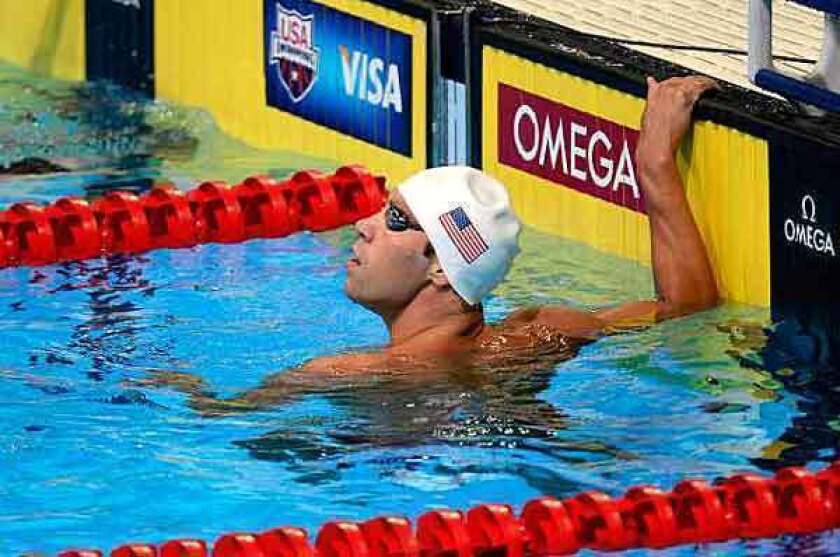 Olympic champion swimmer Matt Grevers, 27, knows about love. He loves his fiancée, he loves his sport and he loves his country.
Although born and raised in the U.S., Grevers' parents are from the Netherlands, and he had dual citizenship and visited their Dutch homeland every summer while growing up. When it came time to qualify for the Olympics, there was the opportunity to take the easier route and be a member of the Dutch team, but for Grevers, it was Team USA or nothing.
And after capturing gold and silver in 2008, he's heading to London this summer to try to garner more Olympic medals for the land of his birth.
Tell me about your dual citizenship and the temptation to swim for the Dutch team.
I used to visit there every summer when I was young; I have a Dutch heritage that I am proud of. Most of my mother's family still lives there, and it felt like a second home to me, and I plan on visiting again after the London Olympics.
The U.S. team is the most competitive team in the world, and in 2004 I knew I couldn't make it, so I had been in touch with the Dutch team to feel out my options for competing in Athens. But my times weren't good enough for them either — it's still a very competitive team. By the time of the Beijing games in 2008, I knew it was Team USA or nothing. I was feeling very patriotic about it by then. I felt that if I couldn't compete for the U.S., then I just wasn't going to the Olympics.
You were part of the relay team that won two gold in 2008, but you also won an individual silver medal in Beijing for the backstroke. Do you prize the individual medal more?
Yes, I do prize that silver more because I wasn't a finals swimmer in those gold medal relays. I helped them get there, and watching Jason Lezak's comeback in the relay to win gold was the most amazing sporting accomplishment I've witnessed; I was very proud to be a part of that. But to get that silver individually really meant a lot to me.
At what age did you begin to set your sights on the Olympics?
When I was 10 years old I set a national age group record, and my mom explained to me what that meant. My mom said, "If you keep swimming, you could be the fastest of any age group," and I knew then that was what I wanted. That was when I decided I wanted to be an Olympian.
Tell me a bit about your passion to be an Olympian and the sacrifices you've had to make to not only get there but to also win medals.
I'm glad you put it that way because it really is all about passion. Every swimmer I know who has made it big is extremely passionate about the sport. It's not just competitiveness but about loving the sport. It's not about beating someone else but about being the best you can be. You have to make sacrifices for it and have to eat right and go to bed early and miss out on social activities, but it's because I loving swimming so much that it makes all this easier. I love swimming every day and I'm always excited to train and see my friends and coaches. Swimming has defined me as a person; I feel like I'm a better person all around because of it.
Are there any mental tricks you employ not just to train hard but to give it your all on race day?
The emotional energy doesn't just come from me; I feed off my coaches and teammates. And I swim not just for myself but for friends, family and my country as well. As far as tricks go, one simple thing I did was to put the London 2012 gold medal as the background screensaver on my iPad, so I constantly see it. Just that little image and knowing I want it is enough to motivate me.
When it comes to race day, I just like to stick to my usual rituals. It's nothing out of the ordinary. … Knowing I've done this same thing for years and that it worked before is comforting for me.
---
Get the latest on L.A.'s teams in the daily Sports Report newsletter.
You may occasionally receive promotional content from the Los Angeles Times.