UCLA defense ready to pressure Cal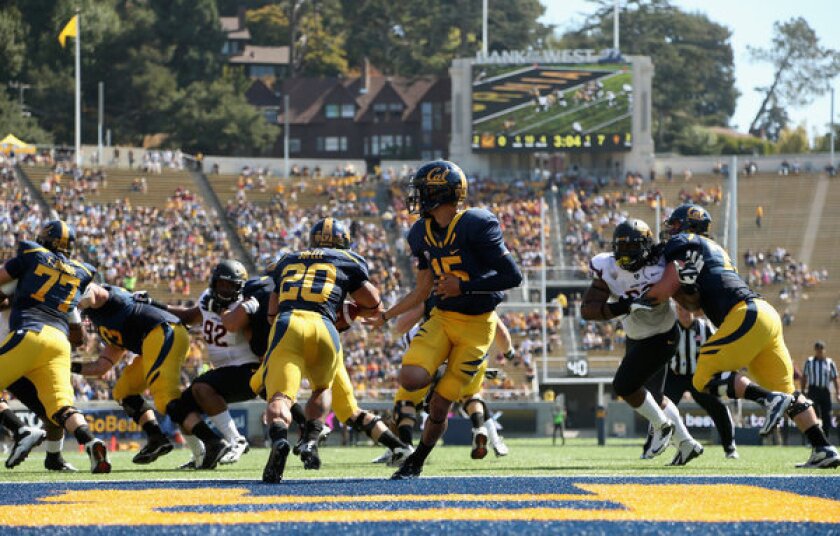 There is truth in every cliche, so Saturday night's Pac-12 Conference football game between UCLA and California could very well be won in the trenches.
The Bears (1-4 overall, 0-2 Pac-12) rank last in the nation in pass protection. Quarterback Zach Maynard may be better acquainted with opposing defenders than he is with his own offensive linemen, who are allowing five sacks per game.
His meet-and-greet at Memorial Stadium on Saturday could well be UCLA linebacker Anthony Barr.
"You have to account for Anthony," Bruins defensive end Datone Jones said. "If you leave him unblocked, your quarterback is out for the season."
This is the new, tough-talking UCLA defense.
A year ago, the Bruins had 14 sacks, an average of one per game. The time they gave to opposing quarterbacks to scan the field could be measured with an hourglass.
This season, UCLA (4-1, 1-1) has 18 sacks in five games. Barr has six, tying him for 16th nationally with an average of 1.2 per game.
"Our scheme is a lot different," linebacker Jordan Zumwalt said. "Teams don't know where we're coming from a lot of times."
The Bruins switched to a 3-4 defense this season. The only major personnel shift was moving Barr from receiver to linebacker.
At times, safeties Stan McKay and Dalton Hilliard are used at linebacker. Other times, there are only two down linemen. Always there is an attack plan, looking for weak spots.
"Some call them weak spots," Bruins defensive coordinator Lou Spanos said. "Some call it points of attack."
There seems to be a lot of points to attack along California's line. It has been open season on the Bears — especially for one Bear.
Maynard was sacked six times by Ohio State, nine by USC and seven by Arizona State. That does not include all the hurries, knockdowns and general harassment that has been his season thus far. He ranks 94th nationally in passing efficiency, having completed 87 of 151 passes for 1,053 yards and five touchdowns with four interceptions.
And it doesn't sound as if Maynard can expect relief any time soon.
"Everybody is going to get sacked from time to time," California Coach Jeff Tedford said. "He has got to have the confidence to hang in there and not press."
UCLA was good training ground for that a year ago. The Bruins were quarterback-friendly.
USC's Matt Barkley threw for 423 yards against UCLA. Arizona's Nick Foles had 291 yards passing. That can happen. Barkley was considered a Heisman Trophy candidate. Foles moved on to the NFL with the Philadelphia Eagles.
But Washington State's Marshall Lobbestael threw for 235 yards and two touchdowns against the Bruins last season. Lobbestael is now an assistant coach at Sedro-Woolley (Wash.) High.
The personnel that were tied for 112th in sacks in 2011 are tied for 10th this season.
"There is a higher level of discipline," Jones said. "I can't worry about what our tackle is doing. I have to beat my man. If I'm worried about our tackle, it will affect me. He has to count on me that I'll be here."
That has been drilled into Bruins heads since Spanos arrived toting his 3-4 defensive philosophy. The Spanos-speak, which every defensive player can parrot, is "all 11 play as one."
Said Spanos, "The sacks, the pressures, the hurry-ups happen because everyone is doing their part."
The impact has been immediate.
"If they double-team one of us, it leaves three of us one on one," Barr said. "I like our chances."
Barr was the new additive.
"It all starts with those outside guys," Coach Jim Mora said. "When you have success from the outside, then you start finding mismatches inside."
Parts seem interchangeable. Zumwalt has been nearly as much of a handful as Barr. When he sat out against Colorado, Damien Holmes slid over from inside linebacker and had three sacks.
"You don't know who is going to come and where they are going to come from," Jones said. "All it takes is one mistake and it's a sack."
twitter.com/cfosterlatimes
---
Get our high school sports newsletter
Prep Rally is devoted to the SoCal high school sports experience, bringing you scores, stories and a behind-the-scenes look at what makes prep sports so popular.
You may occasionally receive promotional content from the Los Angeles Times.