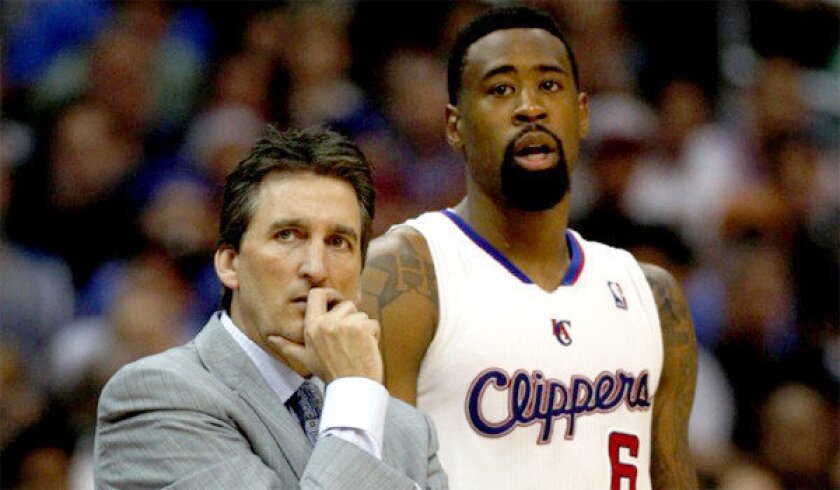 The evolution of Clippers center DeAndre Jordan is ongoing — and whatever the final result is, the responsibility is in his hands.
Even Jordan recognizes that.
"Do any other basketball players stop growing as a person and as a player when they're 24?" Jordan asked. "So, yes, I'm still growing and evolving — as a player and as a young man."
As the starting center for the Clippers, there are high expectations for Jordan to be productive and mature on the court. And that has been a constant battle.
The yin and yang of Jordan's play is evident — in his last two games.
On Monday, the Clippers lost to Indiana, 109-106, and Jordan was thoroughly outplayed by Pacers center Roy Hibbert (26 points and 10 rebounds). Midway through the third quarter, Jordan was benched and he didn't return. His final stats: no points, five rebounds, in 16 minutes.
On Wednesday, when the Clippers beat Phoenix, 126-101, Jordan was a force during his 30 minutes of play, producing 20 points and 12 rebounds.
Jordan, who is averaging 8.8 points and 7.1 rebounds in 24.2 minutes this season, is one of only two Clippers to play in all 76 games.
"Sure, I think he's evolving, but some guys take longer than others," Clippers Coach Vinny Del Negro said. "It depends on their personality, what their background is, what their work ethic is, the situation they are in."
It's not uncommon to see Jordan glare at Del Negro when he's taken out of a game, and at times they are at odds over minutes.
"Vinny is the coach and I'm a player," Jordan said. "That's where it stands. He puts the people out there who he feels gives us the best chance to win. And if I'm out there, I'm out there. If not, I'm not. And then I will cheer on my teammates."
Del Negro wants Jordan to be more consistent. And Jordan's poor free-throw shooting is one reason why Del Negro thinks he can't play his center — particularly in the fourth quarter of close games.
A 42.6% free-throw shooter for his career, Jordan is at a career-low 39.1% this season.
So Del Negro often sits Jordan late in games because opposing teams use a "Hack-a-Shaq" strategy to put Jordan on the free-throw line.
Last month in a loss at Sacramento, with the Clippers trailing by one point with five minutes to go in the fourth quarter, Jordan was intentionally fouled on consecutive plays. He made one of four free throws, and Del Negro took him out.
Then there was a game in Dallas when Jordan helped out down low on defense, then turned, and with his long arms extended, ran out to the three-point shooter. When the shot was missed, Jordan turned again and ran down the rebound.
"I think whatever expectations we have for DJ are fair because I think he's capable of handling it," Del Negro said. "He just has to find a way to be consistent in a lot of ways. And that doesn't just mean scoring points or rebounding. It's just his consistent effort, his consistent attitude, being locked into the game and being able to learn on a daily basis so he can be more consistent."
But those missed free throws make him an easy target.
"Yeah, I'm aware of it, but I also work on it," Jordan said. "I could understand it if I just didn't work on my free-throw shooting and I'm just going out there and saying, 'I just hope they go in.' That's what people don't understand.
"They're like, 'You should work on your free-throw shooting.' What the [heck] you think I'm doing? That's why I think some people are idiots. … Do they think we really go out there — me or Dwight Howard or whoever — do you think we go out there and just try to miss them?"
For all of his inconsistency, the 6-foot-11, 265-pound Jordan is viewed around the NBA as an athletic marvel.
Other coaches note the development in his game, in his low-post skills, in his ability to use either hand now to score.
"I just wonder what he did over the summer," San Antonio Spurs Coach Gregg Popovich said. "When I started watching him at the beginning of the year, he's just different. He plays more confidently."
Said Dallas Mavericks Coach Rick Carlisle: "I just see a gradual, steady maturity and growth."
When Jordan signed a four-year, $43-million contract before last season, the expectations for him changed. Fans, the media and even his coaches wanted more.
"I expect to help this team in any way," Jordan said. "Now, if I'm limited [in minutes], then I can't do much. But when I'm out there, I'm going to try to help this team. If I'm on the bench, I'm going to cheer on my teammates. That's the only thing that I can do."
Twitter: @BA_Turner
---