Augusta National is a golf course unlike any other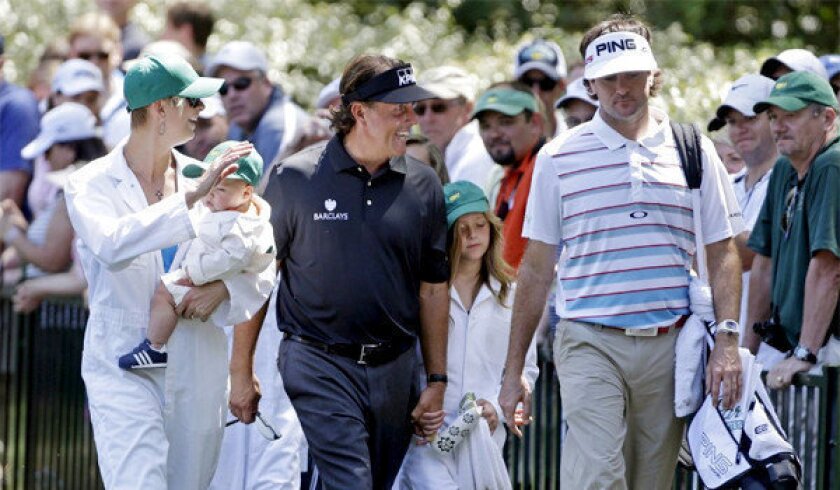 AUGUSTA, Ga. — Thursday begins the 77th Masters golf tournament. Wednesday was a day to wander and ponder.
The sun shined, the temperature stayed in the mid-70s and the wind that can blow here so relentlessly was doing so somewhere else. Whether it is work or pleasure that brings you here, the first thing you need to do upon arrival is say a prayer of gratitude.
This isn't a sports event. It's a shrine to its sport. Bobby Jones, Alister MacKenzie and Clifford Roberts built Augusta National 80 years ago and threw away the key.
Simply saying it is pristine doesn't come close to capturing it. Thousands of writers over many years have waxed on and on about magnolias and azaleas, about the tranquillity of Amen Corner and the smell of spring in the South. But none captured the essence here any better than young Rory McIlroy of Northern Ireland.
"It took me awhile to get comfortable taking a divot," McIlroy said.
Even television, as much as it is everywhere here, can't do the course justice. The rush of anticipation-adrenaline for all that will happen in the next four days can't be televised. For example, it is impossible to capture, even in high definition, the winds that swirl, sometimes gently and sometimes in grand gushes, around the three most famous holes on the course, Nos. 11, 12 and 13, which make up the triangular and legendary Amen Corner.
"It can swirl so much, that sometimes, it is in your face on all three holes," said Tiger Woods. "How can that be?"
On Wednesday at Augusta, there are no golf balls struck of any significance. Players practice a bit more, then wander to the Par-3 Course for a last day of fun. The Masters' defending champion, Bubba Watson, said he would bring along his son, Caleb, whom he adopted as a baby just weeks before he won last year. He said Caleb would caddie for him at the Par-3 Contest, but then corrected himself.
"He doesn't walk yet," Watson said, "so I guess we'll be caddying him."
The Par-3 Course is on a picture postcard site amidst several little lakes and huge trees, on a plot of land away from the main course and near cabins used by members. The area was first spotted by President Dwight Eisenhower, who suggested the short course construction to Roberts, the club president.
Roberts built it, and then met his end there.
Suffering from terminal cancer, the meticulous Roberts got a haircut in the clubhouse on Sept. 29, 1977, then walked down to a quiet spot behind one of the lakes on the Par-3 Course, pulled out a gun and shot himself in the head.
No player who has won the Wednesday Par-3 tournament has won the Masters. There are those who make a ghostly connection of that. Perhaps such connection should better be called ghastly.
Roberts' ashes were scattered in the pond near No. 15, where Gene Sarazen made his double eagle in 1935. They called that one "the shot heard 'round the world," because it was credited with putting the Masters on the map.
Last year, South African Louis Oosthuizen made a double eagle from 254 yards with a four-iron on No. 2. It was the fourth double eagle in the history of the Masters, and the first on No. 2. Had it led to Oosthuizen's victory, it, too, would have made noise around the world.
But Watson topped it later in a playoff with Oosthuizen. He hit his impossible-to-envision-and-more-improbable-to-hit gap wedge off the pine straw and in a 90-degree right turn to the green.
Wednesday, as it had been all week, the spot became an oft-visited shrine. People came in waves, stood and took pictures, looked at the opening Watson had and the angle he needed to hit, shook their heads and walked away, all muttering the same word.
"Impossible."
So seem many things here. Such as:
-- Making a straight drive down the narrow opening on No. 18, on Sunday afternoon, with everything on the line.
-- Keeping the ball from coming up short on your tee shot and rolling into Rae's Creek in front of No. 12.
-- Never three-putting, on greens that resemble a camel's back and run like they are cut by razor blades instead of lawn mowers.
Paul Azinger won a PGA title, but never a Masters. He sat down at lunch Wednesday, and when asked about it, said, still amazed himself, "I played one Masters without ever three-putting. And I didn't win."
Azinger is picking Woods because of exactly that, his putting skills.
"The last stroke on every hole is a putt," Azinger says, "and he's the best at it."
The last stroke on the last hole on Sunday at the Masters is always a thrill. So is just being here.
---
Get our high school sports newsletter
Prep Rally is devoted to the SoCal high school sports experience, bringing you scores, stories and a behind-the-scenes look at what makes prep sports so popular.
You may occasionally receive promotional content from the Los Angeles Times.