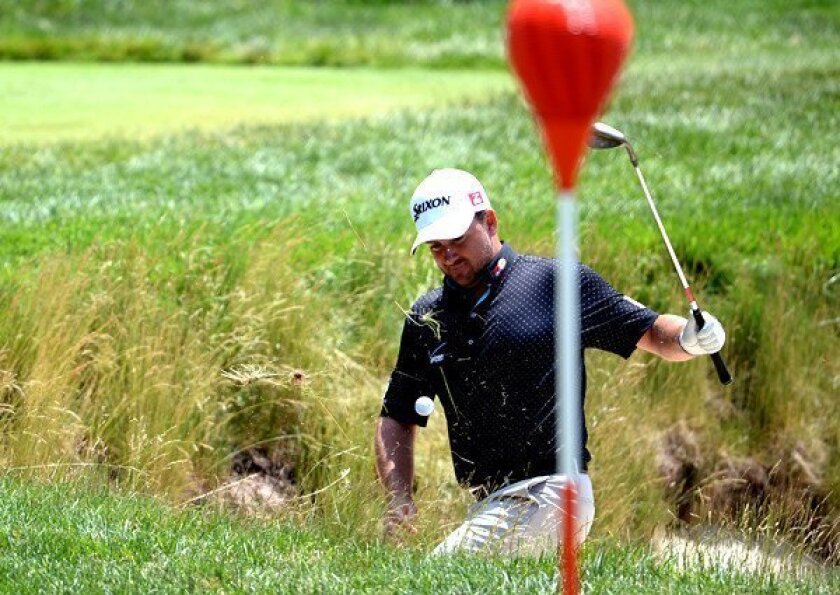 ARDMORE, Pa. — Life went on in this leafy Philadelphia suburb Friday, despite near-catastrophic injuries inflicted on the egos of 156 golfers.
They were playing in the U.S. Open. Friday, it was the U.S. Oops.
It was a day featuring men thrashing around in ankle-deep grass. Also, men, looking shocked as, time after time, their putts slid past the hole. In golf, they call it the cup. Friday, at the wonderfully evil Merion Golf Club, it was a keyhole.
"They've given us some really, really tough pins," said Tiger Woods, one of the golfers who escaped serious injury and is firmly in contention after 36 holes at three over par.
The "they" is the United States Golf Assn., also known as the American Society of Sadism. (Fill in your own acronym).
Each year, before this event, much time is spent by USGA officials talking about how their courses were set up to be challenging, but fair. Whatever happens, happens, they say.
Woods cut through that propaganda when asked: The USGA said on Wednesday that the U.S. Open is not about the winning score. Do you buy that?
"No," Woods said.
Golf measures its scores with black numbers for par and above and red numbers for below par. Giant screens in the media center and all over the course keep color coordination on every player. All day Friday, there was barely enough red to draw a nose on Rudolph.
The greens were slick and the players weren't. Usually, in a major tournament with galleries in the thousands, you hear wave after wave of cheers, as players roll in putts from all corners of the course. Friday, there were waves after waves … of groans.
It got to the point where broadcasters, apparently taught by their mothers to not say anything if you can't some anything nice, were raving about guys three and four over par as if they were Ben Hogan.
As the day wandered on, speculation about the cut for the final two days — the top 60 players and ties — had it as high as eight over par. Because of Thursday's rain delay, Friday's second round was not completed and that cut could not be made until Saturday morning.
Remember, these are the best golfers in the world. Obviously, Merion is unimpressed.
This was a day when:
—Graeme McDowell shot 77 for 13 over after two rounds and said, "This place is very hard." McDowell won the 2010 U.S. Open at that goat path, Pebble Beach.
—Jim Furyk shot 79 for 16 over after two rounds and said, "I don't think I've played worse for 36 holes." Furyk won the 2003 U.S. Open at a pitch-and-putt in suburban Chicago, Olympia Fields.
—Zach Johnson shot 77 for 11 over. He won the 2007 Masters, but at an Augusta National that is always a pushover. Webb Simpson shot 75 for six over. He won last year's U.S. Open at easy Olympic Club.
—Louis Oosthuizen, who won the 2010 British Open at an undistinguished place called St. Andrews, shot a 75 Thursday and withdrew before the second round with an "unspecified injury." Two dozen other players said they were jealous.
—Padraig Harrington, who has won three major championships, putted from 10 feet for birdie on No. 11 to get within two of the lead, but three-putted for bogey.
Then there was Phil Mickelson, the leader after Thursday's round. Friday didn't go as well. Maybe he got too much sleep.
But then, this was Mickelson, the king of the dramatic.
He bogeyed the first hole, then two more in succession on the back nine. Suddenly, he was no longer the leader and, for a while, was looking as befuddled as he had looked confident Thursday.
But, in typical fashion, he got back a share of the lead he had built with his three-under 67 Thursday.
Darkness loomed and the USGA sounded the horn to end play at 8:27 Eastern time. The Mickelson threesome that also included Keegan Bradley and Steve Stricker was on No. 18. That meant, because they had started the hole, they had the option to mark their balls and return to finish their second round Saturday at oh-dark-thirty or finish the hole. Easy decision.
They were at the green and Mickelson was 35 feet away. With Stricker and Bradley already in close, Mickelson rolled the long putt dead center into the cup for a birdie to get to one under par. Had the ball not hit the cup, it would still be rolling.
Billy Horschel, who had finished hours before with the best round of the day, a 67, is the other leader. Stricker and Justin Rose, in a group of five just one back at even par, shot 69s.
"Every hole at Merion, you fight for par," Mickelson said.
Or, in the case of most of his colleagues, on this day of USGA-arranged pain, you fight for your egos.
---