Horse deaths are troubling to Bob Baffert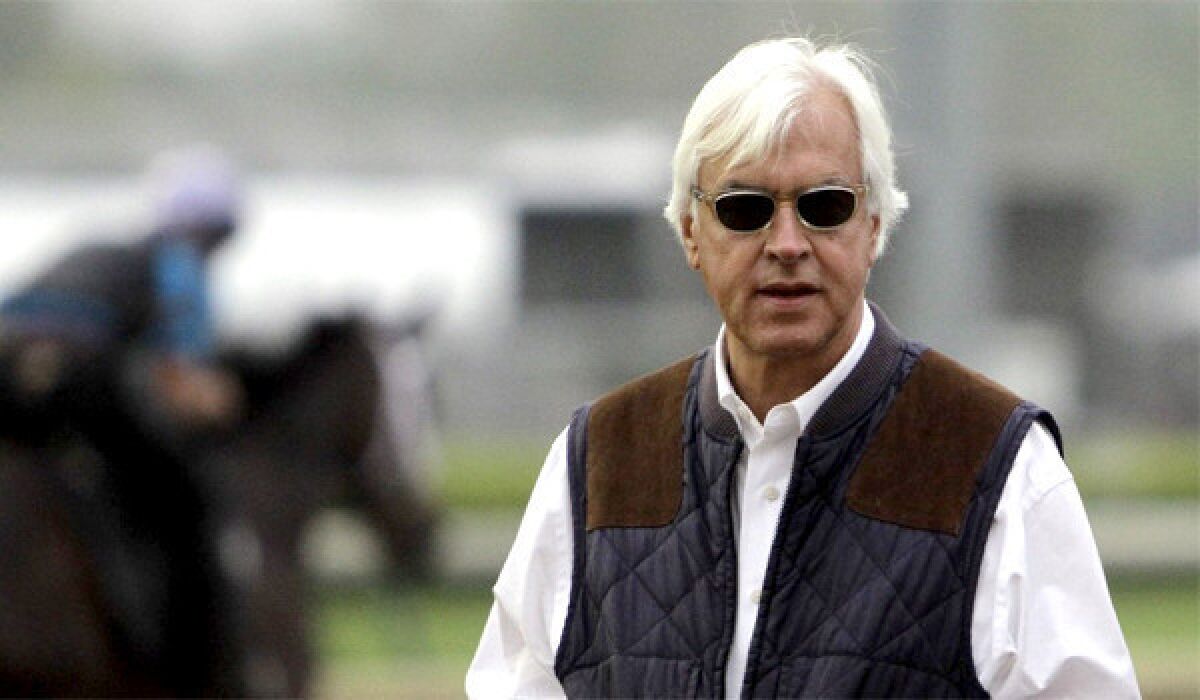 LOUISVILLE, Ky. — With nary a thought to Hamlet, trainer Bob Baffert is currently suffering the slings and arrows of outrageous fortune.
In his current situation, and in a world where oft-misinformed social media stirs the rumor pot to a boil, there is little he can do. Shakespeare might advise not to "take arms against a sea of troubles." Baffert's friend Wayne Lukas advises the same, but in straighter language.
"Bob will take the high road," Lukas said Thursday.
The issue is a prickly one. It has created more Internet buzz than an acre of beehives. In the last 16 months, seven thoroughbreds in Baffert's training care have died of sudden death syndrome. These are not racing accident deaths. They are defined as SDS when a healthy horse, training or racing, returns to the barn and dies, inexplicably, within an hour.
The number is startling. Also startling is that it happened to one of the most successful trainers in the world.
Baffert has a huge stable and has won more than 2,000 races. Those include the biggest in the world: three Kentucky Derbies, five Preaknesses, one Belmont and seven Breeders' Cup races. His winnings have made him a multimillionaire, his owners love him. His signature white hair and quotability make him among the best-known personalities in the sport. At 60, he's already in racing's Hall of Fame.
This was not Joe Bland, with a five-horse stable of claimers and two of them lame. This was Bob Baffert.
"The news swept through the barns here [at Churchill Downs]," said Lukas, going strong at 77, who has two horses in this year's Derby and who did Baffert's introduction at his Hall of Fame induction.
"Anything that unusual, seven horses…" Lukas continued, "well, it threw up a red flag.
"But if anybody can ride this out, it's Bob. None of his owners have left him. That says a lot."
Baffert won't start a horse in Saturday's Kentucky Derby. He will saddle Midnight Lucky in Friday's prestigious Kentucky Oaks, then return to Southern California, where his son, Bode, will have his first communion.
"We'll have a party and watch the race on TV," Baffert said Thursday. He was quickly corrected by his wife, Jill. "We'll have a first communion party where the TV will be on," she said.
Baffert has been mostly quiet on the horse-death issue. He released a statement through a public relations firm a few weeks ago, and has responded carefully, and occasionally off the record, when asked about it here.
He was a bit more open in a small gathering at his barn Thursday morning. Baffert said he wants to know what's going on more than anybody. He said the nature of the events is bizarre.
His main barns are at Santa Anita, but the deaths took place at his stable at Hollywood Park. All occurred in the same barn, one built originally as a quarantine area for the Breeders' Cup. Logically, a quarantine barn should be especially clean.
"They've taken thousands of tests," Baffert said. "We've checked the paint. We've had in the best environmentalists. The horses get the best food, the best care. Right now, that barn is like Ft. Knox. There are cameras everywhere.
"It's a complete mystery."
Dr. Rick Arthur, equine medical director for the California Horse Racing Board, seconded that.
Arthur called the seven deaths "disturbing" and "a statistical anomaly." He said the barn in question is run by Mike Marlow, who once worked for Lukas, who is known for sparkling-clean barns.
"No criticism of Baffert here," Arthur said, "but that barn is not Baffert clean, it's Wayne Lukas clean."
Arthur also said that, although final toxicology reports will come this summer, he and his investigators have been unable to find a single cause, or any wrongdoing.
"From the start," Arthur said, "Bob has been cooperative and supplied us with everything we asked for."
Baffert is angry that he has been deemed guilty of something that isn't even defined by his accusers. He calls them "the hate guys" and says that one, a fellow trainer he would not identify, called PETA (People for the Ethical Treatment of Animals) to complain.
Lukas was not surprised.
"When I moved from Los Alamitos, to the thoroughbreds," he said, "there were only three trainers comfortable enough with their career to welcome me — Charlie Whittingham, Laz Barrera and Bob Wheeler. The rest, I was lucky to get a 'good morning' nod.
"Back in the late '70s, Laz and I both got a cocaine positive. Everybody was pointing fingers. I didn't even know what the stuff looked like. Laz was crushed, calling me at night, crying over the phone.
"Turned out a guy in the lab was not only using cocaine, but selling it."
And Lukas' Shakespeare-like conclusion?
"We have a sport with great camaraderie," he said, "but not one with a great support system."
So Baffert is left twisting, not knowing whether to be or not to be.
---
Get our high school sports newsletter
Prep Rally is devoted to the SoCal high school sports experience, bringing you scores, stories and a behind-the-scenes look at what makes prep sports so popular.
You may occasionally receive promotional content from the Los Angeles Times.