Clippers' Blake Griffin says knee injury 'not even really that bad'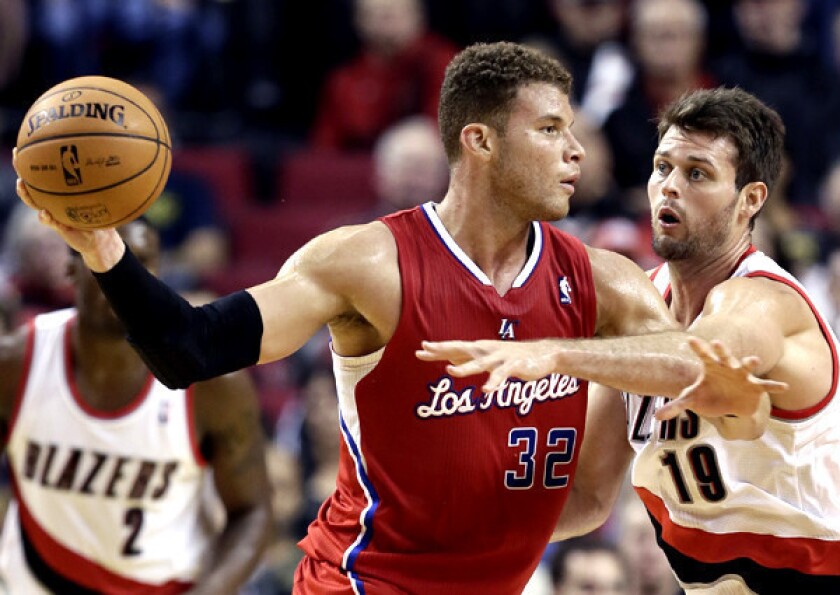 When Clippers forward Blake Griffin went down clutching his left knee in a scrimmage Wednesday night, he said he "absolutely" feared the worst because he's had experience with knee injuries before.
But an MRI exam revealed that Griffin had a bone bruise and no structural damage. After team doctors spent time working on his knee, the Clippers' star realized the injury was "not even really that bad," Griffin said Friday.
The team said Griffin participated in the full practice Friday after missing practice the day before. He said he hopes to play in the Clippers' exhibition Saturday night at Utah.
"Every time I've hurt my knee the previous time, it was always like when I planted, when I was going up and not coming down," Griffin said before Friday's practice. "So, just that alone was kind of scary to me. But as soon as we got the news, it's one of those things that you can deal with pain if you know what the pain is."
In the summer of 2012, Griffin, while working out with Team USA, suffered torn cartilage in his left knee that required surgery.
"That one was kind of severe," Griffin said. "This one not so much. It really is a lot about feel. Obviously, it's not a pressing time, but I'm going to see how it feels."
The Clippers will play three exhibition games in four days, starting at Salt Lake City on Saturday, then at Sacramento Monday night and at Phoenix on Tuesday night.
Griffin said he was unsure when he'll play.
"We'll see how it is today," he said. "Then we'll go from there.… But it's my intention to play."
Griffin missed his 2009-10 rookie season after having surgery on his left knee to repair his kneecap.
The latest injury is "not even really that bad," Griffin said. "Bone bruises, I'm good with bone bruises. Me and bone bruises are on good terms. It's really about pain management."
Injury toll
Clippers Coach Doc Rivers said all the team's injuries have had an effect on team workouts, but there are healthy signs.
Matt Barnes (sore left calf) should return to practice next week, and J.J. Redick (bruised left quad) is about two weeks away from practicing, Rivers said.
Meanwhile, first-round draft pick Reggie Bullock, who hasn't practiced all camp because of a sore right knee, "is getting close too," Rivers said.
Twitter: BA_Turner
---
Get the latest on L.A.'s teams in the daily Sports Report newsletter.
You may occasionally receive promotional content from the Los Angeles Times.