UCLA's offense takes on the alumni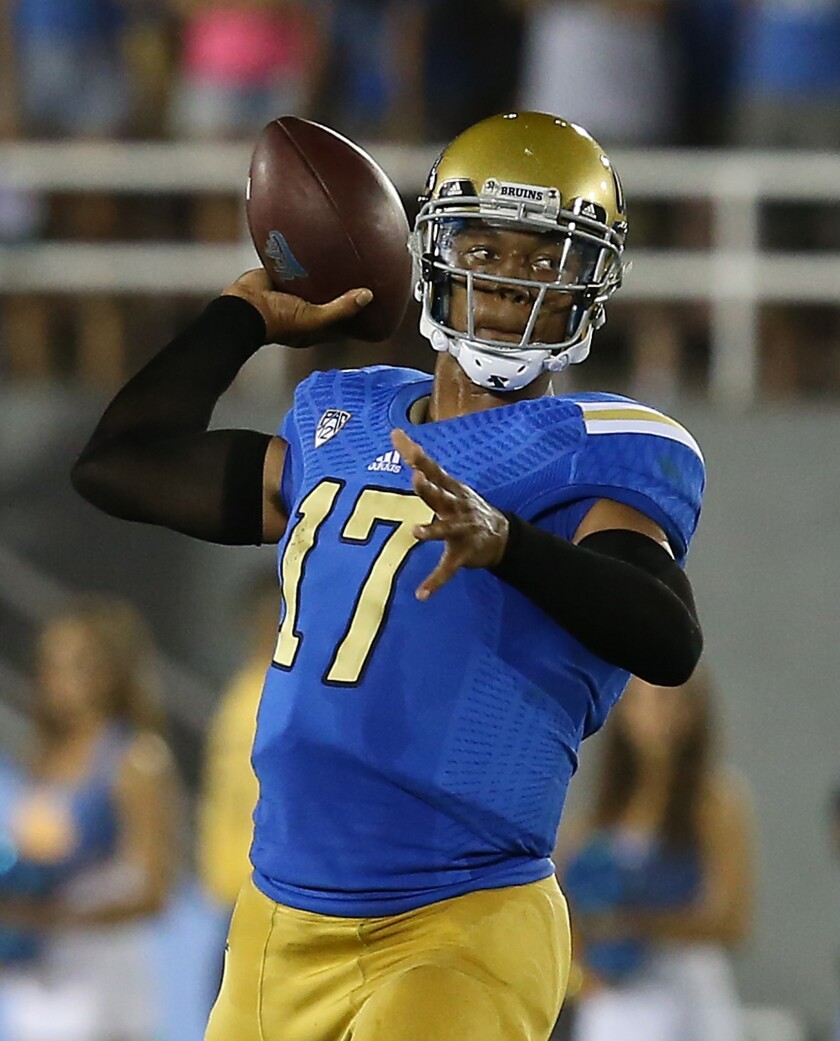 An important piece of UCLA's past recently reached out to the Bruins' current quarterback.
Brett Hundley was pleasantly surprised to receive a letter from Gary Beban, who congratulated him on his play. It was a humbling moment.
"The only Heisman Trophy winner in UCLA history," Hundley said. "I was like 'Wow.'"
UCLA history found Hundley. Hundley, and the Bruins offense, will now chase UCLA history.
A year ago, UCLA averaged 34.4 points per game, the sixth-most ever by a UCLA team. And the Bruins this season could move up the charts.
There was a score-when-we-want look to UCLA in a 58-20 victory over Nevada in the season opener, but Hundley said, "I feel we can get much better. It's a little scary to think about it."
Hundley had 337 yards in total offense as UCLA rolled up 647 yards against Nevada. Beban had 1,586 total yards in 10 games during his Heisman Trophy-winning season in 1967.
The game has changed, sort of.
"I don't see a whole a lot of new principles," former UCLA coach Terry Donahue said. "I see a lot of stuff that has been working for years. It's just presented differently. You look at the films of the 1967 team and you won't see much motion at all. Today there are so many formation shifts, guys from yesterday would say, 'Holy mackerel, what is that?'"
Noel Mazzone, UCLA's offensive coordinator, said the base system he uses isn't complex. But there are plenty of built-in variations. "Kids are kids," he said. "They all want the ball in their hands. I like spreading it out, throwing it around little bit. It's exciting."
It puts points on the scoreboard.
Only five UCLA teams averaged more points per game than the 2012 Bruins.
"This year we're trying to be No. 1," Hundley said.
A look at UCLA's five highest-scoring teams before last season:
A bone to pick
UCLA averaged 42.7 points per game in 1973 and led the nation in rushing at 400.7 yards per game with halfbacks Kermit Johnson and James McAlister in the wishbone.
"Two halfbacks like that running the option?" McAlister said. "Whatever way we went there were two great runners. I'm not trying to brag, but when one of us hit the corner, it was bye-bye."
Johnson became UCLA's first single-season 1,000-yard rusher, gaining 1,129. McAlister had 714 yards. The Bruins scored 50 or more points six times.
UCLA finished with a 9-2 record, losing its opener to Nebraska and the regular-season finale to USC.
Red-zone attack
UCLA led the nation in scoring in 1954, averaging 40.8 points per game.
Coach Red Sanders' single-wing offense was never more potent than in a 72-0 rout of Stanford, the only team to beat the Bruins during the 1953 regular season.
"Red didn't let us forget that for 365 days," said Sam Boghosian, a UCLA lineman in 1954. "He came into the locker room before kickoff and didn't say one word until an official came and gave us a warning that we were late. Red looked at us and all he said was, 'Just remember last year.'
"Stanford didn't have a chance."
Few teams did. UCLA scored 60 or more points three times. The Bruins were 9-0 and were named national champions by United Press International.
Cade-dance
UCLA averaged 39.7 points per game in 1998, and came within a couple of tackles of going to the first Bowl Championship Series title game.
Quarterback Cade McNown guided the Bruins to 40 or more points seven times, and he engineered a few fourth-quarter comebacks.
"It was all Cade," said DeShaun Foster, a freshman running back on that team. "We knew we could score at any moment. What he taught me was the game is never over."
The invincibility ended in Miami, where the Bruins' 20-game winning streak ended in a 49-45 loss.
Just as they Drew it
UCLA averaged 39.1 points in 2005 running the West Coast offense and finished 10-2.
"That was the first time I was at UCLA that we had the same coordinator for back-to-back seasons," quarterback Drew Olson said. "There was a comfort level. When you're comfortable, you play fast."
It helped to have Maurice Jones-Drew at running back and Marcedes Lewis at receiver. The Bruins scored 40 or more points eight times.
Fall of Troy
UCLA averaged 35.5 points in 1987, with Troy Aikman at quarterback. He could have set oh-so-many school records, but …
"The conventional wisdom at the time was you couldn't win with too much throwing," Donahue said. "Your team wouldn't be tough. You wouldn't be able score in the red zone. So we wanted to be balanced."
Gaston Green ran for 1,098 yards. Aikman threw for 2,527. UCLA, using multiple pro sets, finished with a 10-2 record.
Of course, Donahue said, "Conventional wisdom used to say the world was flat."
The new world
Donahue said there are elements of all those previous UCLA's offenses in what the Bruins do in 2013.
"Offensive coaches have taken the best of the single-wing, the wishbone, the shotgun, and mixed them in a blender," Donahue said. "What came out was the spread offense."
To make it all work, you have to have a top-of-the-line quarterback.
McNown held the UCLA record for passing yards with 3,470. Now Hundley owns it, with 3,740 yards last season.
Olson threw a school-record 34 touchdowns in 2005. Hundley came close, with 29 last season.
Aikman was the first overall pick in the 1989 NFL draft. Hundley, well, he's only a sophomore.
"In 1987 we had a really, really outstanding quarterback," Donahue said. "In 2013, UCLA has a really, really outstanding quarterback."
Who can take the UCLA offense … where?
"The sky is the limit," Hundley said.
Which someday could leave him writing a letter to another UCLA quarterback.
Twitter: @cfosterlatimes
---
Get our high school sports newsletter
Prep Rally is devoted to the SoCal high school sports experience, bringing you scores, stories and a behind-the-scenes look at what makes prep sports so popular.
You may occasionally receive promotional content from the Los Angeles Times.