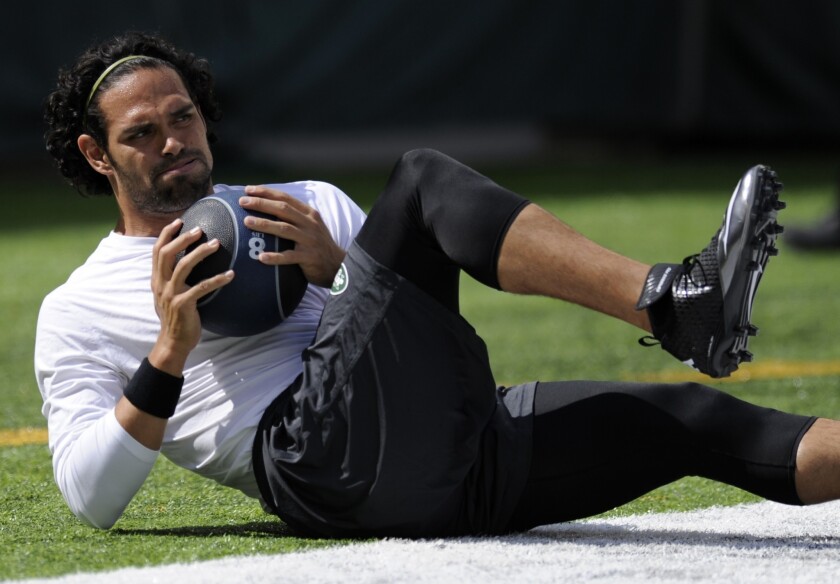 Mark Sanchez has heard from two different doctors that he has a torn labrum in his right shoulder that requires season-ending surgery in order to heal, according to an ESPN report citing unnamed sources.
The New York Jets quarterback is said to still be considering whether to have the surgery now or wait until the end of the season. He told ESPN via text: "If I needed surgery right now, I never would have left [Dr. James] Andrews' office. I would've stayed and got the surgery."
After being asked by ESPN whether he denied that surgery was likely, Sanchez texted back: "There's nothing to report. It's reckless."
No matter if or when Sanchez has the surgery performed, his playing days with the Jets could very well be over. Of course, that turn of events was set in motion long before he injured the shoulder on his throwing arm late in the third exhibition game playing behind a second-string offensive line.
After two wildly inconsistent seasons from Sanchez -- during which the Jets missed the playoffs and their fans were very vocal about their disapproval of the quarterback's performance -- the team drafted quarterback Geno Smith out of West Virginia in the second round back in April.
Although Sanchez appeared to outperform Smith during the exhibition season, the injury seemed to seal his fate, especially with Smith playing well during a season-opening 18-17 victory over the Tampa Bay Buccaneers.
While Sanchez is due $8.25 million this season, that's the end of the guaranteed portion of his contract. And it's hard to imagine the Jets paying next year's $2-million roster bonus and a $9-million salary to a backup.
ALSO:
Step aside, Adrian Peterson; Terrelle Pryor is in a rush
Nick Saban addresses Yahoo! allegations at press conference
Lions' Ndamukong Suh says he won't change the way he plays
---