Anthony Ireland missed out on glory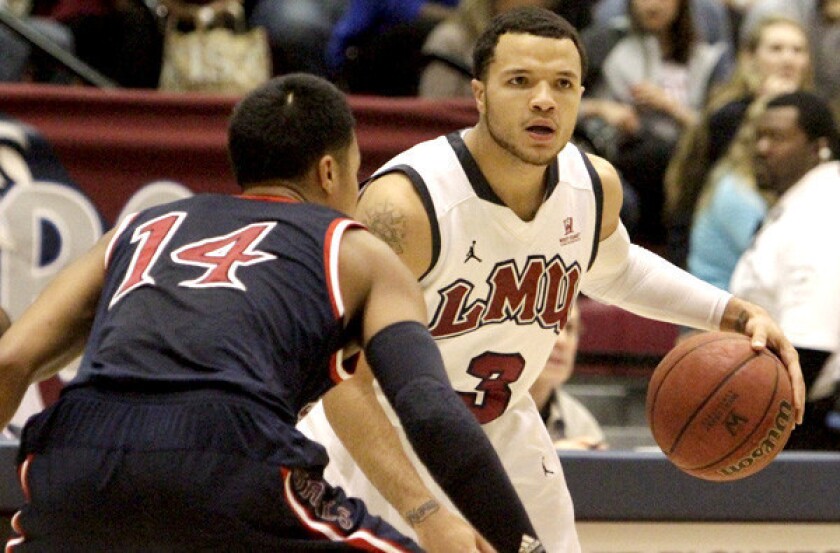 The school that gave us Hank Gathers and Bo Kimble has also given us Anthony Ireland. We just haven't noticed.
For four years, Ireland has played on the same Gersten Pavilion basketball court at Loyola Marymount where Gathers and Kimble became a national force in Paul Westhead's shoot-without-conscience offense.
On the night of March 4, 1990, Gathers collapsed and died of a heart condition on the court. In his honor, his friend, the right-handed Kimble, shot his first free throw of each ensuing game left-handed. They all went in.
---
FOR THE RECORD
Erik Spoelstra: In Bill Dwyre's Feb. 7 column, Erik Spoelstra is referred to as a point guard for Portland State. He was a point guard for the University of Portland.

---
Without Gathers, the Lions made it to the NCAA Elite Eight, beating Michigan along the way, 149-115, in a game as memorable as any in college basketball history. Westhead's Lions never saw a shot they didn't like. Defense was an asterisk.
They became America's basketball story. Books were written, movies made. The little West Coast Conference school, located within an Albert Pujols home run of the Pacific Ocean, had made a national splash.
Quickly, it faded away.
LMU has not been back to the NCAA tournament since. It has won 20 games or more in a season only once since, Ireland's sophomore season of 2011-12. Most current LMU students weren't even born yet when Gathers went down, in the place they now call Hank's House.
Ireland was born 18 months after Gathers died. Last Friday night, in an 80-69 loss at Pepperdine, the 5-foot-10 senior guard from Waterbury, Conn., symbolically joined the Gathers-Kimble-Westhead legacy. He passed the 2,000-point career mark, and the four players in front of him each played all or part of their careers in the Westhead system.
Gathers is the unreachable leader with 2,490 points, followed by Terrell Lowery (2,201), Forrest McKenzie (2,060) and Kimble (2,010).
Thursday night, entering with 2,009 points and spending much of the opening half against St. Mary's at Gersten distributing the ball to his teammates, Ireland tied and quickly passed Kimble. He made a free throw with 5:41 left and then went to 2,012 points with a duck-under bank shot at 5:10.
He is now No. 4. It was a nice moment that certainly won't make "SportsCenter." Very little about Ireland or LMU shouts loud enough for that these days. With a record of 11-12 (3-8 in the WCC) going into the St. Mary's game, the Lions aren't even the little engine that could. More like the little engine that keeps trying.
Ireland is a perfect fit for that.
He is the school record-holder in games played with 123. He has started 116 of those, and Thursday night was his 81st consecutive start. It took him six games of his freshman year to work his way into Coach Max Good's starting lineup.
He first came to LMU to play in a summer AAU tournament before his senior year in high school.
"I just liked how it looked, how it felt here," Ireland says.
Good needed a point guard, so he went to watch.
"All it took was one play — a crossover move — for me to be convinced," Good says now.
Good immediately offered Ireland a scholarship. Ireland had an all-star senior season in Connecticut, prompting offers from more prestigious basketball schools. But Ireland, responding to the lure for a young man, went west.
"My mother wanted me here," he says. "I did too. I stuck with my heart."
So began a college basketball career that has flourished in anonymity. Even positives felt negative. One CBS poll listed him as "One of the nation's most unknown top players."
He knows his NBA dreams have not been enhanced by the Loyola Marymount brand.
"I've heard it all," he says. "Too short, too this, too that… Went to the wrong program."
But without a sniff at the cover of Sports Illustrated or a viral moment on the Internet, Ireland may have chosen a perfect place to enhance his NBA chances.
Good runs the kind of high-post offense that is now a staple in the NBA. Ireland is at his best, darting around the high pick. He has good three-point-shooting range, and drives to the basket and into the land of giants with abandon.
He is to LMU what Ty Lawson is to Denver's Nuggets, Chris Paul to the Clippers. Time and luck will tell if he has anywhere near those skills, but he wants his chance.
To his benefit, size is often countered in the NBA these days by quickness and leadership. Size can also be the figment of imagination of the person putting out the team media guide. Lawson is listed at 5-10, Paul at 6-0. With the occasional NBA three-inch exaggeration, Ireland might sell well at 6-1.
Good points to another intangible.
"He's the prototype tough Eastern guard," the veteran coach says.
Ireland played last season with a knee that needed off-season surgery. He stayed in one game after getting a tooth knocked out, in another after getting stitches in his lip.
Ireland's college career will end with the WCC tournament in March, unless LMU pulls a stunner, wins that tournament and gets the NCAA bid that comes with it.
Soon, it will be time for the NBA draft. Then, history may help Ireland. There will be one important person who will certainly pause at his name, who will completely understand the significance of somebody who didn't play under Westhead and still scored 2,000-plus points at LMU.
On that night of March 4, 1990, Erik Spoelstra was an arm's length away when Gathers collapsed. He was a point guard for Portland State, had made a three-pointer and watched Gathers slam down his final alley-oop dunk and collapse.
Spoelstra coaches the NBA's defending champion Miami Heat. He may not need a point guard, but when he sees Ireland's name and school, he'll notice.
Sometimes, that's all it takes.
---
Get our high school sports newsletter
Prep Rally is devoted to the SoCal high school sports experience, bringing you scores, stories and a behind-the-scenes look at what makes prep sports so popular.
You may occasionally receive promotional content from the Los Angeles Times.