Markelle Fultz on Lonzo Ball: 'I'm going to try to beat him in everything I do'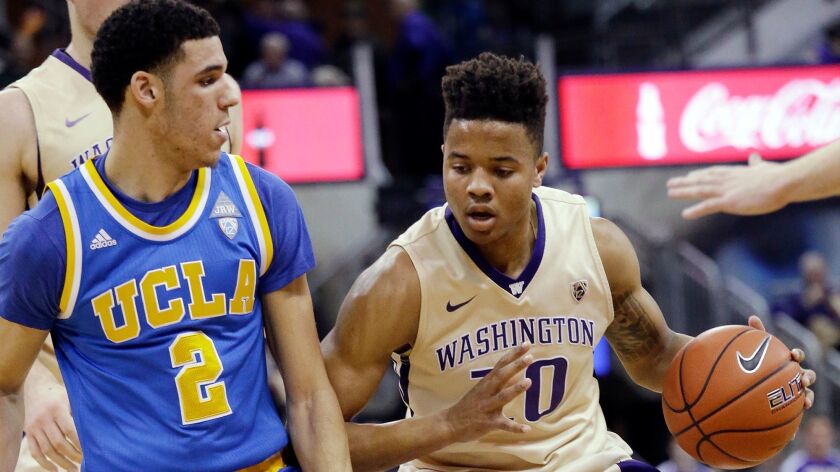 You never know what can happen in the draft. That's why Markelle Fultz followed his workout with the Boston Celtics with a second workout with the Lakers.
"I think it was a family decision, just going through it," Fultz said. "Giving everybody the opportunity. Never know where I might land, so just wanted to see how it is out here."
Fultz's workout with the Lakers lasted about an hour. He said they wanted to see him shoot. They wanted to see how he comes off the screen and roll, and different ways in which he gets to the basket. He felt he showed the Lakers that he has "the mechanics to shoot the ball right."
Fultz is the fourth top prospect to have worked out for the Lakers at their facility. They also hosted Kansas forward Josh Jackson, Kentucky point guard De'Aaron Fox and UCLA point guard Lonzo Ball.
Between Fultz and Ball, a rivalry has started to develop.
"I'm a competitor," Fultz said. "Anybody that's in front of me I'm going to try to take them out. Lonzo's a great guard so we'll compete for the same position. Just stepping on the court, I'm going to try to beat him in everything I do. Just tie my shoes faster and everything."
Fultz's mother attended the workout, as did his agent and his trainer. After he finished speaking to reporters, they all went upstairs into the Lakers offices. This is the second time Fultz has met with the Lakers' executives — they were one of a handful of teams he met with at the NBA draft combine.
He didn't close the door on more meetings, saying he'll discuss that with his family.
"Really to me it doesn't matter; wherever I go I'm going to be the same guy," Fultz said. "I'm going to be humble. Of course coming here, like you said with the Hollywood lights it's going to be great publicity. I'll get my brand out there and just build it myself."
Follow Tania Ganguli on Twitter @taniaganguli
---
All things Lakers, all the time.
Get all the Lakers news you need in Dan Woike's weekly newsletter.
You may occasionally receive promotional content from the Los Angeles Times.