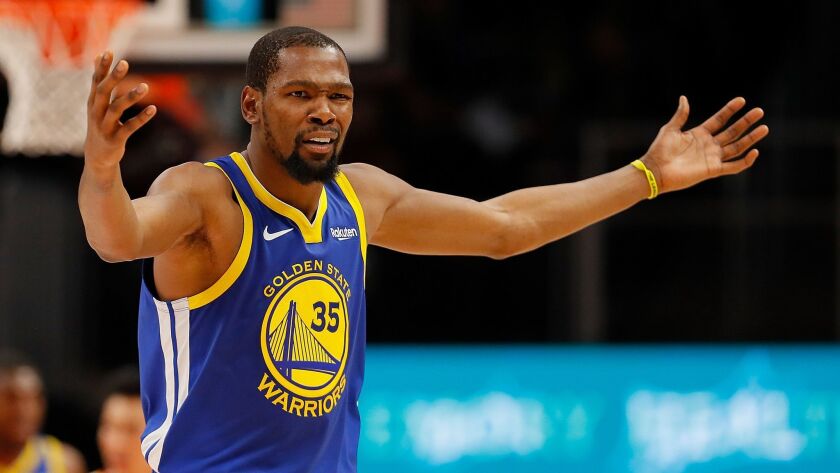 Hi this is Tania Ganguli, Lakers beat writer for the Los Angeles Times, here with your weekly newsletter.
It occurred to me Wednesday evening that I need to start finding new ways to write about games in which LeBron James dominates the fourth quarter. It's clearly going to happen with some regularity.
On Wednesday he did it against the San Antonio Spurs, with a performance that included 20 fourth-quarter points. By himself, he went on a 12-2 run that helped the Lakers recover from an eight-point deficit.
This time it happened against the backdrop of a couple story lines.
The first was that of James' workload, which we'll talk more about later.
The second popped up Wednesday when a Bleacher Report story addressed this question: Why don't superstars want to play with LeBron James?
Sign up for our Lakers newsletter »
The story had more nuance than its subsequent aggregation. Its premise centered on Paul George, Jimmy Butler and Kawhi Leonard all seeming to have varying degrees of disinterest in playing for the Lakers, and also Kyrie Irving's desire to be traded away from James. Then the story sought to find out why. The biggest star quoted was Kevin Durant, who talked about the role any player would take on the court when playing with James, and the media environment around James, which he deemed "toxic."
James, who did not speak at the team's shootaround Wednesday morning, declined to respond when relayed Durant's comments postgame. He said he wanted more context. What was Durant asked exactly? Why was he asked the questions and how were they posed?
Those are fair thoughts.
My takeaway from the Bleacher Report story was that it takes a certain type of person and player to want to play with James. There is both a brighter spotlight and a looming shadow.
The story did have another star who seemed to like the idea of playing with James: Damian Lillard. But Lillard added that he likes where he is and isn't trying to leave. So not only does it take the right type of person, it also takes the right situation.
So, is LeBron being overused?
Ever since James committed to the Lakers, there's been a discussion about limiting his workload. Magic Johnson was the first to bring it up. Luke Walton said he wanted to be careful of giving James the right amount of rest. Then, this week, Kobe Bryant discussed the idea during a Lakers fan event.
James, who led the league in minutes per game last season, has been consistent in his response. He doesn't think he needs extra rest nearly as much as others think he does.
"We want to see how much our young guys can grow and be the best they can be," James said on Tuesday. "I mean, Magic and Kobe know who I am. I know who I am. They know what they're going to get out of me. … When it's time to — when it's really, really, really money time — you know who is going to be there. So, we got guys who just want to continue to develop and guys that continue to get better and better just from experience. They haven't had a lot of experience. So I think people are trying to blow it out of proportion, like, 'OK, why do you have LeBron if you don't want to use him?' They don't understand the logic behind it."
James went on to insist, as he has many times before, that playing fewer minutes in a game doesn't help him because of how he maintains his body.
"I want to play 48 minutes a game," James said.
But James has been averaging 34.8 minutes per game so far this year. That ranks 16th in the league. It's still the most of any Laker, but it makes an argument that he's being overused a little difficult to make.
Since last we spoke…
— Brandon Ingram went down early against the Spurs, and he might miss a few games. Click here to see how the Lakers will adjust. Ingram had crutches in the post-game locker room but was able to walk without them.
— Denzel Washington spoke to the Lakers as part of their genius series. And they haven't lost since! Coincidence? (Yes.)
— The Lakers' three-point plague continues.
— On the subject of fourth-quarter heroics, after dominating the end of a previous win over the Pacers, James began to discuss how he balances his desire to take over games against his understanding that he needs to help his young teammates grow.
— Michael Beasley has been getting more minutes lately, and taking full advantage, becoming a better fit with his teammates. Beasley has been dealing with a personal family matter this season.
— Lonzo Ball caught a pass from James and, while still in the air, flipped the ball to JaVvale McGee for an easy bucket against the Dallas Mavericks. It showed part of why the Lakers love him.
— From his teammates' reaction, you would've thought Moe Wagner's free throws in the fourth quarter on Sunday against Phoenix were the most important points of the game. And, in fact, they were pretty important to him: his first points as an NBA player.
— Kyle Kuzma's evolution as a player has shown lately. He wants to be one of the game's greats, which is why he's put an emphasis on defense. "All great players do it on both ends," he said.
— Per JaVale McGee, the Lakers' big men are wrapped in a circle of positive energy.
— Bronny James, LeBron's oldest child, decided to wear No. 23, just like his dad, for his middle school team. LeBron couldn't help but be proud.
That's all for now. After a 4-0 homestand, the Lakers will play six of their next seven games on the road. It's sure to be an eventful time. I'll see you next week.
---