Newsletter: Lakers! A crazy week capped by a huge win. Is all well that ends well?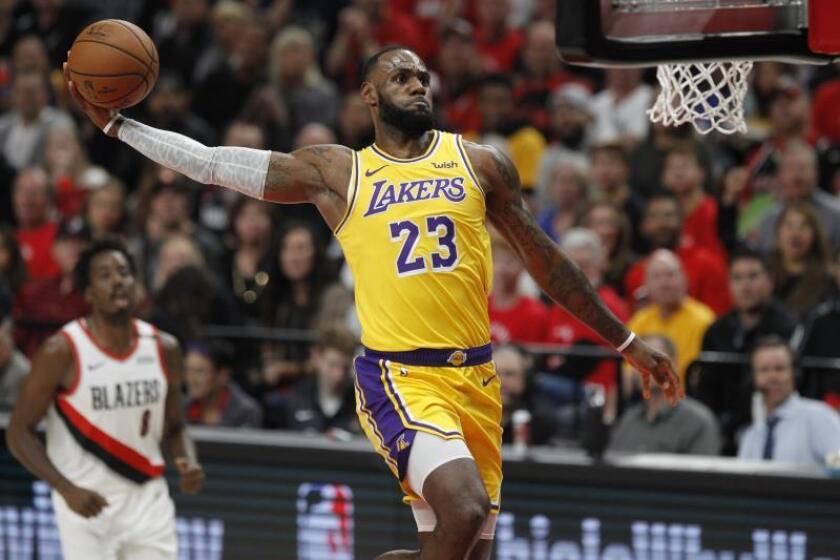 Hi this is Tania Ganguli, Lakers beat writer for the L.A. Times, here with your post-trade deadline newsletter.
We said last week that everything, or nothing, might have changed by the next newsletter. But the Lakers saw an in-between option come to fruition.
Two young players got traded, four more spent the past week and a half worrying they would be traded, LeBron James is playing like himself again and Anthony Davis remains a Pelican. Understanding the stress put on his team by recent trade discussions, Magic Johnson plans to meet with the team in Philadelphia.
There were people in the Pelicans organization who liked the Lakers' offer and felt that it was in their best interest to trade Davis, who requested a trade last week, as soon as possible. There were also people in the organization who wanted nothing to do with sending Davis to the Lakers, whom they believe tampered and should have been penalized.
The people around Davis – from his father to his representatives at Klutch Sports – made several efforts to deter the Boston Celtics, considered to be the top contender for Davis this summer, and to show the Pelicans it was in their best interest to free Davis.
Less than an hour before the deadline, another report surfaced from ESPN that Davis would play in every game if the remained with the Pelicans past the deadline. The Pelicans had considered shelving him to keep him healthy for this summer's trade market, but ultimately decided not to fight that.
None of it moved New Orleans.
Many people in Boston were very happy with this development. Not everyone. I was in an Italian restaurant in Boston's North End, not long before the deadline, and heard a commotion from the kitchen.
"For Tatum? They're crazy! The Celtics are crazy!"
"And when he leaves next year? Then what happens!"
So far, that's not something that concerns the Celtics.
We'll rundown the timeline of what happened in the past week. But first…
LeBron James is back
The road back from injury has been a longer road for James than he expected. He's never had an injury like the groin injury that kept him out for 18 non-consecutive games. The 40 minutes he played in his first game back took enough of a toll that he couldn't return for the next game. Then the Lakers as a whole lost by 42 points in his next game, making it the worst loss of his career.
But against the Boston Celtics on Thursday night, James started looking so much more like himself.
He started feeling more like himself too.
"As the game went on I started to get more and more back to myself," James said. "Every possession and every quarter, every time I take a hit, and I'm able to nudge it off and keep going. So, I'm working my way back and I'm getting better and better, every single minute.
"So, in that third quarter I was able to get back to my point-forward position, controlling the game, finding my shooters, they were knocking them down. I was able to get into the paint a couple times as well and my teammates, it paid off."
James notched his fourth triple double of the season with 28 points, 12 rebounds and 12 assists.
After last night's game, the Lakers are in 10th place in the Western Conference, behind the Clippers (who got worse at the trade deadline) and the Kings (who got better). But the Lakers are only three games back from the sixth-seeded Utah Jazz, which has them back to thinking about the playoffs.
"I think if I'm healthy, and we're a collective group, I think we can make a push and that's what it's all about," James said. "If I continue to get into form and we continue to get into form as a collective group, then we'll be strong."
Since last we spoke…
--On the same day Kristaps Porzingis got traded from the Knicks to the Mavericks, and the same day word finally leaked that the Lakers and Pelicans had started talking about Davis, James made his return. He wasn't quite himself, but was still effective enough to lead the Lakers to an overtime win over the Clippers.
--James opened up that night about what it was like for him to deal with his groin injury. He had his doubts. Positive thinking is easier said than done.
--He played 40 minutes against the Clippers, which was a little too much in his first game back after five weeks. So the Lakers sat James for last weekend's game against the Golden State Warriors, disappointing many. After the game, there was a tense exchange after Lakers coach Luke Walton tried to address some players about selfish play. Michael Beasley was the primary player who barked back at Walton. It was an incident that caught a lot of people's attention, but initial reports that hinted at it approaching physicality were overblown. This was just a verbal exchange that calmed down fairly quickly.
--D'Angelo Russell became an All Star, replacing injured Pacers guard Victor Oladipo. As I looked around the locker room last weekend to find players who played with Russell and could have taken a lesson from his journey, the pickings were slim. Only Brandon Ingram and Ivica Zubac (who got traded a few days later) remained. Ingram has seen several teammates get traded, like Russell, or let go in free agency, giving him a perspective some of the young players don't yet have.
--The Lakers first spoke to the Pelicans on Tuesday.
--On Wednesday they sent five proposals for Davis.
--On Thursday those conversations became public.
--On Friday, Davis' father told ESPN he didn't want his son playing for the Celtics, citing their treatment of Isaiah Thomas.
--On Monday, Davis' agent, Rich Paul, gave the Pelicans a list of teams he would sign with long term. That list included three teams without the assets to trade for him and the Lakers. Later that day, Johnson upped his offer to two first-round picks and six players, including Lonzo Ball and Kyle Kuzma. He also agreed to take Solomon Hill's contract. Meanwhile, Ball's camp doubled down on their insistence that they didn't want him to wind up in New Orleans. Phoenix became interested in becoming a third team that could provide a landing spot for Ball.
--On Tuesday, the Lakers said they were finished making offers to the Pelicans. Magic Johnson told Dell Demps he was moving on, and the two of them never talked again.
--It all took a toll on the players on the Lakers' roster. They suffered a 42-point loss to the Indiana Pacers, whose fans taunted them. Kuzma actually said it was not long after this game that he heard the trade wasn't happening. So despite this terrible loss, Kuzma felt a little bit better that night.
--The Lakers traded for Reggie Bullock, a 27-year-old wing who can shoot. On Thursday, right before the deadline, they also added Mike Muscala, a forward/center, who has been a good shooter in his career, though his numbers are down a little bit this year.
--James actually thought he was going to get out of being an All Star captain this year, since he did it last year. But the televised draft between James and Giannis Antetokounmpo was amusing. At one point Antetokounmpo jokingly accused James of tampering with Anthony Davis. Incidentally, five of James' first six picks in the draft were players who could become free agents this summer or requested a trade.
--Thursday night they pulled off an upset win over the Boston Celtics, with Rajon Rondo as their hero and several players making big contributions. Kyrie Irving even marveled at Brandon Ingram's defense. All's well that ends well?
That was a lot to pack in. As always, email me your thoughts or questions and sign up for this newsletter here. Until next time…
---
All things Lakers, all the time.
Get all the Lakers news you need in Tania Ganguli's weekly newsletter.
You may occasionally receive promotional content from the Los Angeles Times.