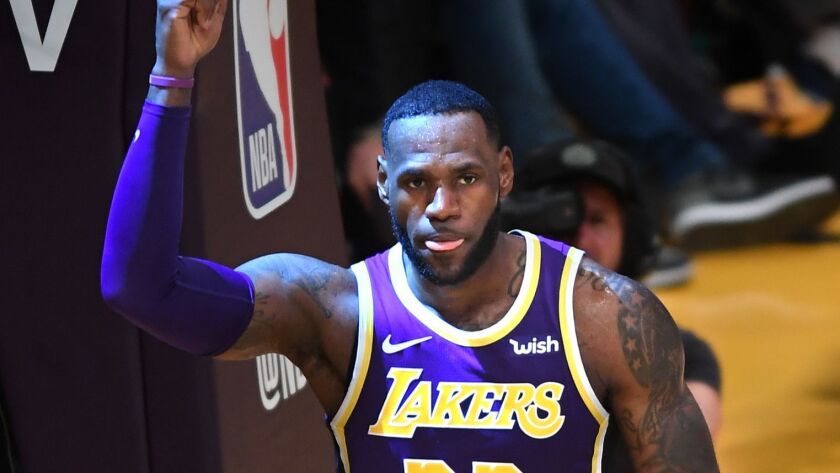 Hi this is Tania Ganguli, Lakers beat reporter for the L.A. Times here with your Lakers newsletter.
Passing Michael Jordan in all-time scoring is special for players. More than an hour had passed since he'd actually done it, but when LeBron James spoke to reporters in his post-game interview, he still seemed overcome with emotion about the moment and his gratitude for it.
James now ranks fourth in all-time scoring with 32,311 points, and the top four are all players who have spent at least part of their careers with the Lakers. He trails Kareem Abdul-Jabbar (38,387 career points), Karl Malone (36,928 career points) and Kobe Bryant (33,643 career points). Of those, Malone is the only one who did not spend the bulk of his career with the Lakers.
The celebration on the court was a bit muted. The NBA didn't allow the Lakers to stop the game for James, and there was little acknowledgement of what everyone had just witnessed outside of the standing ovation fans gave. James hugged the players on the court with him, but mostly he celebrated it alone with his head covered by a towel.
This was a very personal milestone for James.
It was also one of the few things the Lakers have had to celebrate lately. Since last we spoke, their playoff hopes have died. We'll get to that soon. But first…
On the Lakers' inexperience
With the Lakers essentially out of playoff contention, one James quote caused an uproar on Wednesday morning. He talks a lot about the Lakers' lack of experience contributing to the team's struggles so far and I wanted him to expand on that thought. In part, I was curious what exactly he thinks is being affected by their inexperience, especially given the fact that his young teammates have been among the Lakers' more reliable players.
James gave a thoughtful answer in which he said what was being asked of his young teammates was unfair.
So much is being asked of them because of the way the Lakers roster is constructed.
James said most of the better teams in the league don't rely on so many young players. He's mostly right.
At 24, Giannis Antetokounmpo is the youngest starter for the Milwaukee Bucks, but he is in his fifth year. Their least experienced key player is Malcolm Brogdon, who is in his third season. Toronto has one key player under 24, in Pascal Siakam. In the West, none of the Warriors who average at least 20 minutes is younger than 28. Houston has one player who averages more than 20 minutes per game who is in his third season — all the rest have more experience. Utah has second-year guard Donovan Mitchell, but he's surrounded mostly by veterans. Portland doesn't play anyone younger than 24 for more than 20 minutes per game.
The most inexperienced Western Conference contender is Denver. Four of their top eight players are in their first three years. The Clippers, barely in the playoffs, now start three players in their first three NBA seasons – rookies Landry Shamet and Shai Gilgeous-Alexander and third-year center Ivica Zubac.
By contrast, four of the top eight Lakers are in their first three NBA seasons. Before he was traded, 21-year-old Zubac became their starting center. When healthy (which the Lakers have rarely been this year) the Lakers might have started four players on rookie contracts alongside James – Lonzo Ball, Kyle Kuzma, Brandon Ingram and Zubac – with Josh Hart as a key reserve.
That is a younger group than most of the contending teams in the NBA field. Veterans can take the pressure off them, but the Lakers haven't gotten enough out of most of their veterans for that to happen.
Since last we spoke…
--Coming out of the All-Star break, James declared that the intensity with which he plays later in the season had been "activated" earlier than normal. Then he showed exactly what that meant, leading the Lakers back from a double-digit deficit against the Houston Rockets.
--Lonzo Ball still hasn't returned to practice, and that's partially because Ball has been dealing with a bone bruise in addition to a torn ligament in his left ankle.
--Reggie Bullock, especially his defense, was a big part of that win against Houston.
--And then the wheels started to come off. First with a loss in New Orleans. Then with a loss in Memphis.
--They came back home and beat the New Orleans Pelicans, with Anthony Davis sitting in the fourth quarter.
--A man won $100,000 in the half-court shot contest between the third and fourth quarters of that game. His friend had to talk him out of shooting it backward. Another man made one at the very next game, but the prize had reset and he won only $25,000.
--Rajon Rondo's return to the starting lineup against the Pelicans coincided with a strong showing from the point guard.
--The Lakers played well enough to beat the league-leading Milwaukee Bucks for three-and-a-half quarters. Then, they started turning over the ball at a ridiculous rate, and committing constant defensive lapses. This was the one that got away.
--The Lakers aren't mathematically eliminated from the playoffs yet, but the death knell to their season might have come Saturday in Phoenix. No one could explain what happened.
--To the Clippers' delight, the Lakers entered their game Monday trailing the Clippers in the standings.
--Laker fans booed and heckled as they lost to the Clippers, and Patrick Beverley crowed. Our Bill Plaschke took on the subject of the Lakers' dysfunction, and spread the blame evenly.
--Soon, James' workload will have to be the Lakers' main focus. His numbers already started to go down on Wednesday.
--Plaschke found the celebration of James passing Jordan to be muted and depressing.
As always, email me your thoughts or questions and sign up for this newsletter here. Until next time…
---