Five takeaways from the Lakers' 136-94 loss to the Indiana Pacers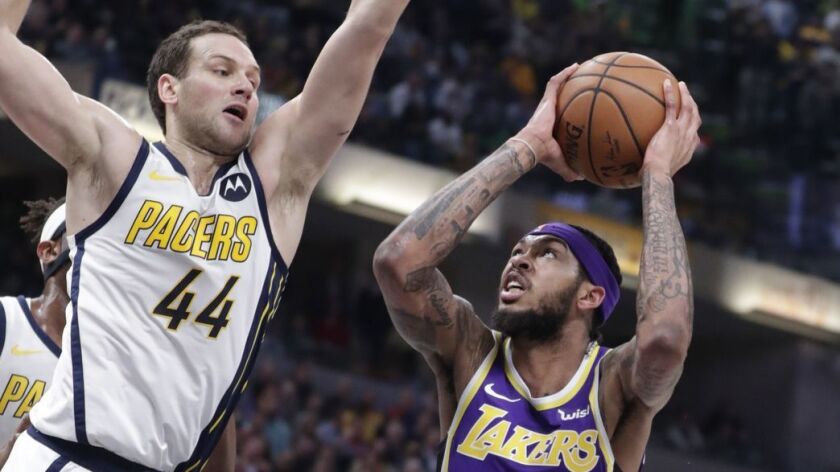 Here are five takeaways from the Lakers' 136-94 loss to the Indiana Pacers.
1. They are the youth of the NBA and social media is their prime source of communication, a platform they seemingly rarely escape.
And so now that young Lakers Lonzo Ball, Kyle Kuzma, Josh Hart, Brandon Ingram and Ivica Zubac are hearing their names in trade talks for New Orleans All-Star forward Anthony Davis, perhaps more than ever, it would be best for them to avoid social media.
It was clear from the way the Lakers played in their 42-point loss to the Pacers that the trade talks weighed them down.
None of the Lakers can get away from the noise because there is so much chatter about them getting traded.
But the information on social media can drive them crazy if they let it.
"If it bothers you, then yes, [get off social media]. If not, then don't worry about it," LeBron James said. "I mean, for me, I think when I was younger … there was a lot of things that was said about me as far as the way I approach the game or the way I play the game or my championship level. … Could I get to a championship level? Could I be a champion? Am I ever going to win at the highest level? That was a way to escape it. I just stopped. I stopped listening. I stopped watching it. And I just focused on just me and control what I can control. I can't say it's easy for everyone. That's not what I'm trying to say. But I can speak from my experience."
Ingram, who had 12 points on four-for-eight shooting, six rebounds and one assist, maintains it's not an issue for him.
"I'm not really like that on social media anymore, other than to look at the Instagram posts of interesting pages or whatever it is," Ingram said. "I don't really get up there like that. Either way, I'm focused on what I do with my life, with my family, basketball, whatever it is. I can't control the business side. I can only control the basketball side."
2. The Lakers kept hurting themselves with turnovers. They gave away the ball 19 times, and the Pacers turned that into 33 points.
That was a big reason why the Pacers shot 99 field goals and the Lakers shot just 75.
3. After the Lakers had suffered their worst loss of the season, coach Luke Walton said one bright spot was "the way JaVale McGee played."
McGee, who was one of the players who expressed his frustration with Walton after the Lakers lost at Golden State on Saturday night, was active and on point against the Pacers.
McGee had 16 points and missed just one of his eight field goal attempts.
"I thought his screen setting and rolling was as good as it's been all year for us," Walton said.
4. Michael Beasley, the other player who voiced his displeasure after he felt Walton had singled him out for criticism at Golden State, didn't respond very well against the Pacers.
Beasley missed all eight of his shots and didn't score. He had a minus-12 in the plus-minus category.
He did have five rebounds and three assists.
5. The Lakers were awful on defense on every front, but they were particularly horrible defending the three-point line.
Sign up for our Lakers newsletter »
They saw the Pacers rip them for 55.9% on three-point shooting.
When the Lakers couldn't stop the Pacers from making three-pointers with a man defense, they went to a zone defense.
That didn't work either.
---
All things Lakers, all the time.
Get all the Lakers news you need in Tania Ganguli's weekly newsletter.
You may occasionally receive promotional content from the Los Angeles Times.