Column: Jeanie Buss denies LeBron James' power play by keeping Luke Walton as Lakers coach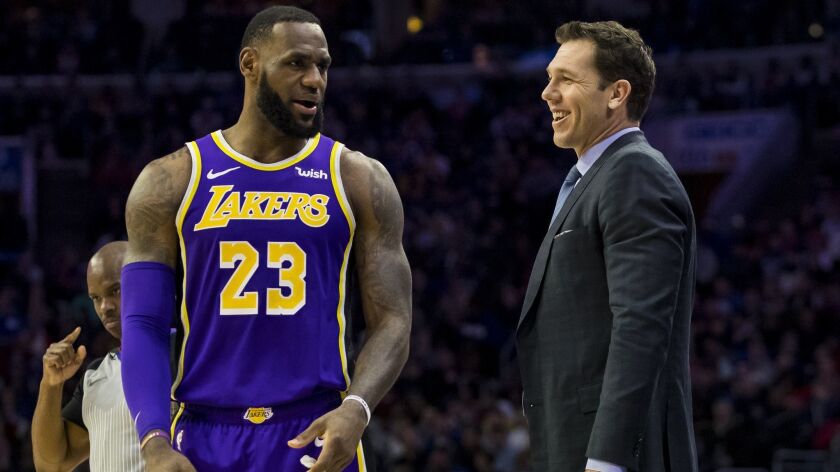 The big news surrounding the NBA's All-Star weekend has been LeBron James publicly reiterating that, after retirement, he hopes to own an NBA team.
The bigger and better news is that he does not yet own the Lakers.
They still belong to the Buss family. This is still Jeanie Buss' operation. Despite whatever subtle pressure is being applied by the world's greatest player and his business partners, the Lakers are the Buss' lifetime legacy and they're not about to give up control to an employee who just showed up last summer.
All of this was made strikingly clear this week with the word that Luke Walton will be the Lakers coach for at least the rest of the season.
In a story by the Times' Broderick Turner, a source said, "Nothing is going to happen with Luke. … Luke will definitely finish the season and he has the full support.''
Whether you think Walton is the right coach for this team is secondary to the symbolism found in his retention.
This was Jeanie Buss essentially telling James to put a sock in it.
This was Buss reminding everyone that, despite all the whispering and whining that has occurred around this team during its first 57 games, the only voice that matters is hers.
This is Buss using her level-headed perspective to assert the strength of a franchise that will still be here long after James has moved on to another adventure.
This is another splendid Buss power play, the same kind that wrested control of the franchise from her brother Jim a couple of years ago, only this time maybe even more robust because it's occurring against not only James but Magic Johnson, the Lakers' president of basketball operations.
Make no mistake, James' associates have expressed displeasure with Walton throughout the season, and James' nonchalant body language in the team's embarrassment at Atlanta this week illustrated his lack of engagement with his coach and team.
Following James' lead, Johnson probably would have replaced Walton during the All-Star break, considering his best player was unhappy and his team was 28-29 and three games out of the eighth and final playoff spot in the West. After all, it was Johnson's scolding of Walton earlier this season that initially landed the coach on the hot seat.
But Buss' loyalty to a vision she had three years ago trumps all. She has been in Walton's corner from the start, and she was not going to be bullied out of there so easily by men who are not nearly as decorated.
Johnson has five championship rings, James has three rings, but Buss has 10 rings, and don't forget it.
Is Walton the best coach for this team? Can we at least give him one full season with this team to find out? That's all Buss is saying here, and she's right, and she's not the only one who believes it.
Sign up for our daily sports newsletter »
In a poll of Times Sports newsletter readers this week, of the first 13,044 responses, 61.6% said Walton should not be fired, while only 38.4% voted to can him. This would seem to be a surprising outcome for a coach with an 89-132 record in his first three seasons, except both Buss and fans seem to agree that this season's grade has been an incomplete.
For one, Walton has coached this season with barely the abilities, much less the attention, of his best player. James was sidelined 18 games because of a groin injury and has seemingly played unfocused since his recent return.
Walton also hasn't had the full use of, among others, Rajon Rondo, Lonzo Ball or Brandon Ingram. He's also had to deal with the distraction of the public trade offer for the New Orleans Pelicans' Anthony Davis.
Through it all, he's essentially coaching two teams, one comprised of the young homegrown players and the other comprised of James and his eccentric buddies, and one can only guess the difficulty in just holding a sane practice.
Last summer Buss signed off on the signing of James' interesting friends. She gave him that. But she's not giving him this, drawing a line that was once famously used by a former Lakers power broker.
In James' first season with the Miami Heat in 2010, he reportedly wasn't fond of his young coach, Erik Spoelstra. He even ''accidentally'' bumped him during the chaos of one timeout. Spoelstra was clearly in trouble, and only 17 games into the season James and some veteran teammates made overtures to basketball boss Pat Riley about coming out of the front office to replace the kid.
Riley not only refused. He adamantly backed Spoelstra while making it clear that the Heat did not belong to the players. Eventually Spoelstra was even given an extension and, two NBA titles later, he is considered one of the best leaders in the NBA. Walton is no Spoelstra, at least not yet, maybe never, but he at least should be given the rest of the season to figure it out.
It is doubtful that Buss would extend his leash beyond that. If the Lakers don't make the playoffs, Walton is probably gone within 24 hours of the final regular-season game against the Portland Trail Blazers on April 9, and that would be a difficult move to argue.
Walton deserves these last 25 games with a full roster to fix things, and Buss is admirably giving him that chance.
The question is, now that he has lost this battle with the toughest boss in basketball, will James buy in and do the same?
Get more of Bill Plaschke's work and follow him on Twitter @BillPlaschke
---
All things Lakers, all the time.
Get all the Lakers news you need in Tania Ganguli's weekly newsletter.
You may occasionally receive promotional content from the Los Angeles Times.