The Sports Report: Jeanie Buss shows everyone who's the boss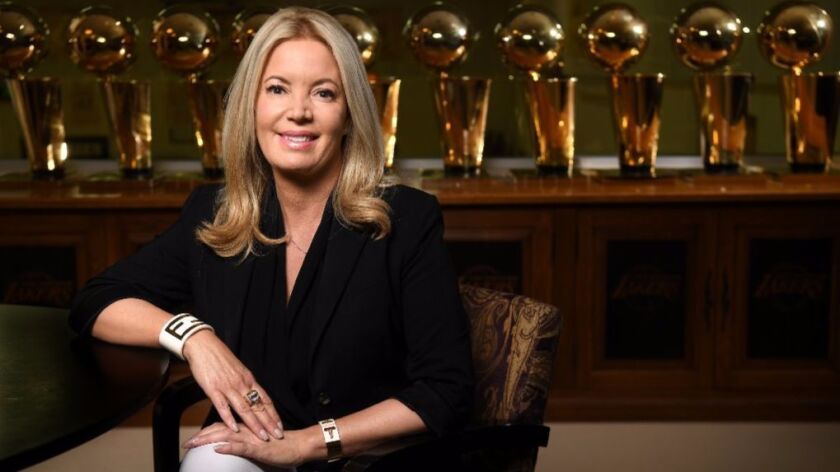 Howdy everyone, and welcome to the Friday edition of the Los Angeles Times daily sports newsletter. My name is Houston Mitchell and I'm your host for the festivities. Subscribe to this newsletter by clicking here.
Let's get to it.
Lakers
Bill Plaschke checks in on the Lakers' decision to retain Luke Walton for the rest of the season. An excerpt:
This was Jeanie Buss reminding everyone that, despite all the whispering and whining that has occurred around this team during its first 57 games, the only voice that matters is hers.
This is Buss using her level-headed perspective to assert the strength of a franchise that will still be here long after LeBron James has moved on to another adventure.
This is another splendid Buss power play, the same kind that wrested control of the franchise from her brother Jim a couple of years ago, only this time maybe even more robust because it's occurring against not only James but Magic Johnson, the Lakers' president of basketball operations.
Make no mistake, James' associates have expressed displeasure with Walton throughout the season, and James' nonchalant body language in the team's embarrassment at Atlanta this week illustrated his lack of engagement with his coach and team.
Following James' lead, Johnson probably would have replaced Walton during the All-Star break, considering his best player was unhappy and his team was 28-29 and three games out of the eighth and final playoff spot in the West. After all, it was Johnson's scolding of Walton earlier this season that initially landed the coach on the hot seat….
---
By the way, there is still time to vote in the poll Plaschke mentions in his column. What do you think? Should Luke Walton be fired? Click here to vote. Final results will be in Monday's newsletter.
NBA
Remember D'Angelo Russell? Former No. 2 overall pick of the Lakers. Reputation took a big hit when a tape he made of a teammate went public. Dealt away for basically nothing. Remember him?
He's playing in the All-Star game this season for the Brooklyn Nets and has scored at least 30 points in 10 games this season. Think the Lakers would like to have him back? I mean, if only so they could offer him up along with the rest of the team for Anthony Davis.
By the way, here's a brief history of basketball-inspired sneakers.
Dodgers
Julio Urias will be on an innings limit in 2019, which will more than likely necessitate him starting the season in the minors. The Dodgers' rotation is set at the moment with Clayton Kershaw, Walker Buehler, Rich Hill, Kenta Maeda and Hyun-jin Ryu.
"He's a guy that was abbreviated last year and when it mattered in the postseason we counted on him," manager Dave Roberts said. "But if you look at the workload the last couple years, it's pretty low. So we've still got to be mindful of that. … How we ramp him up is a topic at the forefront of our minds."
Meanwhile, Alex Wood added his name to the list of those complaining about the lack of free-agent signings.
Angels
The Angels could have a great two-way player on their hands, No, not Shohei Ohtani. Jared Walsh.
Auto Racing
Darrell "Bubba" Wallace was 15 years old when he had just won a lower division auto race at Richmond. His mother, Desi, was with him after the race and pointed to all the black people cleaning up the trash in the stands. Bubba, the only full-time black driver on NASCAR's highest level in 45 years, didn't get his role for change then, but he does now. After finishing second in last year's Daytona 500, he's NASCAR's poster person for diversity, driving Richard Petty's fabled No. 43. Read more about him here.
Odds and Ends
The first round of the Genesis Open at Riviera Country Club was suspended because of rain…. Boxer John Molina brings experience and excitement to the ring…. On Sunday, the Ducks will retire Scott Niedermayer's No. 27, as high an honor as a club can bestow upon a player, even through he spent 13 of his 18 seasons with New Jersey…. The Kings lost to Vancouver in a shootout, 4-3.
Best sports movie
As we continue the quest to pick the best sports movie of all time, we move on to boxing. Vote for the best boxing movie by clicking here or by emailing me here. Vote for your four best boxing movies The nominees:
Ali (2001), starring Will Smith
Body and Soul (1947), starring John Garfield
The Boxer (1997), starring Daniel Day-Lewis
The Champ (1931), starring Wallace Beery
The Champ (1979), starring Jon Voight and Ricky Schroeder
Cinderella Man (2005), starring Russell Crowe
Creed (2015), starring Michael B. Jordan
Creed II (2018), starring Michael B. Jordan
Fat City (1972), starring Stacy Keach
The Fighter (2010), starring Mark Wahlberg and Christian Bale
Girlfight (2000), starring Michelle Rodriguez
The Great White Hype (1996), starring Jamie Foxx and Samuel L. Jackson
The Greatest (1977), starring Muhammad Ali
Grudge Match (2013), starring Sylvester Stallone and Robert DeNiro
The Harder They Fall (1956), starring Humphrey Bogart
The Hurricane (1999), starring Denzel Washington
The Main Event (1979), starring Barbra Streisand and Ryan O'Neal
Million Dollar Baby (2004), starring Hilary Swank and Clint Eastwood
Raging Bull (1980), starring Robert DeNiro
Real Steel (2011), starring Hugh Jackman
Requiem for a Heavyweight (1962), starring Anthony Quinn
Rocky (1976), starring Sylvester Stallone
Rocky II (1979), starring Sylvester Stallone
Rocky III (1982), starring Sylvester Stallone
Rocky IV (1985), starring Sylvester Stallone
Rocky V (1990), starring Sylvester Stallone
Rocky Balboa (2006), starring Sylvester Stallone
The Set-Up (1949), starring Robert Ryan
Somebody Up There Likes Me (1956), starring Paul Newman
Southpaw (2015), starring Jake Gyllenhaal
When We Were Kings (2007), documentary
Born on this date
1929: Race car driver Graham Hill
1948: Dodgers third baseman Ron Cey
1949: NFL player Ken Anderson
1972: NHL player Jaromir Jagr
1973: Swimmer Amy Van Dyken
And finally
That concludes the newsletter for today. If you have any feedback, ideas for improvement or things you'd like to see, please email me here. If you want to subscribe, click here.
---
Get the latest on L.A.'s teams in the daily Sports Report newsletter.
You may occasionally receive promotional content from the Los Angeles Times.